10.25.2019
Cinematic Music Group Signee Yungeen Ace Announces Step Harder, His Upcoming Mixtape, Hitting Stores on November 8th
The Jacksonville Native Reflects on His Turbulent Teenaged Years in the New Video Single "Bando"
Critical Praise:
"Already, he feels incapable of mediocrity and when the fire flashes – we freeze." – Passion of the Weiss
"As a young rapper from the talent hotbed that is Florida, Yungeen Ace has found a way to stick out, slowly building a name for himself through his work." – XXL
"Yungeen Ace borrows melodies from fellow Floridian Kodak Black, meshing his sound with that of NBA YoungBoy's to tackle a vibe of his own." – HotNewHipHop
"The pain in Ace's voice is palpable but is paired with some surprising positivity in the lyrics throughout." – Elevator Mag
The Announcement:
Packing visceral realism and poignant emotion into his bars, Jacksonville native Yungeen Ace is the total package. Ready to channel his life experience and beyond-his-years wisdom into a Southern-fried full-length, Ace announces Step Harder, his upcoming mixtape. With a soaring drawl that can find the melodic heart of any instrumental, Ace unites all sides of his persona on Step Harder, reconciling the troubled teenager of "Freestyle" with the ice-cold soldier evident in songs like "Top Killa," and the devoted partner he plays in romantic ballads like "I'm In Love." The upcoming full-length boasts the buzzing single "Bad Bitch" (Remix), which features an appearance from Blac Youngsta and racked up over 1.5M YouTube views. Featuring additional appearances from Lil Durk, Boosie, Dej Loaf, NoCap, and Stunna4Vegas, Step Harder releases on November 8th via Cinematic Music Group.
"My whole life I've felt like nobody believed in me, like I was trash," explains Yungeen Ace. "Not my music, but like my life ain't mean anything. I know that's how everybody in Jacksonville feels because it's not a place you can make it out of and they don't value life there, everybody disposable. It's not a city like NY or LA where everybody is expecting the next big thing to come out of there, feel me. But what I'm saying is it don't matter if nobody sees the greatness in you as long as you can see it in yourself. I always knew I was going to be great."
To accompany the announcement of Step Harder, Ace shares the video for "Bando," the project's next single. Recounting Ace's earliest years in the game, "Bando" is a poignant account of the trials and tribulations Ace endured on his road to stardom, comparing his past self to an abandoned house: "Everything I love crashed and burned right in front of me/My heart is pumpin', keep you listenin' to every heartbeat." In the video, premiered by Complex, Ace illustrates the song's lyrics, revisiting his past life as he paces around the titular vacant house, with a mattress on the floor and no lights on the ceiling. Meanwhile, a reflective present-day Ace rocks a light-colored tux, pouring his sorrows into his grand piano.
After breaking onto the scene in 2018 with hits like "Jungle" and "Pain," and after surviving a tragic shooting that killed his brother and two of his best friends, Yungeen Ace built a huge wave of momentum heading into 2019. This past summer, Ace teamed with fellow CMG-signee JayDaYoungan for Can't Speak On It, a 9-track EP that racked up over 13 million streams on Spotify alone. Featuring the buzzing single "Opps" (12.8 million YouTube views) and the off-kilter banger "Creep Behind" (3.3 million views), Can't Speak On It arrived concurrently with a co-headlining national tour, which included performances for Jay and Ace at Rolling Loud Miami. In August, Ace dropped the video for "Freestyle", which earned more than 5 million views on YouTube and inspired a Genius Verified video.
Pre-order Step Harder: https://music.apple.com/us/album/step-harder/1483429965
Watch "Bando": https://www.youtube.com/watch?v=MgDxebVS06Y
Check out the Complex premiere: https://www.complex.com/music/2019/10/yungeen-ace-bando-video-premiere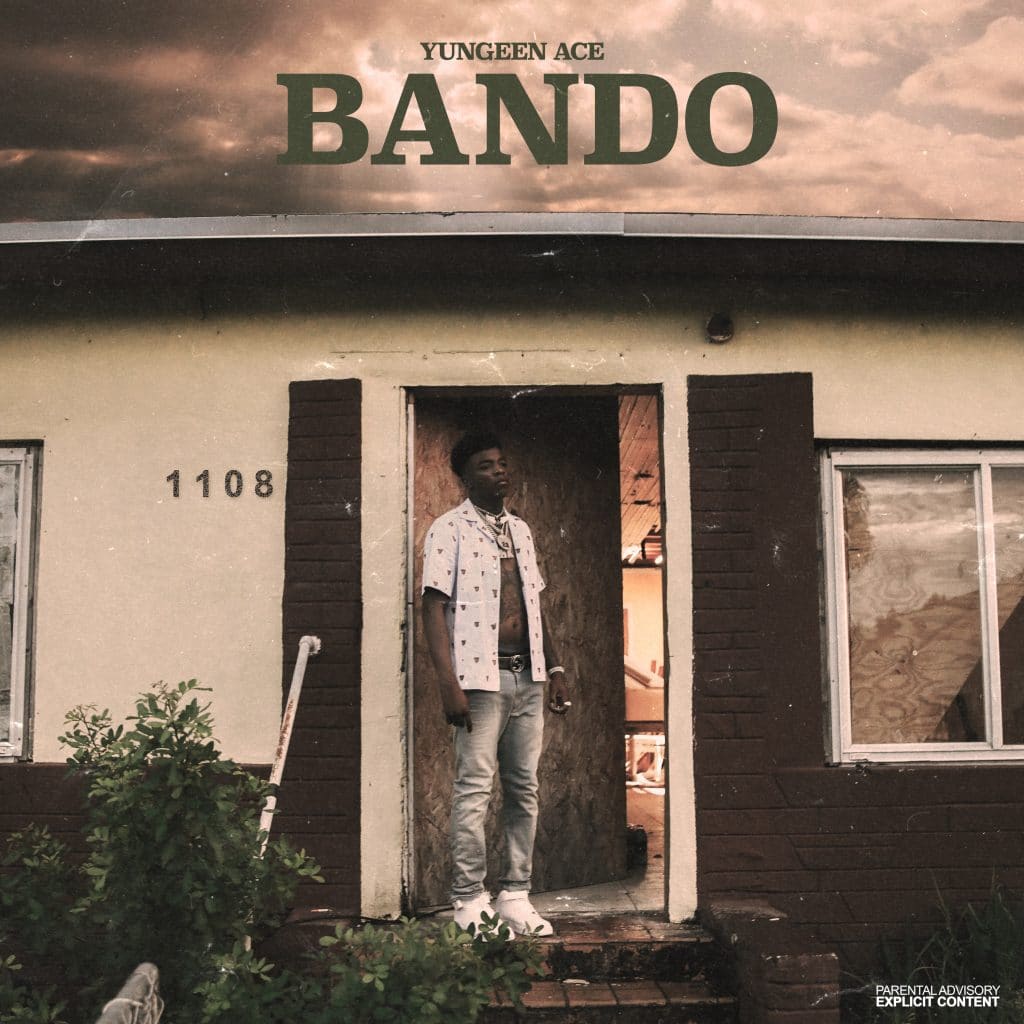 Please contact Michelle or Erin for more info.
The Background:
Yungeen Ace has built his massive following by standing alone. At 21, the artist born Keyanta Bullard describes his city of Jacksonville as "a jungle." Originally a Chicagoan, he moved to Duval County, Florida as a child with no friends. Despite 11 brothers, Ace learned fast that if he wanted to survive, he could only rely on himself. "It's hard out here. Everything we do, we gotta fight for it. We've got to go above and beyond just to make it. The surroundings are crazy. It's a creep city. Nobody is for you out here, so you have to be really for yourself." In June of this year, Ace was the lone survivor when a car he was riding in was ambushed by a drive-by shooting on Town Center Parkway. Three friends died. Just freed after a bid, the moment was a painful and chilling reminder of the violence epidemic for Ace. It was a dark spot in an otherwise upbeat time. In 2018, the rapper recently signed with Cinematic Music Group, a label responsible for propelling key new musical voices into the mainstream.
---
Links:
twitter | instagram | soundcloud | facebook | spotify
Bio, photos, and music available at www.audibletreats.com/yungeen-ace
Pre-order Step Harder: https://music.apple.com/us/album/step-harder/1483429965
"Bando": https://www.youtube.com/watch?v=MgDxebVS06Y
"Bad B*tch" (Remix) ft. Blac Youngsta: https://youtu.be/6FODPBAWBf8
"Bad Chick": https://yungeenace.ffm.to/badchick
"Freestyle": https://www.youtube.com/watch?v=M4Sze-Zgxd0
"Opps" w/ JayDaYoungan: https://www.youtube.com/watch?v=TArEeVqi_d0
Can't Speak On It w/ JayDaYoungan: https://ffm.to/cantspeakonit
"Jungle" ft. JayDaYoungan: https://www.youtube.com/watch?v=sAh5v6fPnP4