4.19.21
Video: Yung Beef – "INTRO" (Prod. by FvckVibes)
Blending Elements of Trap, Reggaeton, and More, Yung Beef Looks to Turn Heads with the Opening Track from His Expansive amd Genre-Bending El Plugg 2 Mixtape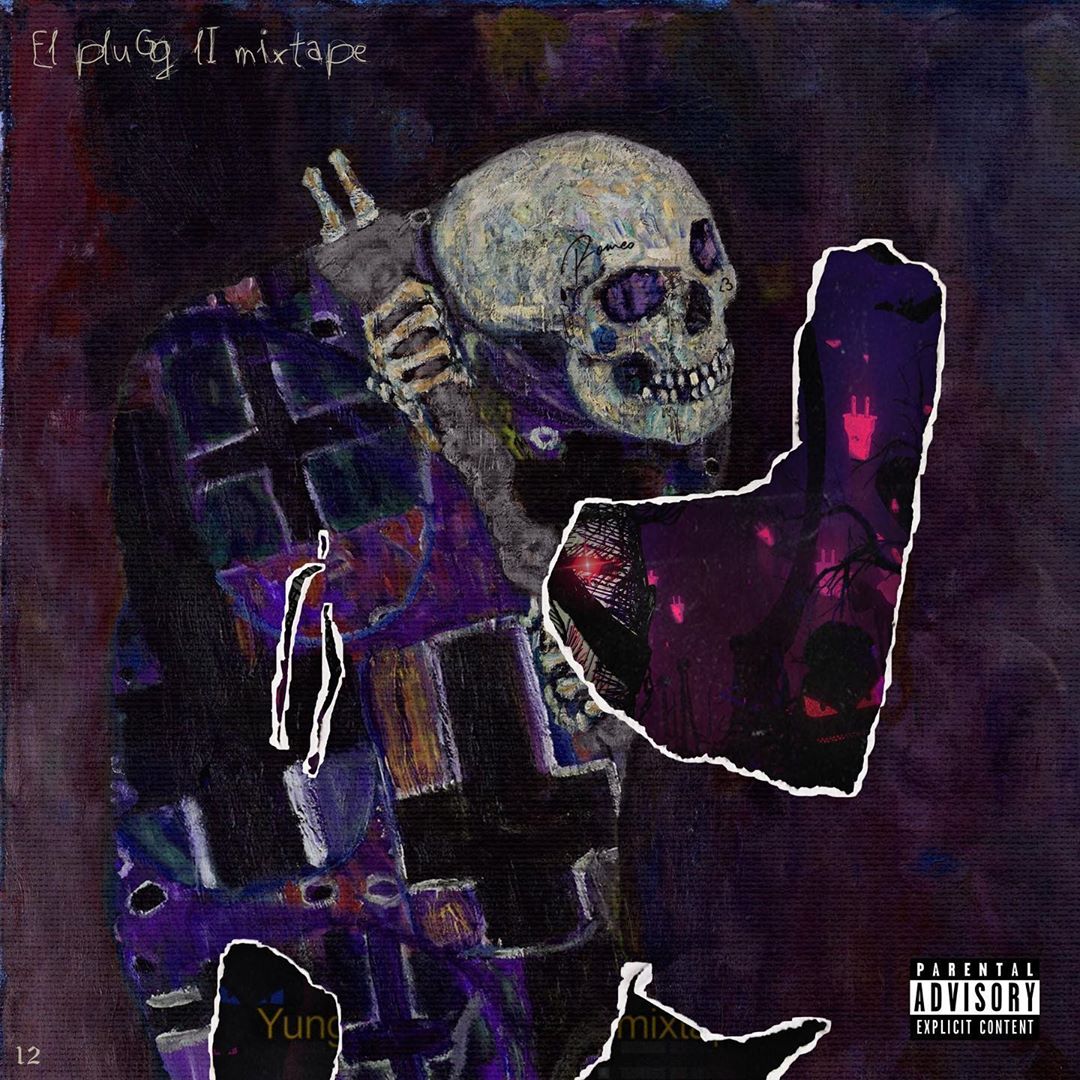 Critical Praise:
"Beef's geographically diverse sound is unapologetic, with piercing, incisive lyrics over trap beats fused with reggaetón, salsa and more besides, and characterised by its shout-outs to various fashion brands. That all makes sense, as Beef has become a poster boy for labels like Calvin Klein and Givenchy." – Dazed
"His swaggering aesthetic would come across as crass was it not for the quality of the music – a powerful crossroads that sees the sweaty sounds of Caribbean dembow and reggaeton collide with contemporary hip-hop." – Highsnobiety
"Yung Beef is without a doubt one of the hottest artists coming up from overseas right now. The young Spanish rapper has been creating a buzz in Spain for a while, and is now starting to catch looks over here in America." – Lyrical Lemonade
"One of the 25 artists shaping the future of music…A flagbearer for the new Spanish sound…Pulling his biggest tunes off YouTube, deleting releases and dropping projects by surprise have all fed into the cult status around him, while the music sounds equally unpolished, unpredictable and sporadic." – Crack
The Video: 
One of the biggest rappers in his home country of Spain, Yung Beef proves that he easily evades categorization with his new mixtape El Plugg 2.  Welcoming us into his world with a snazzy visual for the project's opening track, Beef shares "INTRO." Produced by FvckVibez, "INTRO" demonstrates the adventurous genre-bending that makes Yung Beef stand out on the scene. The song opens with an ethereal, distorted vocal sample, which sets the vibe for the song's first minute before the song takes an abrupt turn when devilish 808s enter the picture. The video gives a glimpse into Yung Beef's boss life, filled with designer clothes, fast cars, and beautiful women. Taking place near Beef's residence on Spain's Mediterranean Coast, the eye-popping video proves that he can flex as hard as any rapper on either side of the Atlantic.
Created in collaboration with American producers like DP Beats (Playboi Carti, Lil Uzi Vert) and Beef's frequent production partners like PipoBeats and Kid Favela, El Plugg 2 features an intoxicating combination of sounds, primarily blending the blown-out sonics and synth melodies SoundCloud-flavored trap music with reggaeton rhythms, but also incorporates elements of punk and alt-rock and more avant-garde genres like hyperpop. Throughout, Yung Beef is an ideal host, switching between hard-hitting flows and lovely melodies, all the while projecting an effortlessly cool and brazenly DGAF attitude that transcends language barriers.
The sequel to Yung Beef's 2018 El Plugg Mixtape, which featured production from Mexiko Dro and generated over 21 million streams worldwide, El Plugg 2 is a testament to Yung Beef's restless creativity, painting the fullest picture yet of his wide-ranging artistic tastes and talents. The mixtape is home to Dragon Ball Z-referencing lead single "MAJIN VEGETA," which reached over one million views on YouTube in less than a week, and last week's "PROBLEMAS MUSICALES," an immersive cloud trap collaboration with Beef's La Venedicion label signee Uzii Gaang. El Plugg 2 features additional contributions from Goa, who connected with Beef for "Guns N Roses" on the original El Plugg, and most notably Pablo Chill-E, a frequent collaborator of Yung Beef and one of the hottest rappers in South America. Packed with enough artistic ideas to fill 24 tracks, El Plugg 2 is available everywhere via La Venedicion / EMPIRE.
Filtering genres such as trap and reggaeton through his rebellious perspective, Yung Beef is turning heads in Spain and beyond for his intoxicating blend of sounds. The prolific artist generated over 70 million streams on his four 2020 projects, including Shishi Plugg, a collaborative project with Pablo Chill-E that featured the single "No Nos Pueden Suportar" (the first song by a Spanish rapper to gain more than 1 million views on the WorldStarHipHop YouTube channel), and Sonrisas, which  featured production from Brodinski and a guest spot from 645AR. Boasting a YouTube following of more than 244k subscribers, the Spanish icon had a busy live schedule planned for 2020, before the pandemic hit, including a duo spot at Lollapalooza Chile with Pablo Chill-E, and his own curated stage at Primavera Sound in Barcelona. Expect Yung Beef to pick up where he left off with these festivals in 2022.
He's already got his home country on lock, but with El Plugg 2, Yung Beef plans to emulate his idol Young Dolph and make waves in the American rap scene as an independent artist. Don't bet against him.
Watch "INTRO": https://youtu.be/6invd5SH6Xg
Buy/Stream El Plugg 2: https://music.empi.re/elplugg2
El Plugg 2 tracklist:
01. INTRO (Prod. by FvckVibez)
02. PROBLEMAS MUSICALES (Ft. Uzii Gaang) (Prod. by DP Beats)
03. SANTUARIO 2 (Prod. by Roy Dee, Ambeats, 190)
04. 20TRAP20-IKARI (Prod. by 1Guilthy)
05. TRANSILVANIA (Prod. by Roy Dee & Pochi)
06. LANZADERA (Ft. JoshOrtiz) (Prod. by 1Onlycartoon)
07. HOROSCOPO (Ft. Yung Caza) (Prod. by Oldpurp)
08. BLICKY (Ft. Alex Fatt) (Prod. by Oldpurp)
09. YOGA (Ft. El Mini) (Prod. by Oldpurp)
10. BUFFALO66 (Prod. by Pochi)
11. CARAMELITO (Prod. by 1Guilthy)
12. WICKR (Ft. Camin & JoshOrtiz) (Prod. by Icemoonmusic)
13. HASTA EL DIA QUE ME MUERA (Ft. Pablo Chill-E) (Prod. by Pochi, Roydee, Jagurclaw, 4Lx)
14. SI TE VAS NO VUELVAS( Prod. by AMbeats)
15. PARENTAL ADVISORIES (Prod. by Pochi)
16. NO TE QUIERO VER MAL (Ft. Albany) (Prod. by Sehemyre)
17. KASINO (Ft. Nitty Kasino) (Prod. by Oldpurp)
18. ROG ELIO (Prod. by Roydee)
19. KOURTNEY HATE (Ft. Goa) (Prod. by Paquiao)
20. MAJIN VEGETA (Prod. by PipoBeats & Kid Favela)
21. SWISS MONEY (Ft. Vita Balaguer) (Prod by Oldpurp)
22. ES UN ADIOS (Prod. by Jr & Oldpurp)
23. PLUGG 2 (Ft. Papi Trujillo) (Prod by 1Guilthy)
24. METALLICA (Prod. by Steve Lean)
Please contact Michelle or Erin for more info.
The Background:
Spanish rapper Yung Beef is one of his home country's most popular artists. He's collaborated with producers like Metro Boomin, Southside, DP Beatz (Playboi Carti), and Brodinski, and made songs with 645AR, Pi'erre Bourne, Pablo Chill-E, Duki, and many more. The genre-bending artist participated in global campaigns for brands like Calvin Klein, Puma, Nike, and Givenchy.
Besides all this, he's one of the more original and unpredictable European rappers, mixing Atlanta trap with left-field reggaeton and rock and pop music. He's the major figure in the Spanish rap scene.
---
Links:
instagram | youtube | twitter | facebook | spotify
"INTRO": https://youtu.be/6invd5SH6Xg
El Plugg 2: https://music.empi.re/elplugg2
"Problemas Musicales" ft. Uzii Gaang: https://music.empi.re/problemasmusicales
"Majin Vegeta": https://music.empi.re/majinvegeta/ / https://youtu.be/MvADosxhqzU