5.3.21
Video: YN Jay – "Coochie Language"
The Flint Native Releases Another Quality Addition To His Coochie Chronicles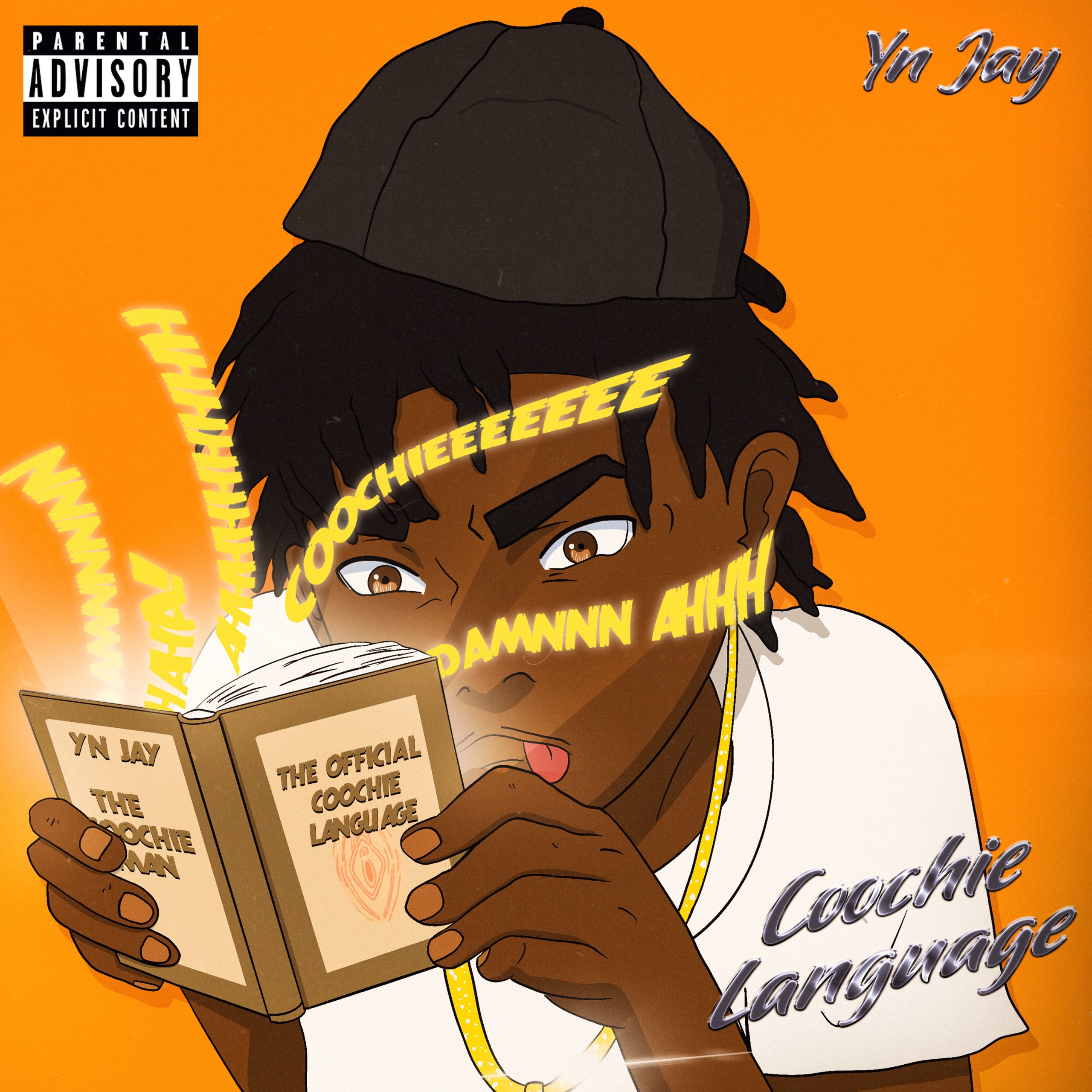 Critical Praise:
"There is Bruce Wayne and Batman. Clark Kent and Superman. And now, YN Jay and the Coochie Man" – Pitchfork
"Flint, Michigan wouldn't be one of the hottest scenes in rap without 'Coochie,' 'Coochie World,' 'Coochie Scout,' a mixtape titled Coochie Land, and Coochie Man, the floor-humping alter ego of YN Jay." – Pitchfork
"'Coochie' is one of the funniest hip-hop videos of the last five years" – XXL
"The Flint native is one of the more eccentric rappers in Michigan, rapping about coochie, using very distinct 'hold onnnnnnnnnnnnn' ad-ibs, and starting off songs by asking the producer: 'Why you always do that mannnnnnnn?' I'm honestly not sure what these producers are doing while YN Jay is recording in the booth, but whatever it is, it's working. The music is always wildly entertaining." – Complex
"He raps in different voices, draws out words like they're self-contained riddles. You never know if he's entirely serious, but that's the point." – SPIN
The Video:
Creatively exploring his one-track mind, YN Jay is a major contributor to the Michigan rap lexicon. Coming through with a colorful new chapter in the adventures of "Coochie Man," Jay shares "Coochie Language," his new video single. Produced by ENRGY, YN Jay's favorite producer, who combines syncopated kicks with detuned synth sounds, "Coochie Language" showcases Jay's unique pocket, smirking ad-libs and stop-start flows, packing in plenty of over-the-top quotables: "B*tch ask me who that at the door, that's my daddy knockin'." Directed by 2M Digital, the video is powered by Jay's million watt smile, as he kicks back in a private room in the club under neon lights and a starry ceiling. Coming hot on the heels of Jay's appearance on Lil Yachty's Michigan Boy Boat album, "Coochie Language" is the prolific rapper's third new video in less than 10 days, following the videos for two 2020 Flint collabs, "The Mafia" ft. Louie Ray and "Coochie Growl" ft. Rio Da Yung OG.
YN Jay trended on TikTok earlier this year with his "Triple S," a collaboration with Jay's frequent collaborator and fellow Flint native Louie Ray. The latest in a long line of viral TikTok hits by the "Coochie Man," "Triple S" has inspired over 450k video views on multiple sounds–one that taps into Jay's unique mic presence and expressive ad-libs, and another that highlights his witty lyricism–has earned over 12 million Spotify streams, and made its way onto Spotify's U.S. Viral 50 chart. Jay's single "Big Hoes" is his latest to trend on the platform, recently being used in a video by Lizzo that generated over 7.4 million video views.
Jay recently dropped a video for "Kakashi," a track from his recent album Ninja Warrior that also trended on TikTok (96k video creations). Earning coverage from Pitchfork, Entertainment Weekly, Mic, and many others, Ninja Warrior showcases the viral sensation's superior beat-riding ability and boundary-pushing bars. Featuring collaborations with Lil Yachty, Sada Baby, Louie Ray, and Rmc Mike, Ninja Warrior is out now.
Driven to take rap seriously after his older brother died, the 22-year-old YN Jay quickly started to build a reputation as one of the most colorful characters in a hometown Flint scene populated almost exclusively by colorful characters. He started to get mainstream notice with his single "Coochie," from his project Coochie Land, which introduced the world to Jay's one-track mind and eventually racked up over 26 million YouTube views. Jay is a nearly mythic figure on TikTok, generating millions of video creations on viral hits like "Triple S," "Coochie," "Coochie Land," and "Coochie Scout," and inspiring TikTok comedian @Nuhchez to splice YN Jay's voice into Coolio's "Gangsta's Paradise" and create one of the platform's most successful running jokes. In recent months, YN Jay earned co-signs from Drake and Lil Uzi Vert, and performed in a prominent time slot during Rolling Loud's latest "Loud Stream" virtual festival and is set to perform at Rolling Loud Miami 2021 in July.
Stay tuned for much more from the prolific YN Jay in the coming days and weeks.
Buy/Stream "Coochie Language": http://smarturl.it/coochielanguage
Watch "Coochie Language": https://youtu.be/wgqD4VIfJEU
Please contact Michelle, Kevin, or Erin for more info.
The Background:
"It's scary how easy it is for me to make music," admits 21-year-old rapper YN Jay. This is true of his 2020 hit "Coochie" and the follow-up album Coochie Land. "It was made in three minutes, easily, and the video did 30 million views. I've been writing songs to go a certain way my whole life, but it never worked. Now, I'm not overthinking it, and it's making me a star." After over a decade at the mic, the Beecher, Michigan native has given rap fans an alternative to music about violence and drugs.
Amid his rise, Jay got cosigns from Drake and Lil Uzi Vert. While Drizzy and Jay are exploring music, he recorded extensively with Uzi. The same night the two discussed collaborating, Jay stopped everything to drive to Philly. "I pulled up; we did damn near eight songs." One track, the "coochie"-inspired "HOLD ONNNNN," promises to release during an exciting 2021. Fresh off of Ninja Warrior—an album featuring Lil Yachty and Sada Baby that he conceptualized and recorded in a single day, YN Jay recently signed a deal with Alamo Records and is focused on showcasing his versatility and staying power. "I'm working on a few albums and letting the world know how big this is. Anybody can be a rapper; I'm trying to catch the culture and update the game."
---
Links:
instagram | youtube | tiktok | soundcloud | spotify | apple
"Coochie Language": http://smarturl.it/coochielanguage
YN Jay & Louie Ray – "The Mafia": https://www.youtube.com/watch?v=16lkqEtnafM
"Coochie Growl" ft. Rio Da Yung OG: https://www.youtube.com/watch?v=Ybs-4yvWEKQ
"Drunk When I Made This" (Prod. by ENRGY): http://smarturl.it/YNJayDWIMT
"Yeessiirrrr": https://youtu.be/erLZtkJcRL0 / http://ynjay.lnk.to/Yeessiirrrr
"Kakashi": https://youtu.be/VRi1F94mbRc
Ninja Warrior: https://ynjay.fanlink.to/NinjaWarrior
"Triple S" ft. Louie Ray: https://www.youtube.com/watch?v=Q4EQNq8wjZM
"Coochie Scout": https://www.youtube.com/watch?v=B9PyWMtET0w
"Coochie": https://www.youtube.com/watch?v=hSswVXDuXus