10.18.2022
Project: Xavier Wulf – Blood Shore Season 3
The Memphis Underground Heavy-Hitter Continues a Fan-Favorite Mixtape Series On a Breathlessly Intense 10-Track Effort, With Production from Hitkidd, WhoTheHellisCarlo, and More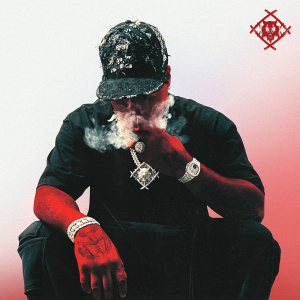 The Project:
Sinking his teeth into atmospheric Memphis instrumentals with locked-in triplet flows, Xavier Wulf does not mess around. Sharing a lean, mean 10-pack of hard-hitting heaters, the Hollow Squad chieftain shares Blood Shore Season 3, his new mixtape. Continuing the Blood Shore Season of projects, the third installment deposits new listeners and loyal fans into Xavier's shadowy underworld of souped-up sports cars and stacks of cash. The underground hero carries himself like a roguish anti-hero–on the project, he compares himself to Joe Pesci and Captain Jack Sparrow–as he slithers through brooding production by Hitkidd, WhoTheHellIsCarlo, and many others.
On track 3 "Charles Ruffingham," Wulf speeds up his flow and raises his intensity level as he takes gleeful pleasure in the complaints of his haters, while the subdued "Last Moon" shows off his melodic side. The new tape is the sequel to 2014's acclaimed Blood Shore Season 2, home to "Psycho Pass," which earned renewed attention on TikTok in the past year and is well on its way to GOLD certification with over 95 million streams on Spotify alone. The prolific rapper's first full-length project of the year, Blood Shore Season 3 is available everywhere via Hollow Squad / EMPIRE.
Born in Memphis, Tennessee, and deeply steeped in his home city's musical tradition, Xavier Wulf had a hand in nearly every major underground rap movement in the past decade. Wulf was one of the first rappers to build a following on SoundCloud, helping make the platform the go-to for aspiring rappers and establishing it as a hub of hip-hop innovation. Throughout his career, Wulf has criss-crossed the invisible line between underground and mainstream, racking up hundreds of millions of streams, and playing to sold out crowds across the country. This year, Wulf killed it on his 29-date "The Midnight Club Tour – Dub Edition," and recently shut it down with a primetime set at Rolling Loud New York. In late 2021, Wulf collabed with Hollow Squad producer Quintin Lamb for the high-octane GARAGE PUNK EP.
Pushing his sound forward with every release, Xavier Wulf is not even close to finished with his artistic journey.
Buy/Stream Blood Shore Season 3: https://music.empi.re/bloodshoreseason3
Buy Xavier Wulf merch: https://moonstonecove.com and https://thehollowsquad.com
Blood Stone Season 3 tracklist:
First Light
Nightshift
Charles Ruffingham
The Reason
Last Moon
Still Will
Jack Wulf Sparrow
Wulf Pesci
The Law
Silver Fang Wulf
Please contact Michelle and Kevin for more info.
The Background:
Xavier Wulf is a man possessed. When he has a dream or sets a goal, it consumes him. When he hears a beat, it takes over his body, commanding him to speak, shout, and let out the rage. As an artist and a person, he is quite literally driven by something beyond himself — maybe that's a little on the nose for a rapper known for his deep love of street racing and drifting, but it's also an apt description for his process. When Xavier clicks with an instrumental, he closes his eyes, puts the lyrical pedal to the floor, and lets it all out, following whatever road feels right. Xavier Wulf will soon embark upon the "Midnight Club Tour – Dub Edition," starting this April.
Links:
instagram | twitter | facebook | tiktok | youtube | soundcloud | spotify | apple
Blood Shore Season 3: https://music.empi.re/bloodshoreseason3
"Hoonigan": https://www.youtube.com/watch?v=XoYaJZAVnK0
"Pressure Gauge": https://youtu.be/wLOBUrG6Rx4
"TOP DEAD CENTER": https://youtu.be/X5iaGAhtRAI
GARAGE PUNK: http://ffm.to/garagepunk
"SILVER FANG WULF": https://www.youtube.com/watch?v=UUaIuRxNB6Q
RUDE DOG: https://music.empi.re/rudedog