12.13.2021
TikTok Shares "Year On TikTok: Music Report" for 2021
The Report Reveals Key Stats, Emerging Artists, and Fascinating Stories From the Year in Music on TikTok
Packed With Data and In-Depth Analysis, TikTok's Music Report Examines the Stars, Songs, and Stats That Defined a Another Massive Year as the App Grows Into a Dominant Force in Culture and the Music Industry
The News:
TikTok was the talk of the music industry in 2020, for its unprecedented ability to send previously unknown artists and songs to the top of the charts and the highest echelons of music stardom. In 2021, as artists and the industry, TikTok's role expanded–it remained a supercharged engine for music discovery, but also became a kind of town square for music, where artists would share their new music and let the community do its thing.
To take stock of a massive 2021, TikTok shared its second-ever "Year On TikTok Music Report," offering in-depth analysis, lists of top songs, genres, and artists, and other fascinating data and stories that defined music on TikTok this year. Below are some key takeaways from the report:
TikTok's video views and creation numbers remain staggering! – Last year, over 175 songs reached 1 billion video views on TikToks that used their sound. In 2021, the number ballooned up to more than 430 songs that surpassed 1 billion views, with the most viewed among them approaching 20 billion video views.
Success on TikTok directly impacts chart, sales, and streaming success: As music lovers flock to TikTok as their platform of choice, a song's success on TikTok increasingly correlates with improved streaming numbers and chart positions. Over 175 songs that trended on TikTok reached the Billboard Hot 100, many of which topped Billboard charts. That's a twofold increase from last year, when nearly 90 songs reached the Hot 100.
Trending songs came from all over the globe: Trending songs from TikTok emerged from six continents and dozens of countries, crossing borders on the backs of worldwide trends. Some of the more notable international tracks to make an impact were CKay's "Love Nwantiti" (Nigeria), Hoàng Read's "The Magic Bomb" (Vietnam), and Mc Don Juan's "Bipolar" (Brazil).
TikTok is the most vital tool for emerging artists of all genres to further their careers: TikTok is the ideal platform for exciting new artists to find and build an audience, without sacrificing creative autonomy or compromising their authenticity. The TikTok list of 20 emerging artists includes artists from ten different countries and multiple genres, but they were all able to find and expand their audiences by capitalizing on trending songs.
"Comeback" Songs–released between 5-25 years ago–play a growing role on TikTok – Oldies bring nostalgia and new music brings thrills, but what role do songs that don't quite fit either category play? This year, TikTok gave those wayward songs a home, as a host of non-current, not-yet-classic songs reached trending status and gained second life as a result. Hits like Kid Cudi's "Day N Nite" and Justin Timberlake's "SexyBack" gained renewed attention, but less-famous singles by The Noisettes, Dr. Dog, and Lukas Graham inspired trends that brought their music to a new audience.
Latin music lives on TikTok.– Latin music was the fastest-growing genre on TikTok in the U.S., rising from 10th in 2020 to 6th this year. The TikTok Music Report spotlighted Latin music, revealing the top Latin artists on the platform, as well as the top Latin songs from 2021. The report reveals that TikTok creators enjoy Latin music of all genres and eras–they vibed with hits by reggaetoneros like Bad Bunny, regional Mexican music from Ivan Cornejo, Latin pop from Camilo, and EDM-flavored bangers from Farruko.
TikTok plays favorites: Megan Thee Stallion and Doja Cat repeated their reign as the #1 and #2 artists by catalog, solidifying their spots as defining artists of TikTok. Lil Nas X, who had one of the first and biggest TikTok hits with "Old Town Road," was the most viewed artist (by video views on his page). Relative newcomer Olivia Rodrigo ascended into the ranks of TikTok royalty, as nearly every song from her debut album SOUR garnered over 100k video creations.
Women Dominated the U.S. Top Artist and Songs Lists: Four out of the top five artists of 2021 by catalogue creations were by female artists–Megan Thee Stallion, Doja Cat, Olivia Rodrigo, and Cardi B. TikTok has evolved into the most important platform for female hip-hop artists: 5 of the top 10 hip-hop songs in the U.S. came from women, including superstar entries like Megan's "Cognac Queen" and Cardi B's "Up," but fiery cuts from emerging artists like Erica Banks ("Buss It") and Kayla Nicole ("Bundles").
Things Got Weird – memes, soundtracks, and more trended alongside pop hits: While you'd expect to hear songs by Doja Cat and Olivia Rodrigo when scrolling through the For You page, but many unexpected sounds captured the hearts of TikTok creators. For a couple months in 2021, it was impossible to spend 2 minutes on TikTok without hearing the sound of The Backyardigans, a 2000s-era Nick Jr. cartoon whose soundtrack snuck into the Top 20 artists by catalogue behind infectious bangers like "Castaways" and "Into The Thick Of It." At the top of the year, #ShantyTok took over the globe, inspiring creative multi-layered interpretations of hundreds-year-old songs with the duet function. An ideal person to capitalize on TikTok's convergence of music, comedy, and internet cultures, Bo Burnham scored several trending songs from his Netflix special Inside, a statement about life on the internet that may have resonated a bit too well with TikTok creators wading through the second year of a pandemic.
Read TikTok's "Year On TikTok Music Report" on the newsroom: https://newsroom.tiktok.com/en-us/year-on-tiktok-music-report-2021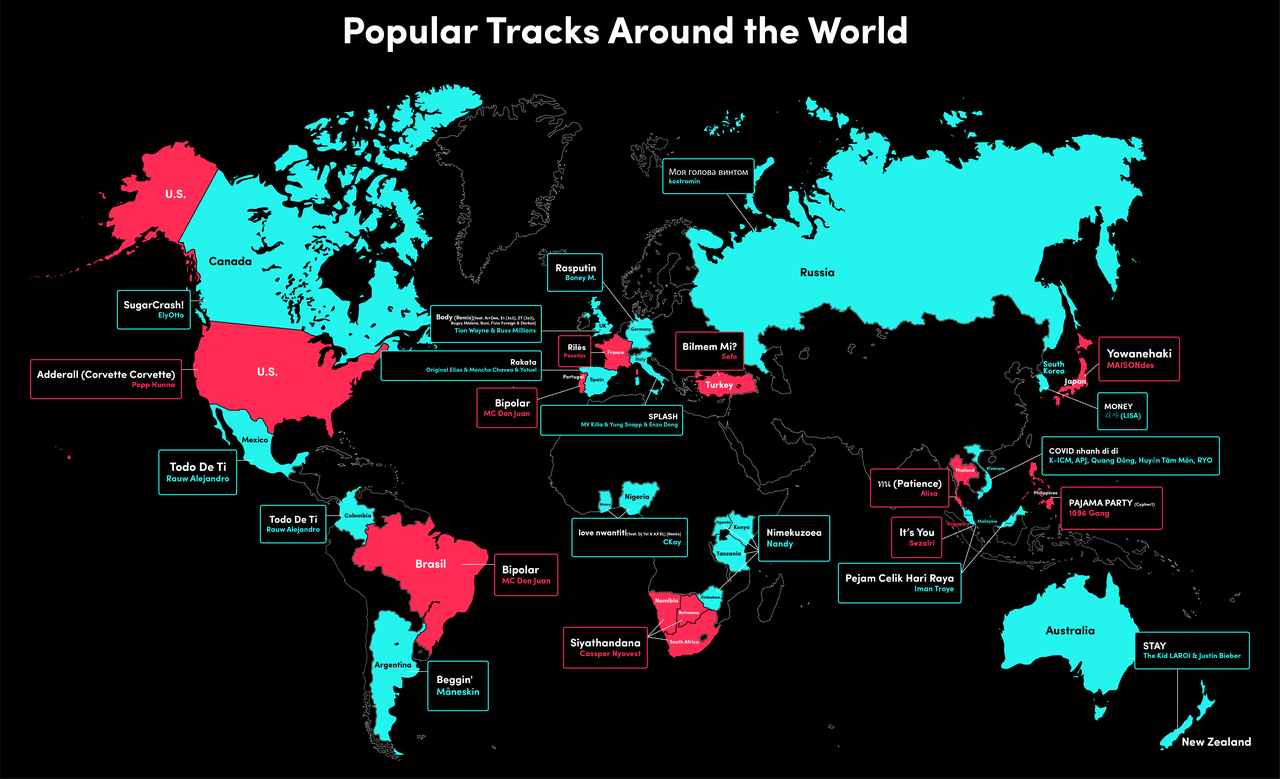 The Background:
TikTok is the leading destination for short-form mobile video. Their mission is to inspire creativity and bring joy.
TikTok has global offices including Los Angeles, New York, London, Paris, Berlin, Dubai, Mumbai, Singapore, Jakarta, Seoul, and Tokyo.
For more info, please contact:
Michelle McDevitt, ErinRyan, Destiny Riley, T'Keyah Hayes, Audible Treats
Leah Linder, TikTok
Links:
TikTok's Newsroom: https://newsroom.tiktok.com/en-us
Check out previous editions of TikTok Treats, a weekly newsletter about the most interesting music happenings on TikTok:
For Your TikTok Turkey Day Soundtrack: Taylor Swift, Regina Spektor, and More
Taylor Swift Turns TikTok 'Red,' 'Tis Mariah Carey's Season, Lady Gaga Makes A Grand Arrival & More
On TikTok: U2 Closes Out #Rocktober as Kanye West and Afropop Lead New Trends
Led Zeppelin Joins TikTok, While Adele and Luke Combs Spark New Trends
Dwayne Johnson, George Michael, and Jack Stauber Inspire New TikTok Trends
On TikTok: A Bee Gees Remix, A Very Juggalo Halloween, and Some Rising Hitmakers
Rosalía, Coi Leray, and MCR Highlight the Week in TikTok Music
Balvin, Doja, and Mariah Lead a Star-Studded Week on TikTok
Sam Smith, Ciara and Breakout PinkPantheress Highlight the Week on TikTok
Lizzo Starts "Rumors," bbno$ Eats "edamame," and More Hip-Hop TikTok Stories
#AltTikTok, Alt-J, and All-Time Rap Classics Define Music on TikTok This Week
Cats, Babies, & Vietnamese Techno Highlight the Week in TikTok Music
On TikTok: Normani, Reba, and a Gas Station Star
The Kid Laroi Meets Bieber, Drake Runs Thru The 6, and More From TikTok
BIA Meets Nicki, Stromae Slows Down, and More TikTok Trends
On TikTok: Music Trends Inspired by Kanye, Young Nudy, and…Meryl Streep?
Avril Lavigne, Bo Burnham, and Gucci Mane Lead The Week in TikTok Trends
TikTok Summer Madness: Lorde Leads a Pack of New Trending Songs
Swae Lee, WILLOW, Mitski & More Inspire Trends on TikTok
Only On TikTok: Lil Durk & City Girls Trend Alongside…The Backyardigans?
On TikTok: BTS Army Takes Over, Carti Demands Silence, and Fans Anticipate F9
Olivia Rodrigo Catches Fire, Miguel Helps Users Catch Feelings, and More TikTok Stories
Saweetie, Calvin Harris, and Bella Poarch Highlight The Week in TikTok
Another One? DJ Khaled, Lizzo, and More Make the Week in TikTok
Doja Cat, Little Simz, and El Alfa Inspire TikTok Trends
Britney Spears, Chloe Bailey, and Diplo Make Waves on TikTok
Dua Lipa, Drake, and Bell Biv DeVoe Make Waves on TikTok
DMX Gets His Flowers, Silk Sonic Reaches #1, and More TikTok Stories
TikTok Unveils Music-Powered Filters, Lil Nas X Debuts At #1, and More TikTok Stories
Bieber Tops The Charts, Young Thug Premieres New Music, and More TikTok Stories
Demi Lovato Kicks Off TikTok's New Livestream Series Headstream
Rock Music Thrives on TikTok, Just Ask Yungblud, Beach Bunny, and More
Shania Hops On Board, Kid Cudi Tosses and Turns, and More TikTok Stories
On TikTok: Kali Uchis and Coi Leray Hit the Charts as Bobby Shmurda Comes Home
Rihanna, Brent Faiyaz, and Giveon Lead TikTok's R&B Moment
T-Pain, Hyperpop, and Anti-Valentine's Anthems Take TikTok By Storm
Cardi Goes Up, Uzi Goes Down (to Sleep), and More TikTok Stories
Black History Month Kicks Off, Mark Ronson Duets, and More Music Stories From TikTok
Cardi Goes Up, Uzi Goes Down (to Sleep), and More TikTok Stories
Dave Grohl, Migos, Miley, and More Happenings on TikTok
This Week on TikTok: Olivia Rodrigo Hits #1 as Memes & Mashups Flourish
New Year, New TikTok Trends: Alicia Keys, Remembering MF DOOM & More
Paul McCartney, Holiday Celebrations, and New Year's Eve Live on TikTok
TikTok Releases First U.S. Music Report: Here Are Some Key Insights
How TikTok's Top 10 Songs of 2020 Impacted the Industry