7.22.2022
The Homies Announce It's A Lot Going On, Their Next Album, Coming August 19th
The 4-Man Group Shares "Thirsty," A Breezy Summer Banger
Currently On Tour in Australia with Jack Harlow, the Louisville Native Rap Crew Sample Missy Elliott and Drake in Their New Single
Tickets for The Homies' Annual Celebrity Kickball Tournament, Happening on August 10th, Are Available Now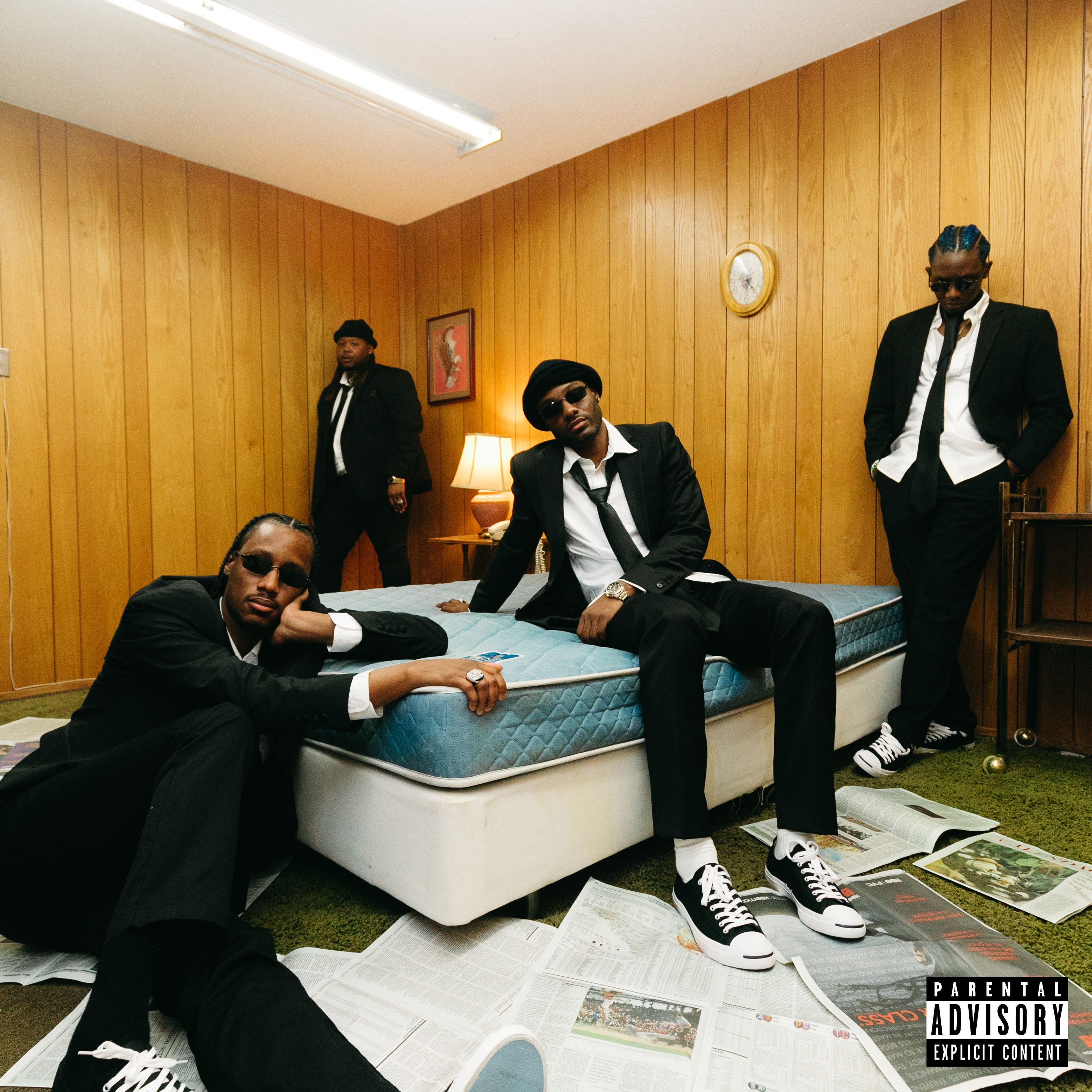 Critical Praise:
"The Homies have quietly been climbing to the top of the indie music scene, with singles and visuals such as "Home Alone" and "The Come Down", which they gave fans earlier this summer. Known for their own unique individualism, Honest Living embodies each personality flawlessly from Ace Pro's creative vision, 2FoWoyne's distinct production, and Shloob and Quiiso's melodic flows." – Broadway World
"The Homies deliver top tier bars showcasing their natural unique talent" – RESPECT Mag
"9 Exciting Acts to Catch at Forecastle This Year…Everything that they do is smooth, with a relaxed creatively that still hits hard. All things considered, their superpower is the diversity of their styles, how each member is different, bringing new energy and ideas into various moments. That's the thing about a collective done right: it's never gets boring, because there's too much talent." – Louisville City Beat
"Louisville rappers respect the artistry of their peers, love to collaborate with one another, and love to rep the 'Ville. The next group to pop from the 502 is none other than The Homies. The Homies consist of four individualistic, multi-talented artists: Quiiso, Shloob, Ace Pro, and 2forwOyNE." – SHEESH Media
The Video:
Creating their own instrumentals and music videos in house, Louisville rap group The Homies brim with an infectious communal energy that permeates their music. Coming through with a breezy banger to cool off this heat wave, the four-man collective shares "Thirsty," their new single. "Thirsty" is the latest missive from It's A Lot Going On, the next album by The Homies, releasing on August 19th.
Produced by group member 2forwOyNE, an accomplished sound architect who produced several tracks on Jack Harlow's latest album, "Thirsty" combines elements of two late '00s rap cuts–using a sped-up sample of Drake's "Houstatlantavegas" and vocals of Missy Elliott's "Ching-A-Ling"–into a cohesive and incredibly catchy whole. Vocalists Ace Pro, Shloob, and Quiiso embellish upon the sample with silky smooth harmonies, using their melodic mastery to romance the object of their affections: "I wanna spend more than time with you/Mess around spend every single dime on you/Your boss b*tch energy is shining through." The new single follows the Hype Williams-inspired video for "Shake" (368k video views), which earned coverage in EARMILK and more.
Along with the new single, The Homies announce the return of their annual The Homies Celebrity Kickball Tournament. Hosted by Private Garden, the collective that The Homies started with their friend Jack Harlow, the event celebrates the end of summer by inviting some of the city's biggest celebrities for a friendly kickball round robin. The tournament includes four teams of 14, comprised of musicians, athletes, stars, and local youth, and benefits two Louisville-based community organizations: Norton's Children's Hospital and AMPED. The anticipated celebrity kickball tournament returns to Jim Patterson Stadium, the home of Louisville Cardinals baseball, on August 10th, 2022 from 6:00-9:30pm. Buy tickets HERE.
Formed in Louisville out of a shared passion for music and creativity, The Homies have earned high-profile co-signs, earning praise from iconic DJs DJ Drama and Don Cannon, and opening on tour for artists like Lil Uzi Vert, Bryson Tiller, and Waka Flocka Flame. The Homies scored a cult hit with "Leaf Wraps," a Jack Harlow-featuring single that scored over 5 million streams on Spotify, and later appeared on their 2018 debut album Umbrellas. They followed up Umbrellas with last year's Honest Living, home to the single "White Lies" (3.7 million Spotify streams). With the follow-up to Honest Living on the way, The Homies showed off their live chops at Louisville's own Forecastle Festival in May, and they are currently on the road Down Under, performing several dates across Australia.
With much more music on deck, an including the upcoming It's A Lot Goin' On, and an unshakeable passion for their craft, The Homies are ready to follow in the footsteps of their friend Jack Harlow from the Louisville underground to the rap mainstream. Sit back, and watch their rise.
Buy/Stream "Thirsty": https://thehomies.ffm.to/thirsty
Buy tickets for The Homies' Celebrity Kickball event:
https://am.ticketmaster.com/uofl/ism/MjJLQkc
Please contact Michelle or Destiny for more info.
The Background:
The Homies, comprised of multi-talented individuals with a unique sound and perspective, are a budding Hip-Hop group based out of Louisville, KY. Co-created by Grammy Nominated artist Jack Harlow, The Homies consist of Quiiso, Shloob, Ace Pro and 2forwOyNE. The group prides themselves for being a creative force, producing all their music in-house, as well as their creative direction.
---
Links:
instagram | twitter | spotify | youtube
"Thirsty": https://thehomies.ffm.to/thirsty
"Shake": https://thehomies.ffm.to/shake / https://www.youtube.com/watch?v=ny0fPFA8PGo