Video: Tasha The Amazon – "That Ain't You"
The Acclaimed Artist Comes After Culture Vultures in This NYLON-Premiered, Neon-Lit New Visual
5.30.2019
Critical Praise:
Juno Nominee for Rap Recording of the Year, 2017
MuchMusic Video Award Winner for Best Hip-Hop Video, 2017 ("Picasso Leaning")
"Toronto's Tasha The Amazon is a Rising Star" – Pigeons & Planes
"The perfect soundtrack for a molly-fueled bacchanal at the end of the world." – The Cut (New York Magazine)
"She's showing you that she's the future of rap." – NYLON
The Video:
With a fiery and punishing rap sound that springs directly from Toronto's warehouse party scene, Tasha The Amazon is a serious talent. Delivering an exhilarating visual for a visceral song, Tasha shares the video for "That Ain't You," directed and conceptualized by Colin G. Cooper. Dominated by bullying bass, complemented with guttural chants and twinkling synth, "That Ain't You" finds the artist adopting patois, crafting dexterous hooks as she shouts down those who try to vulture her swag: "We can like the same shit, but you still ain't the crew/Ride the same whip, but you still ain't the crew/Buy the same fits, but you still ain't the crew." In the video, Tasha rocks two metallic and futuristic outfits, styled by Jess Mori, as she wilds out in a warehouse, lit by bars of neon light. Premiered by NYLON, the video also shines a spotlight on several individuals worthy of being in Tasha's crew–bohemian individuals like the ones who used to frequent the warehouse parties on which Tasha made her name. With audio premiered earlier this year by Highsnobiety, "That Ain't You" is the lead single from Black Moon, Tasha's upcoming album.
Says Tasha, "I think a lot of people love mainstream rap culture, but don't really see themselves reflected in it. And part of that is cause it usually lacks the balls to really be different. I think anyone who gets excited about doing things differently gets bored with that. 'That Ain't You' is about celebrating that fearlessness of vision and creativity. We pulled together our favorite inspirations from Afropunk and Afrofuturism and just let our imaginations run wild. We got really gully with it and just had fun. The video is like a 3-minute universe, like a glimpse of what's possible in rap if we're not afraid to be different."
A Toronto native of Jamaican and German descent, Tasha The Amazon made her mark on her city's music scene with her raucous stage performances and with warehouse parties notorious for getting shut down by the police. In late 2016, Tasha broke through with Die Every Day, which earned the rapper praise from Billboard, FADER and Pigeons & Planes, as well as a nomination at The JUNO Awards, Canada's biggest music awards, for Rap Recording of the Year. Tasha spent 2018 holed up in the studio, developing a cohesive and powerful new project and releasing her song "Intercontinental," which Spotify chose for its Fresh Finds and Women of Fresh Finds playlists. In Summer 2018, Issa Rae selected Tasha's "All Black" for the soundtrack for Season 3 of her HBO series Insecure. Ready to reveal the fruit of her labors, Tasha continues her busy 2019, as she embarks on the path to her sophomore album Black Moon, due this summer. Earlier this year, Tasha shared "Can't Remember," a melodic and introspective single, premiered by HipHopDX.
Watch "That Ain't You": https://www.youtube.com/watch?v=8AqfwDmkPAw
Check out the NYLON premiere: https://nylon.com/tasha-amazon-that-aint-you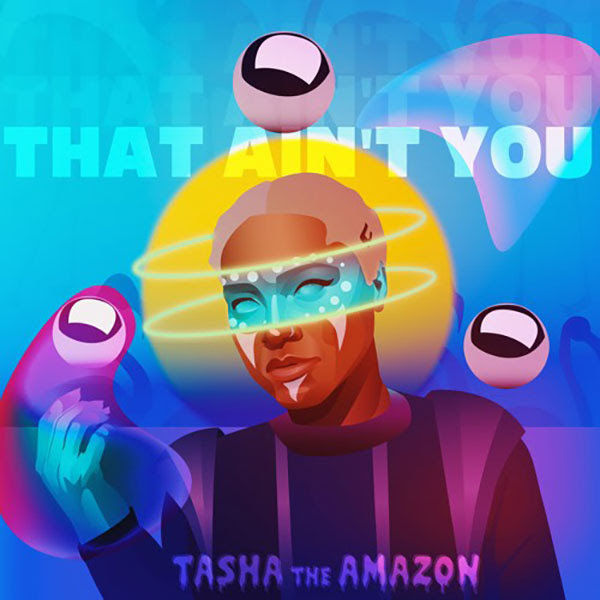 Please contact Michelle or Erin for more info.
The Background:
Tasha the Amazon is an artist, producer, and all-around bad gyal. Fiery and unconventional, she shifts lyrical ground effortlessly from partying to psychonautics; audacity to reflection.
The German-Jamaican powerhouse planted roots in the Toronto rap scene with her first solo mixtape, the critically acclaimed, FiDiYootDem, and quickly distinguished herself with standout performances, rude stage antics, and warehouse jams shut down by the police. Millions of video views and streams later, Tasha released her first album, the Juno-nominated Die Every Day, in 2017. The album and its iconic videos racked up international awards and nominations. She made appearances everywhere, from International Google ads and big-city Spotify billboards, to Comedy Central's Broad City and HBO's Insecure.
Tasha began working on her sophomore album while touring internationally in Europe, Canada, Mexico, and the US. On the heels of debut victory, Tasha managed to do what few artists can: wading through the treacherous waters of rap success and excess, she doubled down on experimentation and exploration and spent 2018 living, creating, and partying globally on her own terms. Now, back from her other-worldly adventures, the Toronto prodigy is ready to strike out with her next full-length project, Black Moon, due Summer 2019, with a hoard of new music dropping up to the release.
Produced with her creative partner Danny Thrax (together they form the production duo Bass & Bakery), the album is a daringly honest trip through rap ascendency. Tasha juxtaposes middle-finger-in-the-air bravado with naked vulnerability, a voice coherent with a boldness that can come only from authentically living in extremes.
---
Links:
official site | twitter | facebook | youtube | instagram | soundcloud
"That Ain't You": https://soundcloud.com/tashatheamazon/that-aint-you
"Can't Remember": https://soundcloud.com/tashatheamazon/cant-remember
"Intercontinental": https://soundcloud.com/tashatheamazon/intercontinental || https://itunes.apple.com/us/album/intercontinental-single/1342299484
"Ways": https://open.spotify.com/track/7LwxJxYe22bXR3YiIH768n || https://soundcloud.com/tashatheamazon/tasha-the-amazon-ways
"Die Every Day": https://www.youtube.com/watch?v=oWMJPqFYMI8
"Prayer": https://youtu.be/pKjrpNvaLeQ // https://soundcloud.com/tashatheamazon/tasha-the-amazon-prayer-produced-by-bass-and-bakery
"Watch It Burn": https://www.youtube.com/watch?v=_m3xQSfy33M
Die Every Day: https://soundcloud.com/tashatheamazon/sets/die-every-day/s-8iRnN
"Picasso Leaning": https://www.youtube.com/watch?v=I2H2qOXtFLk
"Prayer": https://soundcloud.com/tashatheamazon/tasha-the-amazon-prayer-produced-by-bass-and-bakery
"My Level": https://www.youtube.com/watch?v=JVO1bPjmcrc
"Thru The Fire": https://www.youtube.com/watch?v=SE51OUpOd_g