7.13.2021
Watch "Back Beat," a Docu-Short About Black Creativity and Shared Experiences as Expressed Through Dance, Directed by Tajana B. Williams
Featuring Music From Deanté Hitchcock, JEFF & cktrl, the Dynamic 9-Minute Short Film Draws Strength from the Talent and Passion of the Ensemble Cast of Dancers
The New Film Unearths Black Professional Dancers' Challenges and Triumphs By Highlighting Their Unique Stories of Strength and Camaraderie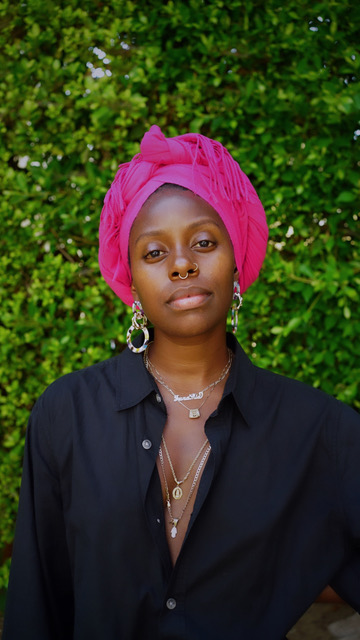 Tajana Bunton-Williams
The Film:
A former professional dancer who performed at Coachella with Beyoncé & danced on the legendary Formation World Tour, among several other notable career highlights including award shows, music videos, renowned recital halls, and more, Tajana Bunton-Williams has always believed in dance's power to soothe the soul and heal communities. A mutli-faceted creative, Tajana married her myriad experiences of being a Black dancer with a newfound creative outlet, filmmaking, to birth a brilliant short film titled, "Back Beat," which shines a spotlight the plight, beautify, strength, creativity, resilience, and kinship of Black professional dancers.
"I wanted to make a film that celebrates Black people through the voices of Black professional dancers in the industry in Los Angeles," says film director Tajana Bunton-Williams. "The commercial dance industry is structured in a way that primarily undermines career growth of Black Talent and excludes them from opportunities to monetize their gifts in sustainable ways. Unlike the culture of Ballet or Contemporary dance, Hip-hop dancers struggle to make a living as more than background props for a music artist. Rarely are they showcased for their innate gifts and artistry outside of a music video or a live tour for a recording artist. I hope that 'Back Beat' will empower Black people, celebrate Black joy & hopefully the next time someone watches hip-hop dance they can see it for the vulnerable and deeply skilled storytelling, art form that it is."
While the featured dancers share stories of being tokenized, marginalized, and overlooked, they also express the joy their community brings them, emphasizing the uniting centrality of dance to family gatherings and reclaiming ownership of their movements, which are often appropriated. The film features music from Atlanta rapper Deante' Hitchcock, Memphis artist JEFF, and London musician cktrl.
From Sierra Leonean heritage, raised in London, and now living between Los Angeles and London, Tajana Bunton-Williams started her career as an accomplished dancer and she is now an in-demand visual artist, specializing in film, branded content and commercials. She's created music videos and live performances for artists like Ari Lennox, Chika, Bas, and more, as well as several short films that showcase her exquisite eye for movement and image composition. View her work at https://vimeo.com/user99366315
Watch "Back Beat" at The Nowness: https://www.nowness.com/series/just-dance/back-beat-tajana-b-williams
"Back Beat" Credits:
Director – Tajana B Williams
DP – Kalea Calloway
Production Company Somesuch
1st Assistant Camera Minami Crease
Photography – Tajana B Williams
Duet Choreography – Zavion Brown
Wardrobe – TYDRYN
Colour – Gabe Sanchez, Roundhouse Post
Edit – Tajana B Williams
Title Graphic – Medar De La Cruz
Please contact Michelle for any inquiries regarding "Beat Back."
The Background:
About Tajana Bunton-Williams
Tajana B Williams is a director born in London, currently based in Los Angeles and London. Tajana's directing style is heavily influenced by her professional dance career, having worked for many years with artists such as Beyoncé and Janelle Monáe, she has unique insights and points of inspiration from having been on the front lines of ground breaking immersive creative experiences with a global reach. Her love of dance deeply informs the development of her work as she often integrates choreography, abstract storytelling and a vibrant musicality in each piece she creates. She is currently focused on projects in the music, fashion and branded content space. Most recently she has worked with Ari Lennox, Chika, Victoria Monét and Destiny Rogers.
About SomeSuch
Somesuch is one of the leading production companies in the world with a reputation for delivering some of the most progressive and award winning commercials, music videos, branded content and films globally.
Somesuch consistently triumphs in the world's leading awards and festivals including Cannes, D&AD, The British Arrows, Ciclope, AICP, MTV, UKMVAs, and BAFTA, repeatedly winning 'Production Company of the Year' and most recently, 'Production Company of the Decade' as voted by UK's Campaign Magazine. Somesuch is proud to produce groundbreaking short films, documentaries and narrative-led cinema, with recent premieres at Raindance, BIFA, Palm Springs and Clermont-Ferrand.
As a company, Somesuch has a long term commitment to sustainable production models and improving diversity, equity and inclusion within the industry. Somesuch has a global network with offices in London and LA and represents Serial Pictures in the UK.
---
Links:
"Beat Back": https://www.nowness.com/series/just-dance/back-beat-tajana-b-williams