5.26.2022
SUEÑOS MUSIC FESTIVAL REVEALS SET TIMES AND STYLISH MERCH FOR INAUGURAL EVENT
FEATURING J BALVIN, OZUNA, WISIN & YANDEL, FARRUKO, AND MANY MORE, THE 2-DAY FESTIVAL ARRIVES IN GRANT PARK, CHICAGO THIS WEEKEND (5/28-29)
The Announcement:
(Chicago, IL – May 26, 2022) Sueños Music Festival, the largest Latin Music & Reggaeton event to ever take place in the heart of downtown Chicago, unveils new merch that will be available for purchase at this weekend's event. In addition, Sueños has revealed the set times, site map, and performance schedule, allowing fans to plan their action-packed weekend accordingly. Headlined by J Balvin, Ozuna, Farruko, and Wisin & Yandel, with performances from Myke Towers, El Alfa, Jhayco, Sech, Fuerza Regida and many more, the inaugural Sueños Festival happens on May 28th & 29th in Grant Park, Chicago.
The Sueños team devised a wide selection of bespoke merch to commemorate the inaugural festival and honor Chicago's Latin culture. Fans can choose between three hoodie designs, a tie-dye short sleeved tee, a white long-sleeved tee, baseball caps in four colors, a bucket hat, and snazzy socks. Finally, Sueños designed a baseball jersey, celebrating Chicago's historic status as a mecca for America's pastime.
Produced by the teams behind Baja Beach Fest, Chicago's own Reventon Promotions and Lollapalooza. Sueños Festival (translation: dreams), was created to be an inclusive event with a mission to continue to celebrate and uplift Latin culture and the extraordinary music, people, food, and amazing energy that comes along with it. In addition to an entirely Latin lineup, the festival will feature a curated selection of Chicago's best Latin food, art installations, a ferris wheel, multiple bars, and specialty cocktail lounges, and much more.
"The response for Sueños from Chicago and nuestros Latinos has been unreal!" say Aaron Ampudia and Chris Den Uijl of Sueños & Baja Beach Fest. "We expected Latin music fans would be excited, but this exceeded our expectations. We can't wait to create a unique experience for everyone this Memorial Day weekend, and the years to come! ¡Gracias Chicago!"
Learn more about Sueños Music Festival at http://www.suenosmusicfestival.com/
Buy Sueños Merch: https://shop.suenosmusicfestival.com/
Sueños Music Festival is proudly produced by the teams behind Baja Beach Fest, Chicago's own Reventon Promotions and Lollapalooza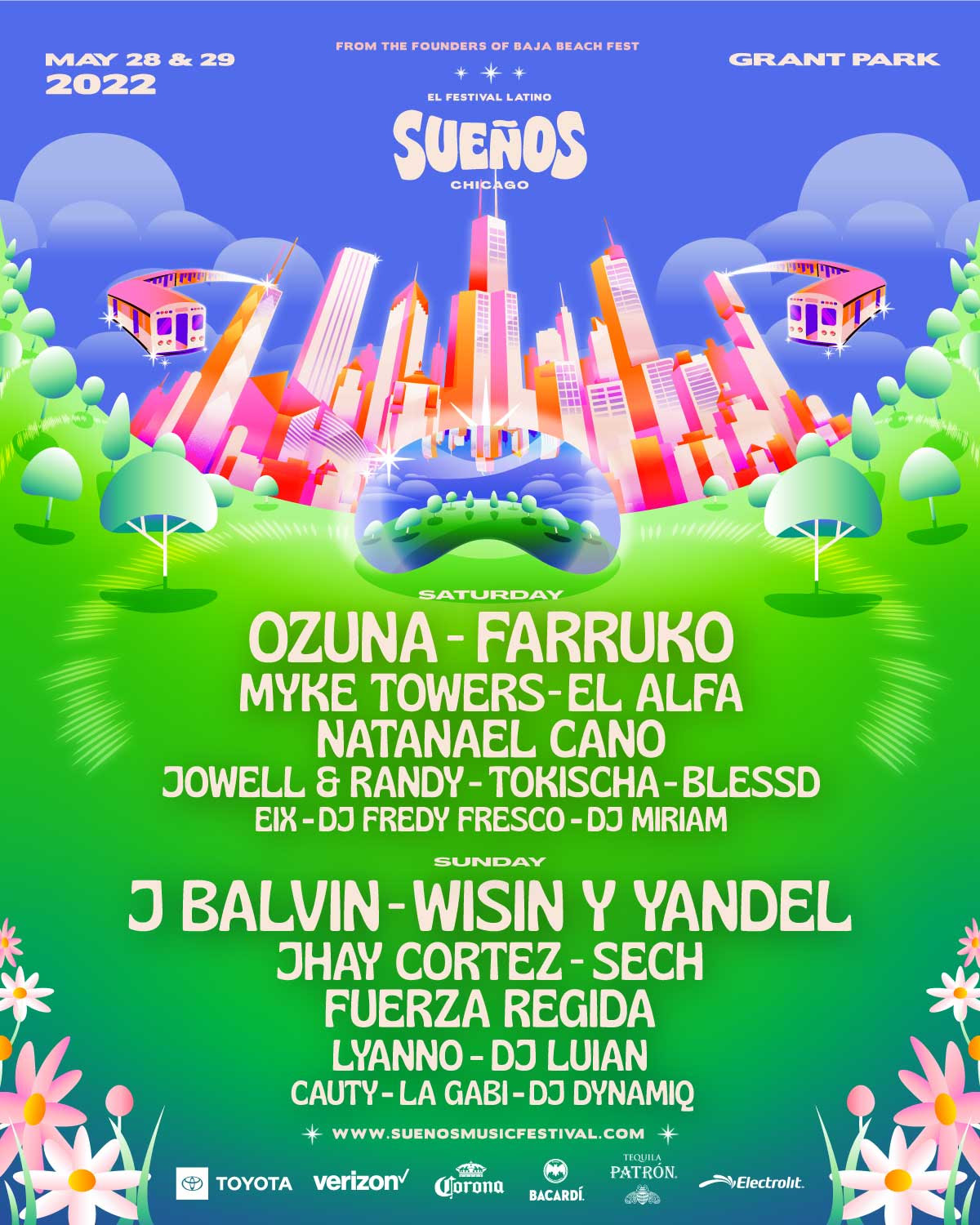 Media Contacts:
press@c3presents.com
suenos@audibletreats.com
Links: