11.19.2021
Video: Smokepurpp – "Not Your Speed" ft. Lil Gnar
The Florida Rapper Tears Through a Burger Joint with the Help of Lil Gnar in New Video Single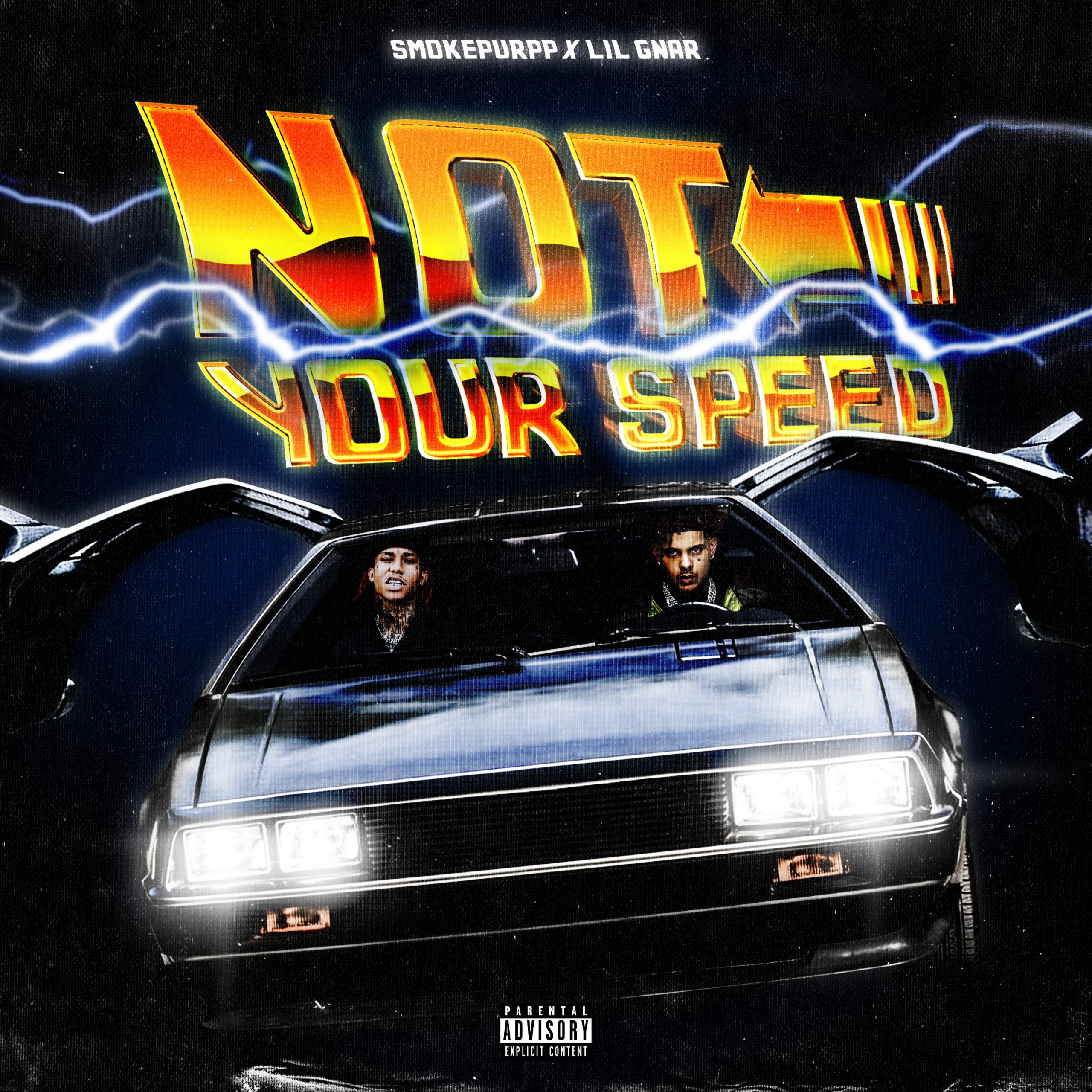 Critical Praise:
XXL Class of 2018 Freshman
"Purpp has caught the ears of everyone from The Weeknd and D.R.A.M. to Chief Keef and Travis Scott, and the 19-year-old rapper is in position for a rapid ascent" – Pigeons & Planes
"If you've not been following along, the rise of young Miami rapper SmokePurrp – alongside that of his longtime pal and collaborator Lil Pump – has been one of the more exciting rides in rap's underground this year" – Noisey
"Out of all the SoundCloud and Florida rappers that have gained floods of attention and acclaim in recent years, Smokepurpp has stood as one of the movement's strongest proponents and artists." – HYPEBEAST
The Video:
Known for his hard-living lifestyle and boundless charm, Smokepurpp can always be found causing a little mayhem while donning a mischievous smile. This time creating chaos with Lil Gnar, Smokepurpp shares his new video single, "Not Your Speed." The song finds Purpp spitting his mellowed, yet snappy cadences over an entrancing synth-heavy melody, using a new high-pitched delivery that adds intensity to each bar.
The NDOH-directed video sees Smokepurpp and Lil Gnar wreaking havoc on their workplace as fast-food employees, from trashing the kitchen, to choking out their boss, making hundreds rain down in the dining room, and ultimately, bouncing, leaving yet another manager understaffed and overwhelmed. As the duo speed off in a Hellcat, they receive a call from their furious boss, to which they simply respond with, "I'm not your speed, b*tch," before hanging up. His first release since February's Psycho (Legally Insane) EP, "Not Your Speed" arrives as Purpp looks forward to Bless Yo Trap 2, the sequel of his 2018 collaborative mixtape with Murda Beatz.
Earlier this year, Smokepurpp channeled the rebellious debauchery of rock star icons like GG Allin and Ozzy Osbourne, using them as inspiration for the bold and experimental Psycho (Legally Insane) EP. The young artist also earned his first Grammy nomination last year for his contribution to "Costa Rica," the Gold-certified track from Revenge Of The Dreamers III, and racked up over 40 million streams on YouTube and Spotify with his guest spot on KSI's "Poppin."
Stay tuned for much more music from the former XXL Freshman, including Bless Yo Trap 2, the sequel to his 2018 collab tape with Murda Beatz, set to release in 2022.
Watch "Not Your Speed": https://www.youtube.com/watch?v=PQTNL0x32OI
Buy/Stream "Not Your Speed": https://smarturl.it/notyourspeed
Please contact Michelle or Kerry for more info.
The Background:
The Chicago-born, Miami-raised rapper and producer Smokepurpp has been one of the cornerstones of Florida's burgeoning rap scene since the release of his "Ski Mask" video in 2015. The buzz from the video and other singles with close friend Lil Pump culminated in a record deal with Alamo/Interscope Records and Travis Scott's Cactus Jack Records. The 21-year old Purpp quickly went to work, collaborating with Scott, Yo Gotti, Pump, and more. His debut release, Deadstar, spawned the gold-certified single "Audi" and generated features from The New York Times, Rolling Stone, Pigeons & Planes, XXL, Mass Appeal, and many more. The follow up release, Bless Yo Trap, was a collaboration with Grammy-nominated producer Murda Beatz, boasted the standout single "123" and collaborations with Lil Yachty, Offset, and A$AP Ferg. 2018 has been a banner year for Purpp so far, thanks to his selection on the 2018 XXL Freshman list, the release of "Nephew," his Gold-certified collaboration with Lil Pump, which has over 100M streams across all platforms, and "I Love It," the Kanye West and Pump collaboration which Purpp co-wrote and debuted at number 6 on the Billboard Hot 100. After delighting his fans with the Lost Planet EP in April, Purpp closed 2020 out with the highly-anticipated Deadstar 2. In 2020, Purpp released his latest project Florida Jit, with appearances from Lil Pump, Denzel Curry, and more.
---
Links:
official site | twitter | facebook | youtube | Soundcloud | Instagram

"Not Your Speed" ft. Lil Gnar: https://smarturl.it/notyourspeed / https://www.youtube.com/watch?v=PQTNL0x32OI
"Prom Queen": https://youtu.be/QdECMdg63Fk
Psycho (Legally Insane): https://smarturl.it/SmokepurppPsycho
"We Outside" ft. Lil Mosey: https://smarturl.it/WeOutsidePurppMosey
Florida Jit: https://smarturl.it/FloridaJit
"Tide Pen" ft. Jack Harlow: https://www.youtube.com/watch?v=5MxEdclCNjA
"Big Dawg" ft. Rick Ross: https://smarturl.it/BigDawgSP
"Pop Sh*t": https://smarturl.it/PopShitSP / https://youtu.be/BYXXs8PGYsY
"It's Whatever": https://youtu.be/2TYeW3uOJ40 / https://smarturl.it/ItsWhatever
"Off My Chest" ft. Lil Pump: https://smarturl.it/SPOffMyChest / https://youtu.be/tqMD4_PJVKw
"What I Please" ft. Denzel Curry: https://smarturl.it/WhatIPlease // https://youtu.be/5uUVd16EKKw
Deadstar 2: https://smarturl.it/Deadstar2
"Nephew" ft. Lil Pump: https://www.youtube.com/watch?v=nuusAVJCyOA
"Audi": https://www.youtube.com/watch?v=1dvTJJvEFL8
Deadstar: https://open.spotify.com/album/2TWKabrKN6YOZ1jgqo97uz?si=frx9dtRgSuGS2Cgc_nNwtA