2.10.2021
EP: Smokepurpp – Psycho (Legally Insane)
Home To Recent Single "We Outside" ft. Lil Mosey, Psycho (Legally Insane) Finds Purpp Bending Genres and Embracing His Inner Rockstar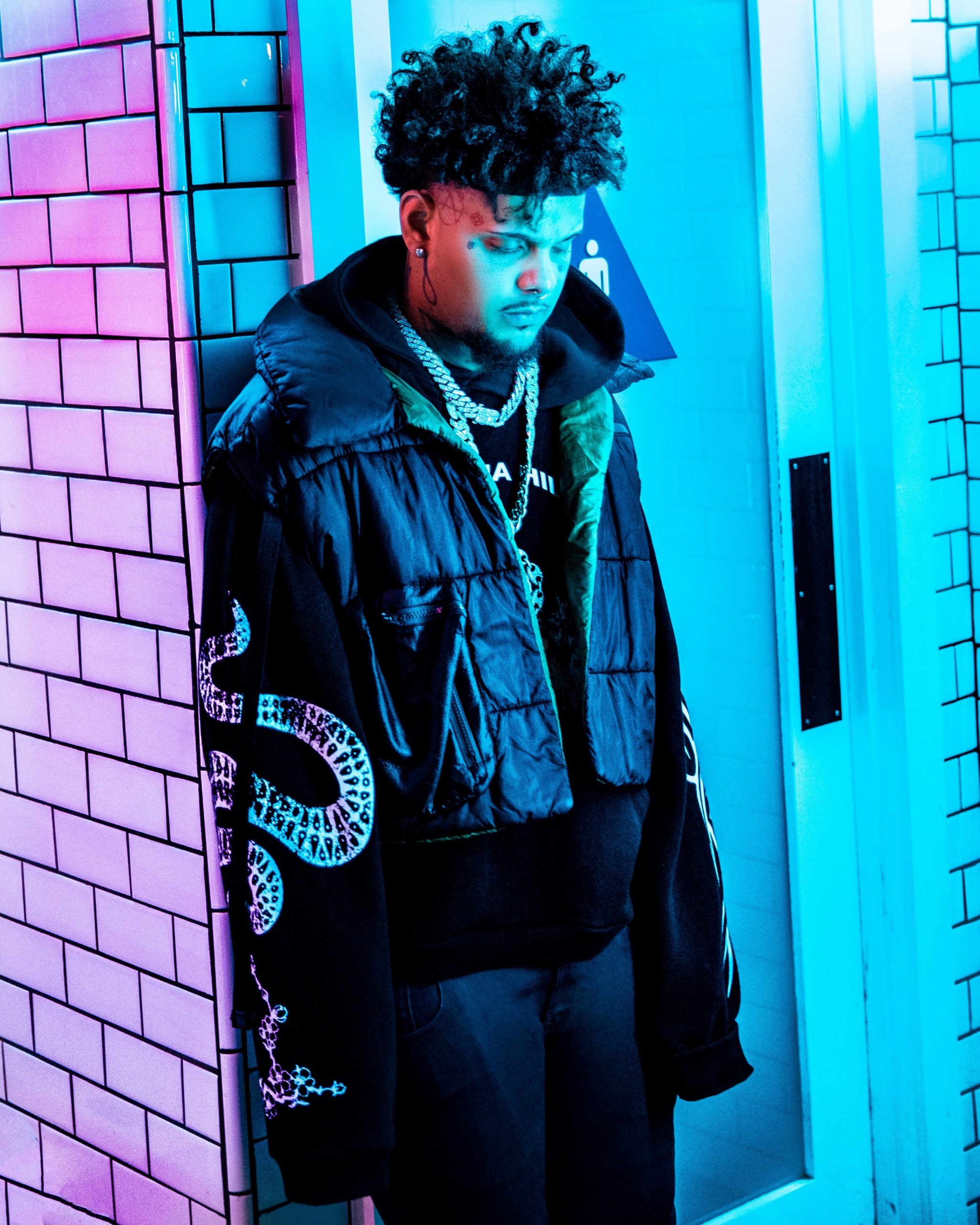 Critical Praise:
XXL Class of 2018 Freshman
"Purpp has caught the ears of everyone from The Weeknd and D.R.A.M. to Chief Keef and Travis Scott, and the 19-year-old rapper is in position for a rapid ascent" – Pigeons & Planes
"If you've not been following along, the rise of young Miami rapper SmokePurrp – alongside that of his longtime pal and collaborator Lil Pump – has been one of the more exciting rides in rap's underground this year" – Noisey
"Out of all the SoundCloud and Florida rappers that have gained floods of attention and acclaim in recent years, Smokepurpp has stood as one of the movement's strongest proponents and artists." – HYPEBEAST
The EP:
Known for his hard-living lifestyle and boundless charm, Smokepurpp draws inspiration from the rebellious debauchery of rock star icons like GG Allin and Ozzy Osbourne. Using that inspiration as fuel for his new EP, Purpp shares Psycho (Legally Insane). Titled after an urban legend about those who've taken more than seven doses in their lifetime (a total Purpp has long surpassed) and with album artwork that pays tribute to Ozzy, Psycho (Legally Insane) finds Purpp experimenting with new flows and an eclectic mix of instrumentals. While some tracks nod towards hip-hop history, like the Memphis-style horrorcore of  "Tic Tac" and Wu-Tang-referencing "Prom Queen," recent single "We Outside" ft. Lil Mosey, which earned coverage in Complex and more, uses a guitar lick that resembles Red Hot Chili Peppers and "Rockstar" allows Purpp to expand his melodic arsenal. Psycho (Legally Insane) EP is available on all platforms via Alamo Records.
In 2020, Smokepurpp returned to his roots with Florida Jit, his high-energy full-length project. Populated with instrumentals from Ronny J, Earl On The Beat (City Girls, Lil Yachty), CBMIX (Lil Pump, Juice WRLD, Kanye West), and Purpp himself, the project is home to successful singles like "Off My Chest" ft. Lil Pump and "Tide Pen" ft. Jack Harlow-The young artist also earned his first Grammy nomination last year, which he received for his contribution to "Costa Rica," the Gold-certified track from Revenge Of The Dreamers III, and racked up over 40 million streams on YouTube and Spotify with his guest spot on KSI's "Poppin."
Purpp's Psycho (Legally Insane) EP is an important step for the artist, who's ready to raise his game in 2021. Stay tuned for much more music from the former XXL Freshman to come this year, including Bless Yo Trap 2, a sequel to his 2018 collaborative album with Murda Beatz.
Buy/Stream Psycho (Legally Insane) EP: https://smarturl.it/SmokepurppPsycho
Psycho (Legally Insane) EP tracklist:
Prom Queen
We Outside ft. Lil Mosey
200thou
Rockstar
What You Wanna Do
Tic Tac
Please contact Michelle or Kerry for more info.
The Background:
The Chicago-born, Miami-raised rapper and producer Smokepurpp has been one of the cornerstones of Florida's burgeoning rap scene since the release of his "Ski Mask" video in 2015. The buzz from the video and other singles with close friend Lil Pump culminated in a record deal with Alamo/Interscope Records and Travis Scott's Cactus Jack Records. The 21-year old Purpp quickly went to work, collaborating with Scott, Yo Gotti, Pump, and more. His debut release, Deadstar, spawned the gold-certified single "Audi" and generated features from The New York Times, Rolling Stone, Pigeons & Planes, XXL, Mass Appeal, and many more. The follow up release, Bless Yo Trap, was a collaboration with Grammy-nominated producer Murda Beatz, boasted the standout single "123" and collaborations with Lil Yachty, Offset, and A$AP Ferg. 2018 has been a banner year for Purpp so far, thanks to his selection on the 2018 XXL Freshman list, the release of "Nephew," his Gold-certified collaboration with Lil Pump, which has over 100M streams across all platforms, and "I Love It," the Kanye West and Pump collaboration which Purpp co-wrote and debuted at number 6 on the Billboard Hot 100. After delighting his fans with the Lost Planet EP in April, Purpp closed 2020 out with the highly-anticipated Deadstar 2. In 2020, Purpp released his latest project Florida Jit, with appearances from Lil Pump, Denzel Curry, and more.
---
Links:
official site | twitter | facebook | soundcloud | youtube | instagram
Psycho (Legally Insane): https://smarturl.it/SmokepurppPsycho
"We Outside" ft. Lil Mosey: https://smarturl.it/WeOutsidePurppMosey / https://youtu.be/8o8caMgi2z4
Florida Jit: https://smarturl.it/FloridaJit
"Tide Pen" ft. Jack Harlow: https://www.youtube.com/watch?v=5MxEdclCNjA
"Big Dawg" ft. Rick Ross: https://smarturl.it/BigDawgSP
"Pop Sh*t": https://smarturl.it/PopShitSP / https://youtu.be/BYXXs8PGYsY
"It's Whatever": https://youtu.be/2TYeW3uOJ40 / https://smarturl.it/ItsWhatever
"Off My Chest" ft. Lil Pump: https://smarturl.it/SPOffMyChest / https://youtu.be/tqMD4_PJVKw
"What I Please" ft. Denzel Curry: https://smarturl.it/WhatIPlease // https://youtu.be/5uUVd16EKKw
Deadstar 2: https://smarturl.it/Deadstar2
"Nephew" ft. Lil Pump: https://www.youtube.com/watch?v=nuusAVJCyOA
"Audi": https://www.youtube.com/watch?v=1dvTJJvEFL8
Deadstar: https://open.spotify.com/album/2TWKabrKN6YOZ1jgqo97uz?si=frx9dtRgSuGS2Cgc_nNwtA