3.29.2023
Grammy Award Winning Producer DJ Khalil Demonstrates the Power of Serato Studio 2.0 and Serato Stems in Mass Appeal's Rhythm Roulette
The Producer Behind Hits by Kendrick Lamar, Eminem, and More Hits Uses Serato Stems to "Pick Records Apart" and Create Something Entirely New
Equipped With Its Instantaneous Stem-Separating "Alien Technology," the Just-Launched Serato Studio 2.0 Makes It Easier Than Ever to Sample and Remix Music


Artist Quotes:
"There have been certain groundbreaking things that have changed the art of DJing: The invention of Serato; not having to carry records; the invention of Phase; not having to worry about vibration in a live setting. I think Serato Stems will be bigger than all of them from a creative standpoint. This is about to be the most fun I've ever had DJing. I'm telling you, my brain is on fire!" – DJ Jazzy Jeff
"With this update, Serato Studio is the center of my universe. This is a big moment for music production." – Grammy-nominated Producer DJ Khalil
"Serato Stems… opens up parts of the track that were previously inaccessible to a DJ's live creativity." – Skratch Bastid
The Video:
Technology company with a rich hip-hop history, Serato works tirelessly to facilitate and inspire producers to be as creative as they can. In the Serato Edition of Mass Appeal's acclaimed series Rhythm Roulette, Grammy award winning producer DJ Khalil demonstrates the potential of Serato's latest product: Serato Studio 2.0, equipped with the revolutionary audio separation technology Serato Stems. Recently awarded for his work on Kendrick Lamar's Mr. Morale and the Big Steppers album, Khalil is an expert at transforming bits and pieces of existing records into soulful, cinematic and lived-in beats, and Rhythm Roulette shows how Serato helps unlock his creativity, removing technical obstacles and allowing him to loop and flip more freely.
In the video, the L.A.-based Khalil ventures to the legendary Amoeba Music, offering a massive selection of gems for him to stumble upon. A blindfolded Khalil selects three random records, and returns with releases by The Delfonics, James Reese and The Progressions, and The Coupe De Villes. Using Serato Stems and Studio's powerful sampler, Khalil quickly and easily selects the moments of the song to sample, and instantly isolates the drums, topline, bass, and melody, taking bits, pieces and manipulating them to his own devices.
"Just being able to separate out those drums and create a loop that had all the music in…now you have unlimited breaks, in my opinion," says DJ Khalil.
The final product combines Khalil's samples with some original keyboard melodies to become a heavenly and hard-hitting instrumental that speaks to the "essence of hip-hop." Towards the end of the video, Khalil takes time to marvel at the technological advancement from turntable breakbeats to digital audio separation.
"It's pretty incredible to see the evolution," says DJ Khalil, "from DJs in the parks going back and forth to now. We can literally pick these records apart and make our own creations out of them…I feel like the technology makes it feel like you're starting all over again, you know, you're discovering a new way to approach being creative." 
Watch Khalil's Rhythm Roulette to see a master at work and experience what Serato Studio 2.0 can do.
Rhythm Roulette – Serato Edition: https://youtu.be/L5beOi0pyaU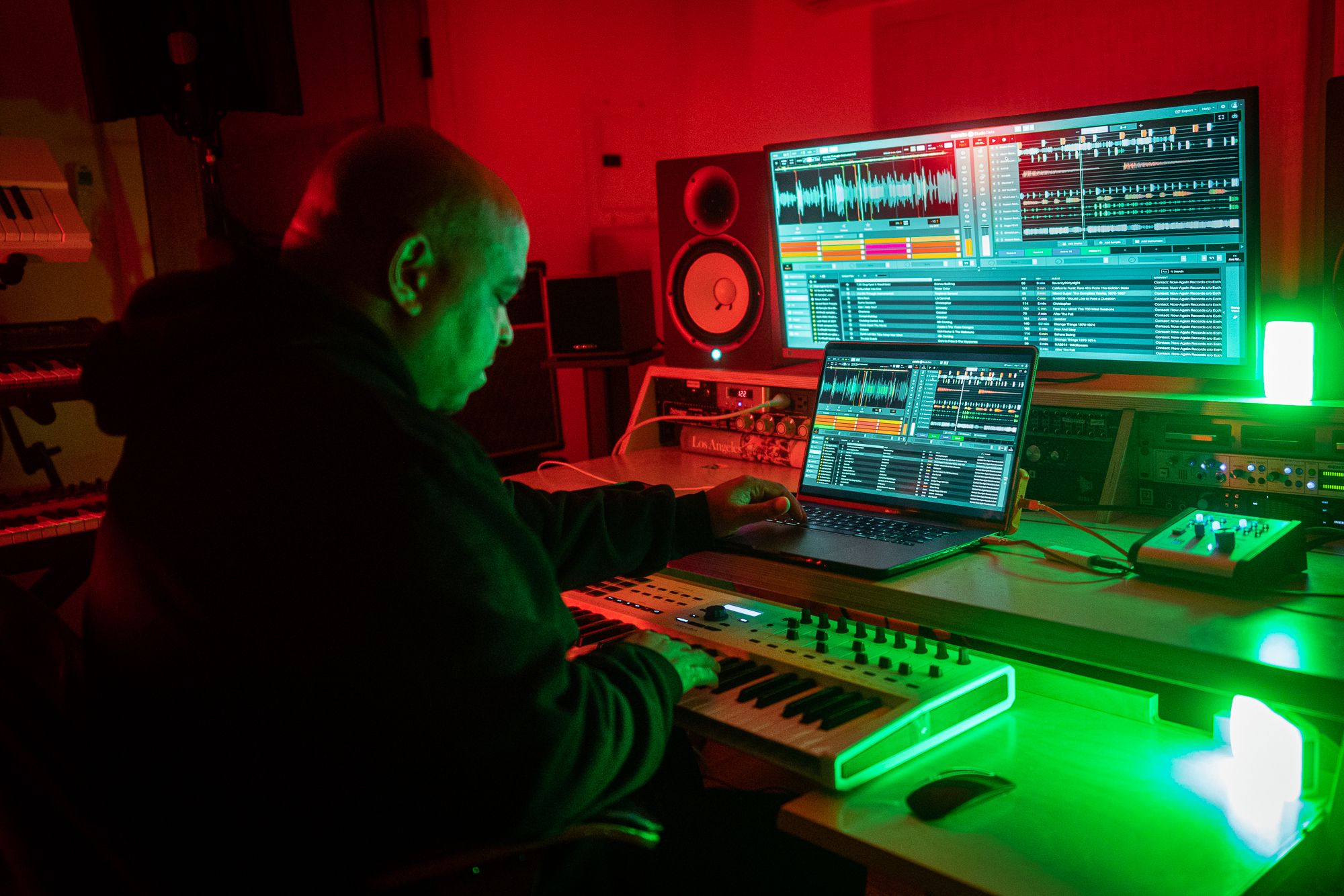 DJ Khalil experiments with Serato Studio 2.0 (Credit: Abdul Quddas)
Please contact Kevin or Chris for more info.
About Serato and Stems:
Always ahead of the curve, Serato has changed the game before and they're about to do it again. The audio production experts have outdone themselves with Serato Studio 2.0, the fastest and most intuitive DAW on the market for making beats. The new DAW provides a robust home for the revolutionary Serato Stems technology, a monumental innovation in the world of sampling and audio manipulation.
"Serato Stems is the biggest moment in sampling since the MPC," says Cookin Soul, the GRAMMY Award-winning producer/DJ
Powered by Serato's one-of-a-kind machine-learning algorithm, Stems enables producers to instantaneously isolate and manipulate four different audio stems, while keeping the sterling audio quality for which Serato is known. Stems splits audio into distinct tracks for vocals, bass, drums, and melodies, enabling producers to instantly create acapellas and instrumental tracks and providing easy integration of additional samples or original sounds with the push of a button.
"It's like y'all use some kind of alien technology or something," says acclaimed producer Dibia$e, "because the drums sound clean, the bassline sounds clean."
Stems has already made a major impact in the world of DJing, with viral Stems-created remixes of Coi Leray's "Players" and Beyoncé's "CUFF IT" making waves, and its inclusion in Serato Studio 2.0 allows for even more refined sounds and fresh flips. A new functionality that gives producers the fluidity and inspiration to keep up in this digital age, Stems is only getting started.
#SeratoStems #SeratoStudio
Check out Serato Stems in Studio 2.0: https://serato.com/studio/stems
Check out more information about Studio 2.0 and Stems on Serato's official website
About DJ Khalil:
DJ Khalil is a 20-time Grammy nominee & 5-time Grammy award-winning music producer, located in Los Angeles, California. Khalil's career started as one-half of the acclaimed underground hip hop duo Self Scientific along with rapper Chace Infinite. Khalil caught the ear of mega-producer Dr. Dre early on in his career, and Dre signed him as an in-house Producer to Aftermath Records. Khalil developed his production skills under Dre, landing placements with 50 Cent, G-Unit and Jay-Z, and has gone on to produce for the likes of Drake, Logic, Anderson .Paak, Pink, A$AP Rocky, Kendrick Lamar, and many others.  In 2022 Khalil won 2 Grammy Awards, including one for his production of Jon Baptiste's AOTY win with the song "Freedom." Recent releases include Benny The Butcher's "Johnny P's Caddy" ft. J. Cole and Kendrick Lamar's "Purple Hearts" among many other upcoming releases.
Check out more information about Studio 2.0 and Stems on Serato's official website
---
Links: