9.24.2021
L.A.'s Rucci & AzChike Prepare for Joint Kourtesy Of Us, Out October 8th via Mackk&Cult/EMPIRE
The L.A. Heavy-Hitters Stand Up For Their Section in the Fun-Loving "My N****s" Video
Featuring Appearances From Kamaiyah, Boosie BadAzz, Kalan.FrFr, Haiti Babii, and More, Kourtesy Of Us Is the First Collaborative Album By the Duo Known For L.A. Hits like "Function In The Hood" and "Light It Up"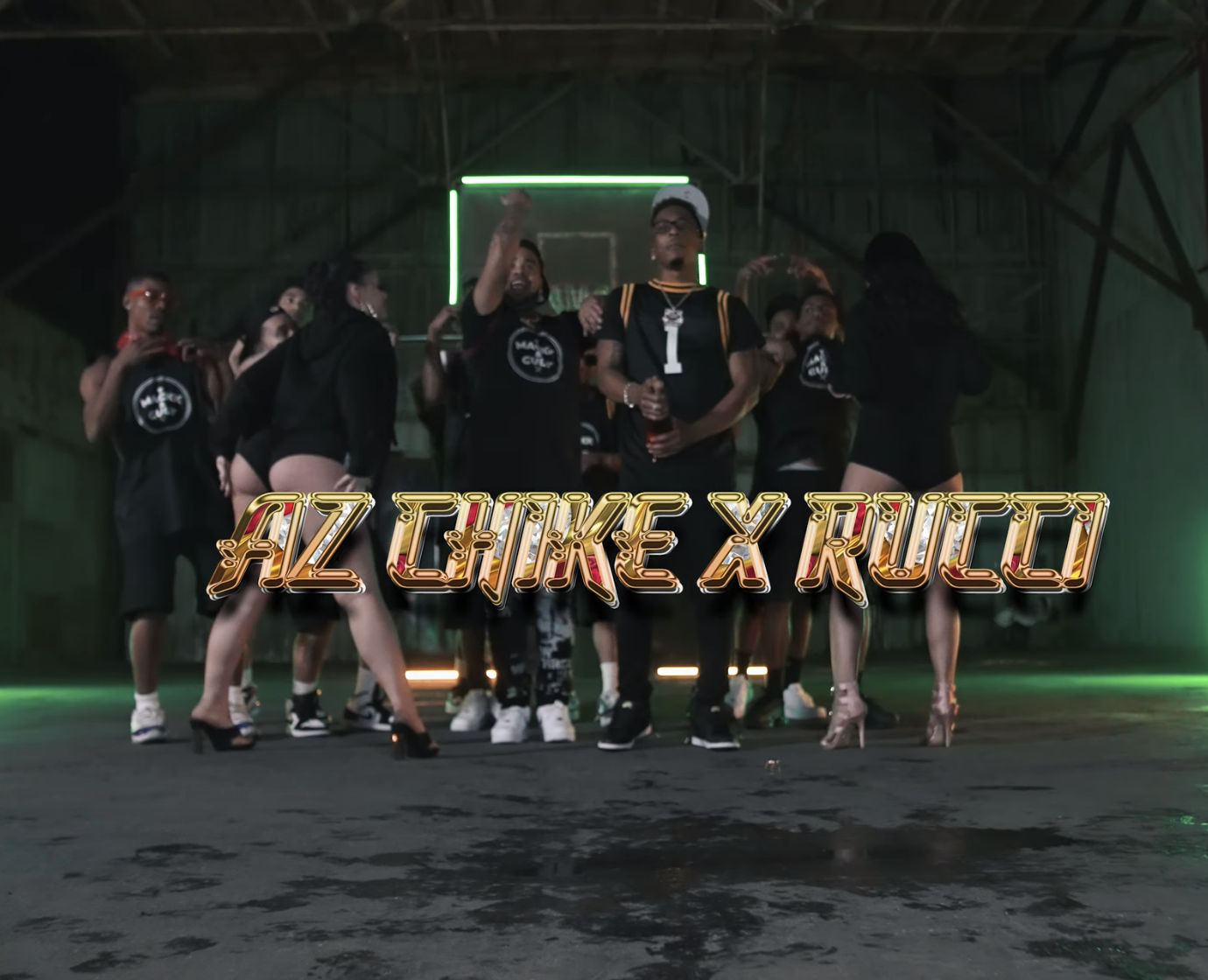 Critical Praise:
"On the spectrum of the new Los Angeles, Rucci sits closest to classicism, capturing the spirit of greats like Suga Free and Mack 10. But don't mistake that homage for predictability: Rucci consumes these beats. His presence throughout this album is glowing, outsized, and even within the frames of L.A. bump — minor keys, minimal bass — he makes daring production choices. ("Lowrider" interpolates, you know, that song). But beneath the booming production and drug inventories that run rampant on Tako's Son are stories of deep loss and chosen family" – NPR
"Rucci is one of the few young and buzzing West Coast rappers capable of pleasing both emcee traditionalists and those seeking true starpower and hit-making potential… Inglewood's chosen son is on his way to stardom." – HYPEBEAST
"He's become equally adept at writing fun party slappers and ferocious pain rap dirges, gangsta rap indebted to history but hounded by the demons of the present." – The LAnd
"He has the dexterity to spit about street life in L.A. in a way that doesn't romanticize its harsh realities, while still remaining loose enough to pivot from those heavy topics to raps about his Instagram DMs blowing up ("How you text me off that app but you blocked?")." – Pitchfork
"Time is of the essence for AzChike. Since 2013, the 24-year old has tried to make every moment count. Prior to being known for his storytelling abilities and bops like "Burn Rubber Again" and "Licked Up," the rapper, who has drawn comparisons to mid-2000s Lil Wayne and 2019 XXL Freshman Blueface, began his career as a what he describes as a conscious rapper. Once he shifted gears (and quit his day job), however, he really started to get the party jumping." – XXL
"Central L.A. rapper AzChike specializes in making songs that rattle your trunk." – The FADER
The Announcement:
Cracking wise with disrespectful bars, Rucci and AzChike specialize in crafting bangers for hood functions. Today, the Los Angeles duo reveals the tracklist and release date for their first-ever collab album Kourtesy Of Us, coming for your neck on October 8th. Like any hall of fame-worthy duo, the interplay between Rucci and AzChike is a study in contrasts–Rucci attacks the beat with a breakneck, snapping flow, while Chike's oblique delivery finds hidden pockets in instrumentals, helping his disrespectful punchlines stand out. Both emcees are united by their willingness to say absolutely anything on the mic, whether they're stacking outrageous flexes or elucidating details of their chaotic pasts. Featuring production from L.A. maestros like Cypress Moreno, AceTheFace, Hitman, Bruce24k, and more, and guest spots from Kamaiyah, Boosie Badazz, Haiti Babii, Capolow, and many more, Kourtesy Of Us is available for pre-save/pre-order via Mackk&Cult/EMPIRE.
Along with the announcement, Rucci & AzChike share "My N****s," a piano-led banger from the upcoming album. Buoyed by AzChike's addictive hook and a plinking piano melody from producer Fortwoe, "My N****s" is a slinky slapper, its off-kilter bounce offering an ideal cadence for each rapper to "rock out like KISS." The song arrives with a fun-loving video, packed with homies from South L.A. and Inglewood. Rucci takes the time to school fools on the basketball court, while Chike gets his Mozart on, playing the piano while beautiful women dance on top. "My N****s" follows the recent video for "Hoodrat" ft. Boosie Badazz, AzSwaye & Pjay.
"Hoodrat" is the latest in a line of fiery collaborations between AzChike and Rucci to hit the streets this year. The two rappers connected with Capolow for "No Kizzy," a Bay-meets-L.A. banger, took aim at steppers on "Who Dat," and earlier, they honed their chemistry with the rip-roaring "Pop Pills." They're renowned in the streets of L.A. for creating multiple local hits, most notably 2020's "Function In The Hood" and 2018's "Light It Up." Both artists are continuing the momentum from big 2020s–Rucci continued to explore his fascinating backstory with the Midget album, featuring the hit single "Understand" ft. Blxst, and AzChike kept busy with hard-hitting EPs and collaborations with the likes of Sada Baby and Frostydasnowmann.
Finally joining forces for the joint album that L.A. needs, Rucci and AzChike prepare to gift their fans and their city with a new set of slaps. Stay tuned for more music, coming very soon.
Pre-order Kourtesy Of Us: https://music.empi.re/kourtesyofus
Watch "My N****s": https://www.youtube.com/watch?v=E-E-EC3Nn4I
Buy/Stream "My N****s" HERE
Kourtesy Of Us tracklist:
Fasho Poppin ft. Cypress Moreno
Give It Up
Check It
Hoodrat ft. AzSwaye & Pjay
My N****s
Depend On Me ft. Cypress Moreno
Trust
Celebration ft. Kamaiyah
After Party ft. Haiti Babii
Bangel ft. Lil' Deuce
Money On Me ft. Kalan.FrFr
No Time ft. Capolow
Thug P*ssy ft. Su'Lan
Kourtesy Of Us
Word Around Town
Ambush
Get Back Gang
What We Talkin Bout ft. AzSwaye
Church
Dive In The Water ft. AzSwaye
Hoodraft ft. Boosie Badazz, AzSwaye & Pjay
Please contact Michelle or Kerry for more info.
The Background:
EMPIRE Background:
EMPIRE was founded in 2010 as an artist-friendly, progressive digital distribution company. After early success, and identifying future icons such as Kendrick Lamar, Anderson .Paak, and Rich Homie Quan, EMPIRE was quickly regarded as a tastemaker in the industry and throughout the past five years evolved into a full-fledged record label, distributor and publisher for independent musicians. With the company and roster growing at a breakneck pace, EMPIRE has effectively disrupted a stale business model by bringing its energy, expertise, and acumen to its artists and labels. Today, EMPIRE works with some of music's hottest talent, ranging from superstars such as T.I. and Snoop Dogg, red-hot newcomers such as SOB X RBE and Mozzy, and established veterans like Jim Jones and Redman. While remaining 100% independent, EMPIRE has also partnered with Atlantic Records for a joint venture, home to breakout star D.R.A.M. and propelled singles by Fat Joe & Remy Ma ("All The Way Up," 2x Platinum), Tyga ("Taste," 3x Platinum), and Lil Duval ("Smile") to the top of the Billboard Hip-Hop Charts. In April 2018, EMPIRE signed a global distribution deal with Universal Music Group for select artist projects.
---
Links:
AzChike: instagram | twitter | youtube | spotify
Rucci: instagram | twitter | soundcloud | youtube | spotify
Pre-order Kourtesy Of Us: https://music.empi.re/kourtesyofus
"My N****s": https://www.youtube.com/watch?v=E-E-EC3Nn4I
"Hoodrat" ft. Boosie Badazz, AzSwaye & PJay: https://youtu.be/YENwEogTFE8
"Pop Pills": https://www.youtube.com/watch?v=zuyM3zFgsCg
"No Kizzy" ft. Capolow: https://www.youtube.com/watch?v=mTvg-rjHXzg
"Who Dat": https://music.empi.re/whodat
"Function In The Hood": https://www.youtube.com/watch?v=c8vFleaR1a8
"Light It Up": https://www.youtube.com/watch?v=S8jS79ahs38