9.4.2020
Rucci Continues His Inglewood Story with Midget Album, Arriving September 25th via EMPIRE
Rucci Connects with Oakland's ALLBLACK For Hyperactive West Coast Slapper "Okay Doee"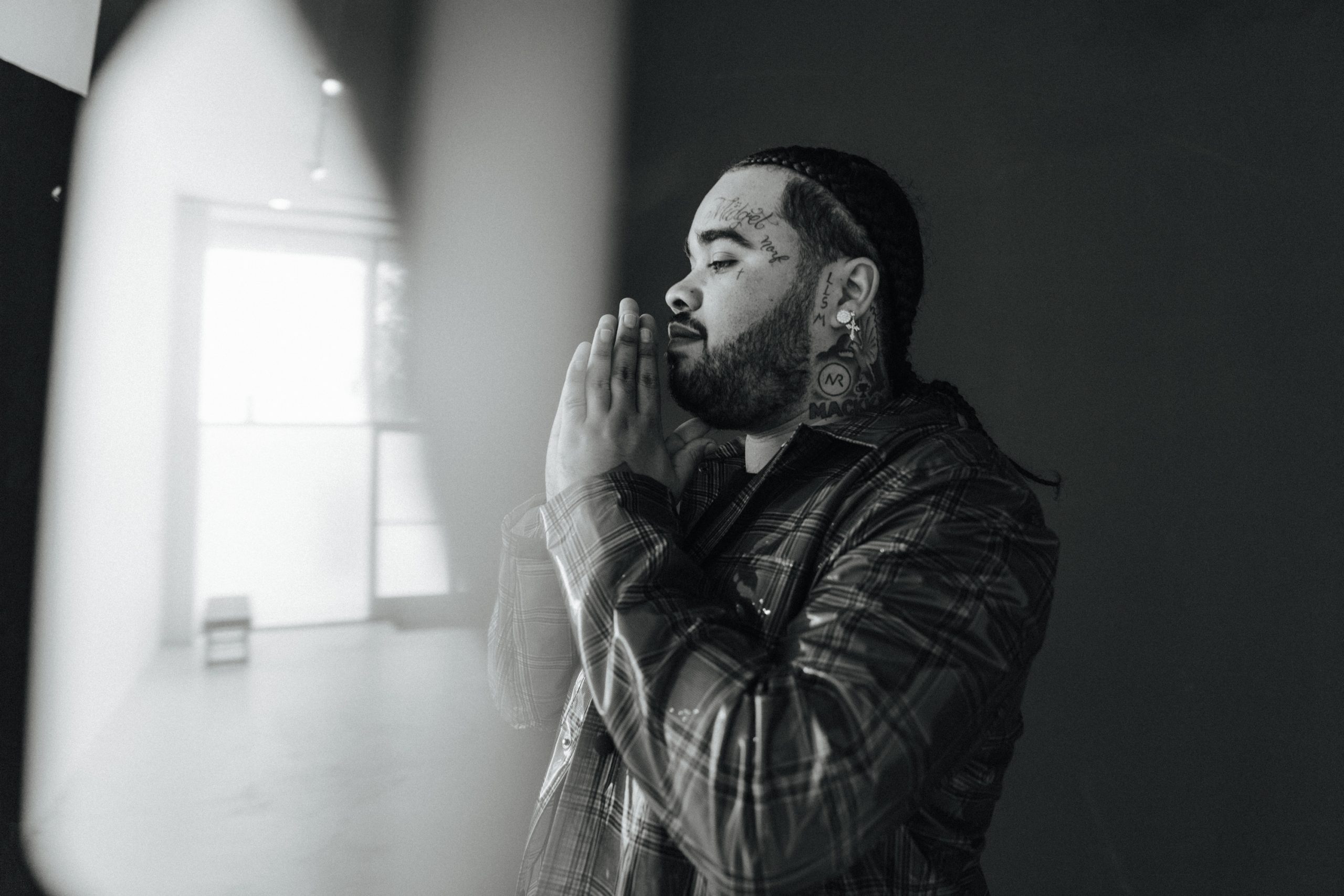 Critical Praise:
"On the spectrum of the new Los Angeles, Rucci sits closest to classicism, capturing the spirit of greats like Suga Free and Mack 10. But don't mistake that homage for predictability: Rucci consumes these beats. His presence throughout this album is glowing, outsized, and even within the frames of L.A. bump — minor keys, minimal bass — he makes daring production choices. ("Lowrider" interpolates, you know, that song). But beneath the booming production and drug inventories that run rampant on Tako's Son are stories of deep loss and chosen family" – NPR
"Rucci is one of the few young and buzzing West Coast rappers capable of pleasing both emcee traditionalists and those seeking true starpower and hit-making potential… Inglewood's chosen son is on his way to stardom." – HYPEBEAST
"… has raw neighborhood-star quality that leads to raucous and overpacked live shows." – Billboard
"… L.A.'s most exciting rappers at the moment, capturing the raw energy of their respective neighborhoods on tracks like 'Arco' and 'Like Woah.'" – The FADER
"… El Perro confirms Rucci as a major talent…There is likely no skeleton key to instant national fame, but Rucci seems to be developing, right in front of us, into an artist of major consequence." – Vulture
"He's become equally adept at writing fun party slappers and ferocious pain rap dirges, gangsta rap indebted to history but hounded by the demons of the present." – The LAnd
The Announcement:
Telling his life story over energetic L.A. instrumentals, Rucci won't stop 'til he reaches the top. Opening up a new chapter in his career, the Inglewood native announces Midget, his upcoming album. Titled after a nickname given to him during his youth, Midget tells a quintessential underdog story, as Rucci works to make his own name and prove worthy of his family legacy. Earlier this week, Rucci and his mom appeared on the L.A. Leakers radio show and formally announced the album.
The follow-up to his acclaimed 2019 album Tako's Son, Midget finds Rucci maturing as an artist, while still treating his fans to the deliriously ratchet punchlines they've come to expect. With instrumentals that range from hard-hitting street slappers to chill electro-funk samplers, Midget is packed with breakneck flows and relentless bars, and even gives Rucci the chance to show off his silky singing voice. Featuring appearances from fellow California street all-stars Mozzy, ALLBLACK, Haiti Babii, AzChike, and more, Midget arrives on September 25th via Mackk & Co/EMPIRE.
"I already told listeners about my dad. Now I'm talking about me," says Rucci. "Ever since I was little, people would call me 'midget. My mom would say I was a small person in a big world, always wanting to be bigger. This album is about me maturing while still being the biggest dickhead in the world."
Along with the announcement of the album, Rucci shares "Okay Doeee," his vicious new slapper. Produced by L.A. sound architect Ron-RonTheProducer, "Okay Doeee" finds Rucci on reflecting on all the things he's done wrong in his life–and regretting absolutely nothing: "It's brazy all the sh*t I did done in my life/I don't regret one thing n**** I'd do it twice." The song features an electric guest verse from Oakland's ALLBLACK, who uses the natural gravitas in his voice to string together snappy punchlines: "I get ratchet like a 1994 hoochie." "Okay Doeee" is the latest in a string of quality singles from Midget, including the Zapp & Roger-sampling "Killa" and the alpha dog anthem "Check Me Out" ft. Haiti Babii.
Midget is the proper sequel to Tako's Son, which channeled personal tragedy into musical triumph. Inspired by Rucci's street-level observations and influenced by his late rap partner Sean Mackk, the album is ultimately a celebration of family, teeming with lessons Rucci learned from his father, mother, aunts, and uncles, and also from his adopted family in the Inglewood streets. The project took its name from Rucci's father, Tako, an established Inglewood figure, who was deported to his native El Salvador, and Rucci told the full story of his background and his relationship with his dad in an ABOVE ALL-produced documentary. Featuring the L.A. hit singles "Function In The Hood" ft. AzChike and "Get The Strap" ft. Shoreline Mafia (5 million streams on Spotify), Tako's Son was named one of 2019's "10 Best Rap Albums That Raised The Bar" by NPR.
Stay tuned for much more the upcoming project in the weeks leading up to its release.
Buy/Stream "Okay Doeee" ft. ALLBLACK: https://music.empi.re/okaydoeee
Please contact Michelle or Erin for more info.
The Background:
Rucci Background:
Rucci is a 26-year-old rapper with a deep and decorated bloodline in the streets of Inglewood's Northside. His father, known as "Tako," is tied to three generations of Neighbor Hood Piru (NHP) set. "He's a living legend where we're from, 'cause he was the only Hispanic person from a Black gang at that time," explains Rucci, who is Salvadoran and Black. Raised by his father, who is now deported, and an uncle who is currently serving life in prison, the artist born Juan Martinez has been groomed for navigating the streets. However, in a critically-acclaimed, rising music career, Rucci is using wisdom and charisma to change the narrative on his life and his city. "Everything bad that I had to go through is because of my dad," he notes. Rucci's EMPIRE debut Tako's Son sees the rapper turning the difficult cards he's been dealt into a winning hand.
EMPIRE Background:
EMPIRE was founded in 2010 as an artist-friendly, progressive digital distribution company. After early success, and identifying future icons such as Kendrick Lamar, Anderson .Paak, and Rich Homie Quan, EMPIRE was quickly regarded as a tastemaker in the industry and throughout the past five years evolved into a full-fledged record label, distributor and publisher for independent musicians. With the company and roster growing at a breakneck pace, EMPIRE has effectively disrupted a stale business model by bringing its energy, expertise, and acumen to its artists and labels. Today, EMPIRE works with some of music's hottest talent, ranging from superstars such as T.I. and Snoop Dogg, red-hot newcomers such as SOB X RBE and Mozzy, and established veterans like Jim Jones and Redman. While remaining 100% independent, EMPIRE has also partnered with Atlantic Records for a joint venture, home to breakout star D.R.A.M. and propelled singles by Fat Joe & Remy Ma ("All The Way Up," 2x Platinum), Tyga ("Taste," 3x Platinum), and Lil Duval ("Smile") to the top of the Billboard Hip-Hop Charts. In April 2018, EMPIRE signed a global distribution deal with Universal Music Group for select artist projects.
---
Links:
instagram | twitter | soundcloud | youtube | spotify
"Okay Doeee" ft. ALLBLACK: https://music.empi.re/okaydoeee
"Killa": https://music.empi.re/killa
"Check Me Out" ft. Haiti Babii: https://empire.ffm.to/checkmeout
"Tako's Son" Documentary: https://www.youtube.com/watch?v=RvtGS3tELKM
Tako's Son: https://empire.lnk.to/takoson