12.09.2021
Rolling Loud Announces Set Times for Rolling Loud California 2021
The World's Premier Rap Festival Heads to San Bernardino For Three Action Packed Days This Weekend
Watch the Livestream Exclusively on Twitch, Airing From 3pm-11pm PT on Friday, 1pm-12am PT on Saturday, and 1pm-11pm PT on Sunday
Headlined by Kid Cudi, J. Cole, and Future, Rolling Loud California Occurs at NOS Event Center in San Bernardino, CA on 12/10-12/12
The Announcement:
Bringing the world's premier rap festival to the West Coast, Rolling Loud California 2021 promises three days of non-stop music from some of the genre's biggest names and hottest rising stars. Today, Rolling Loud announces the set times and livestream details for this weekend's festival, occurring 12/10-12/12 at NOS Event Center in San Bernardino, CA. All set times are subject to change.
Hosted by Hakeem Rowe, Tallie Spencer, and Jacques Morel and airing exclusively on Twitch, the livestream provides a premium, at-home experience for any fan who can't be on the ground this weekend. The broadcast will feature the high production value of Rolling Loud's previous "Loud Stream" virtual festivals, with a curated stream of live artists performances, exclusive interviews, and behind the scenes content. The Twitch chat will be open for the entire stream, and viewers will be able to vote on which artist performances they want to see in real time. Featuring performances from artists like J. Cole, Future, Playboi Carti, and more, plus appearances and commentary from special guests, the Rolling Loud California livestream airs from 3pm-11pm PT on Friday 12/10, 1pm-12am PT on Saturday 12/11, and 1pm-11pm PT on Sunday 12/12, only at Twitch.Tv/RollingLoud.
The Rolling Loud California 2021 livestream follows in the wake of previous "Loud Stream" virtual festivals that Rolling Loud hosted in partnership with Twitch. Rolling Loud hosted three multi-day "Loud Stream" festivals on Twitch, with headliners like Trippie Redd, Swae Lee, Gunna, Ski Mask The Slump God, Fetty Wap, and Lil Skies, drawing millions of unique viewers and landing multiple events in Pollstar's Year-End Livestream Chart. Since the return of live music, heralded by the massively successful Rolling Loud Miami 2021, the Rolling Loud team have adapted what they learned during their livestreaming era to help enhance the Rolling Loud experience for viewers at home.
The fourth Rolling Loud to occur in Southern California, Rolling Loud California 2021 promises a mix of national names and local heroes that paint a picture of rap's current moment while also nodding at the rich history of the bustling West Coast rap scene. The festival is headlined by Kid Cudi, making his first Rolling Loud performance, J. Cole, and Future. Beyond the headliners is a deep roster of rap's hottest names, including A-listers, like Wiz Khalifa, Playboi Carti, Moneybagg Yo and Lil Durk, young superstars like Polo G,Rod Wave, Lil Tjay, Jack Harlow, and Ski Mask The Slump God, up-and-comers, like Toosii, 42 Dugg, Morray, $NOT, and Latto, and Cali heroes like Ty Dolla $ign, Drakeo The Ruler, Blxst, Kalan.FrFr,and Bino Rideaux, giving the festival a truly West Coast feel.
Rolling Loud California is the third Rolling Loud festival of the year. Rolling Loud triumphantly returned with the blockbuster Rolling Loud Miami 2021, which marked live rap music's coming out party after a year stuck inside. Earlier this fall, Rolling Loud embarked on its second foray to the Big Apple, hosting Rolling Loud New York 2021 at Citi Field, with headliners including 50 Cent and J. Cole.
With Rolling Loud California, the biggest rap festival in the world closes out another successful year. Check back for more from the festival throughout the weekend.
In accordance with state guidelines in California, Rolling Loud will be requiring proof of other COVID vaccination or negative COVID test prior to entering the upcoming festival.
Buy Rolling Loud Merch: shoprollingloud.com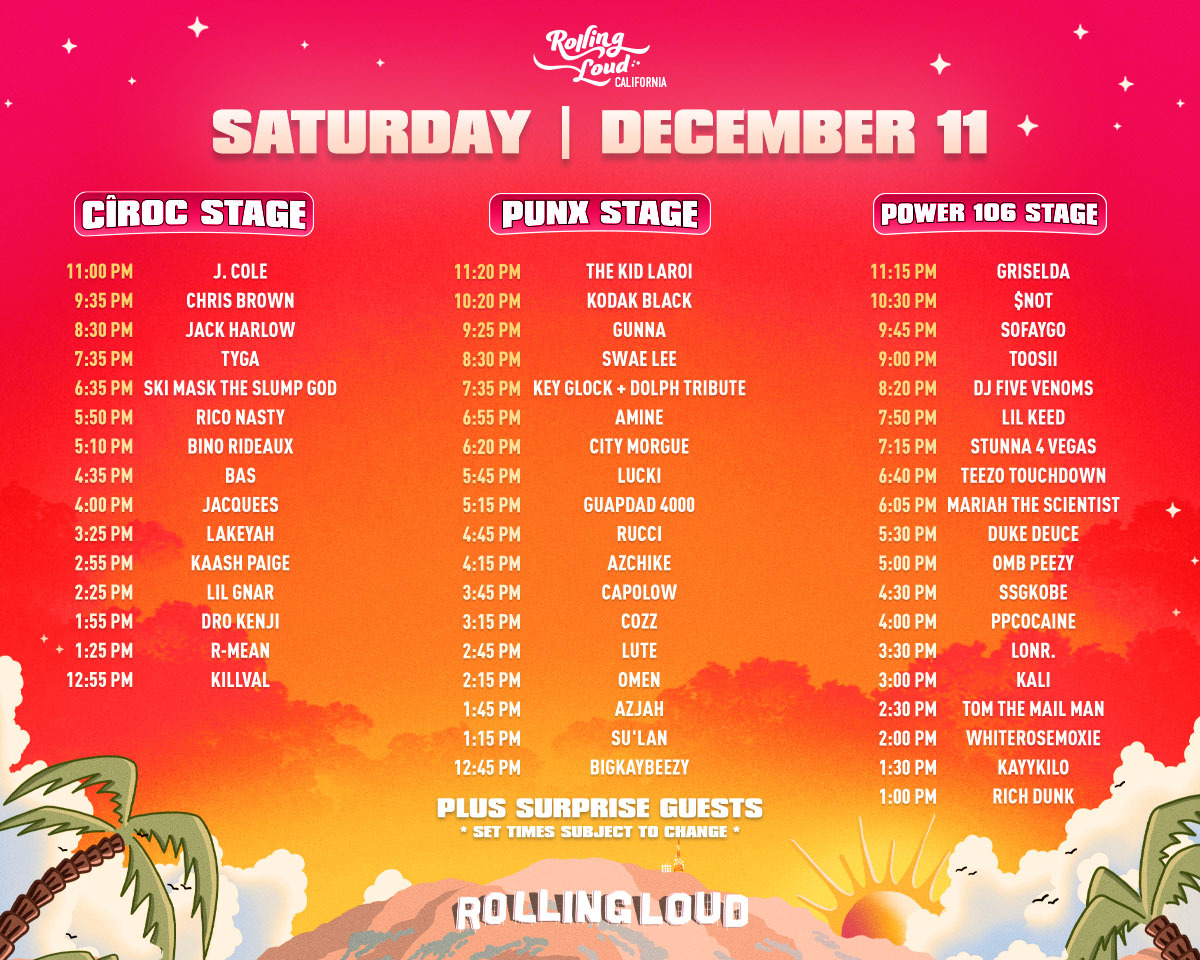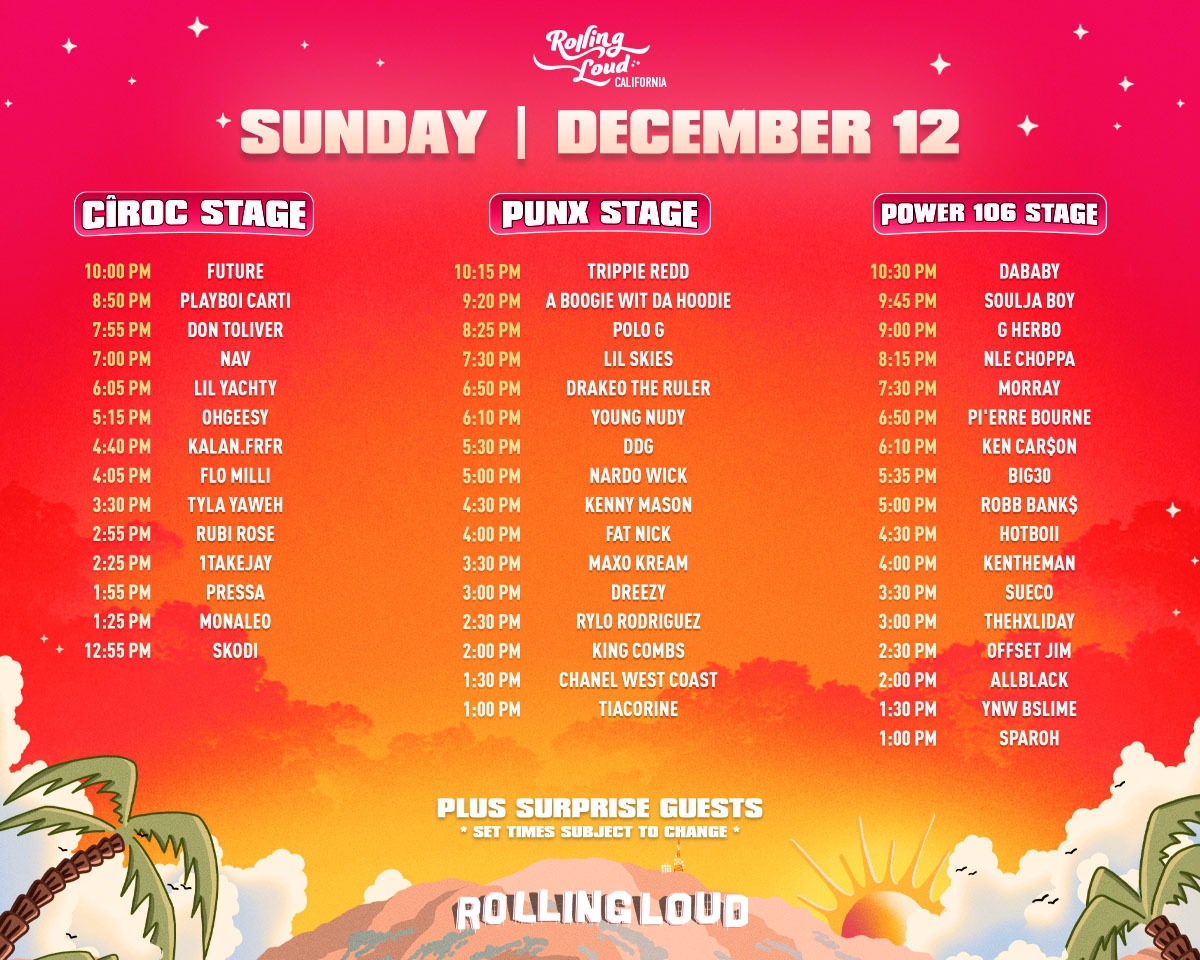 Critical Praise:
"In four and a half years — beginning small in Miami, and now promoting Coachella-sized events around the country — Rolling Loud has established itself as a playground for the young…This time last year, many of the rappers now drawing crowds of several thousand were barely known." – The New York Times
"Rolling Loud is the be-all of hip-hop festivals." – Billboard
"The Rolling Loud New York experiment was a success—one which will likely earn it a return trip to the city in future years. Far from a traditional NYC rap experience, it was a two-day event that catered to the genre's youngest fans, with an eye squarely focused on the future." – Complex
"In only its fifth year with four major destinations and more in the pipeline overseas, athletes, celebrities and others are forking over as much as $20,000 for VIP packages. Of course, imitators are cropping up." – Pollstar
"…within five years Rolling Loud has grown into one of the biggest hip-hop brands in the world. Locally, it has surpassed rival events Ultra and III Points in stature and rivals prestige festivals like Coachella." – Miami New Times
Please contact Michelle, Kerry, or Kevin for more info.
The Background:
Founded by Matt Zingler & Tariq Cherif as a one-day Miami show, Rolling Loud has grown into a global festival phenomenon, putting on shows on both coasts and in multiple countries. Rolling Loud is the premier festival brand in hip-hop, known for its expert curation of wide-ranging lineups that reflect the state of the genre.
The festival returned from a 18-month hiatus on July 23rd-25th, with the sold out Rolling Loud Miami 2021, its biggest event yet, bringing in over 85,000 fans per day to Hard Rock Stadium in Miami Gardens, FL. With headliners like Post Malone and A$AP Rocky, Rolling Loud Miami 2021 was a triumphant return for live rap music, and a coming out party for risers and new superstars eager to play in front of a festival crowd. Rolling Loud Miami kicked off a massive year for the festival brand, arriving ahead of Rolling Loud New York 2021, and Rolling Loud California, headlined by J. Cole, Kid Cudi, and Future.
During the pandemic, Rolling Loud expanded into much more than just a live festival company. With no in-person show possibilities in sight, Rolling Loud pivoted to become a heavy-hitter in the world of Livestreaming, drawing millions of unique viewers and landing multiple events in Pollstar's Year-End Livestream Chart. In June 2021, Rolling Loud launched Rolling Loud Presents, their first venture into tour promotions, taking the Rolling Loud experience on the road with a series of tours headlined by some of the biggest stars in hip-hop, including Rod Wave, Trippie Redd, Jack Harlow, and more to be announced.
LINKS:
website | facebook | twitter | instagram
For full information, head to
https://www.rollingloud.com
Check out Rolling Loud on Twitch: twitch.tv/rollingloud