10.26.2021
Kappa Teams Up With Rolling Loud For Exclusive Capsule Collection
The Limited-Edition Collaboration Will Launch During The New York Edition Of The Festival
The Announcement:
NEW YORK, NY – October 26, 2021 — Kappa, the leading Italian sportswear brand, is excited to announce its newest partnership with the world's largest Hip-Hop festival, Rolling Loud, on a limited-edition collection set to launch during the festival's New York edition.
Inspired by the lifestyle and culture of this year's host cities the collaborative collection will include the brand's staple designs including its iconic tracksuits, soccer and goalie jerseys, hoodies, sweatpants, bucket hat, snapback, and top-selling Mitel slides with distinctive Kappa x Rolling Loud branding throughout.
To coincide with the collection, Kappa and Rolling Loud will debut a campaign video featuring rapper and songwriter, Fivio Foreign. Inspired by LL Cool J's iconic commercial for Gap, the video finds Fivio delivering his own freestyle while dressed in the New York-inspired collection. By reimagining this iconic moment in Hip-Hop and fashion history, the Kappa x Rolling Loud limited-edition assortment celebrates the brand and festival's relationship with sports, fashion and hip-hop culture.
"In addition to being a globally recognized sportswear brand, Kappa has a long and storied history within music and youth culture. As such, we strive to identify and align with moments that are both culturally significant and truly authentic." says Dre Hayes, Kappa North America President. "Being the largest hip-hop festival in the world, it's only natural that we partner with Rolling Loud, as both a sponsor of this year's festival, and for the creation of this special collaborative collection."
"Rolling Loud only partners with a select group of brands; especially ones that are relevant to our culture," says Tariq Cherif, Co-Founder of Rolling Loud. "Kappa is an iconic brand that has been revered for years by hip-hop and streetwear heads alike. We're proud to partner with them on these two capsules for our New York and California festivals."
This 7-piece limited-edition capsule collection is a continuation of Kappa's current sponsorship of the Rolling Loud 2021 festival and will be available for purchase exclusively during Rolling Loud New York (October), Los Angeles (December) and on www.rollingLoud.com. The collection will be available starting today, October 26 and range in price from $50 to $110.
The 7-piece collection includes the following styles:
Kappa x Rolling Loud Track Jacket: $90
Kappa x Rolling Loud Hoodie: $110
Kappa x Rolling Loud Soccer Jersey: $110
Kappa x Rolling Loud Track Pant: $80
Kappa x Rolling Loud Sweatpant: $90
Kappa x Rolling Loud Bucket Hat: $50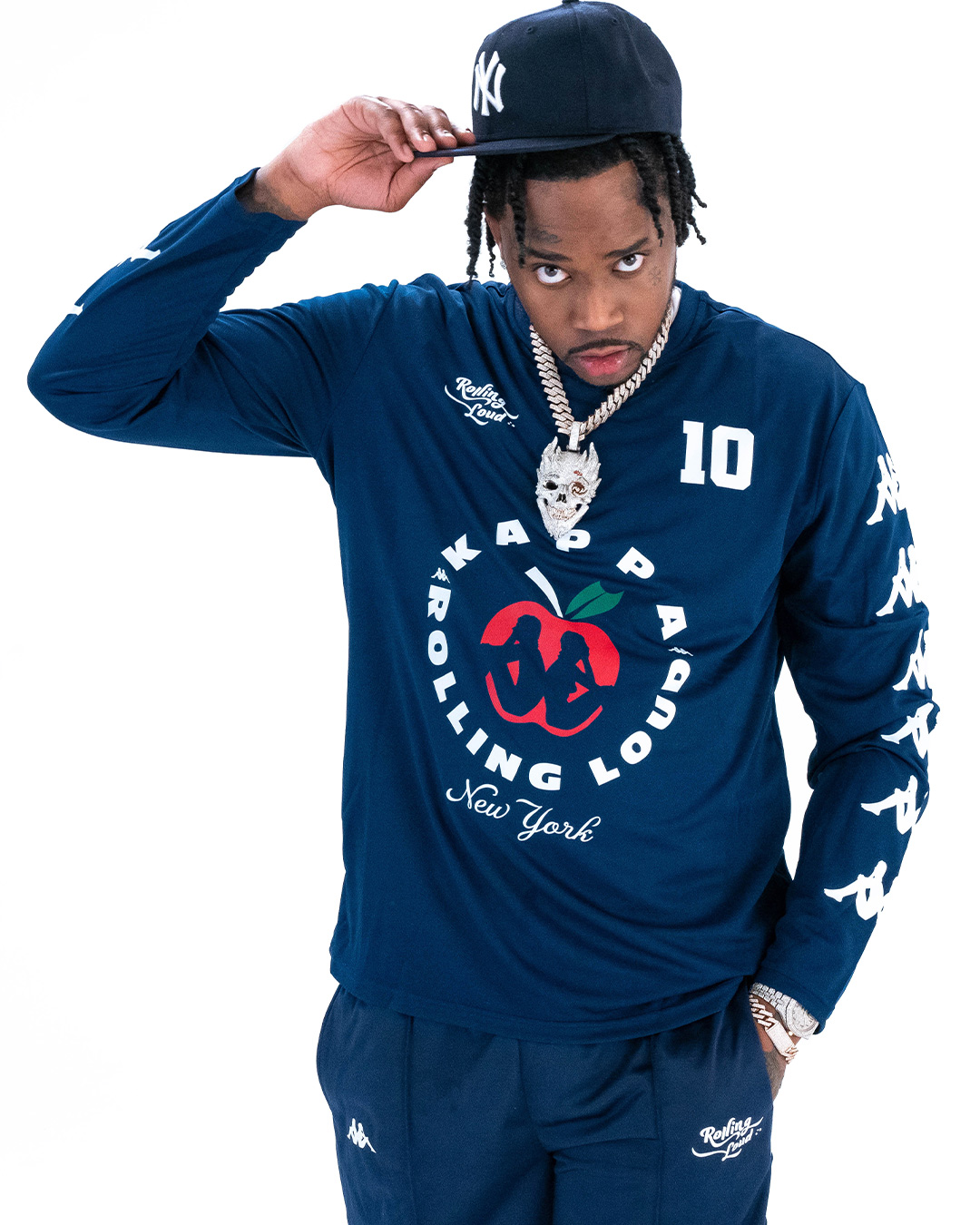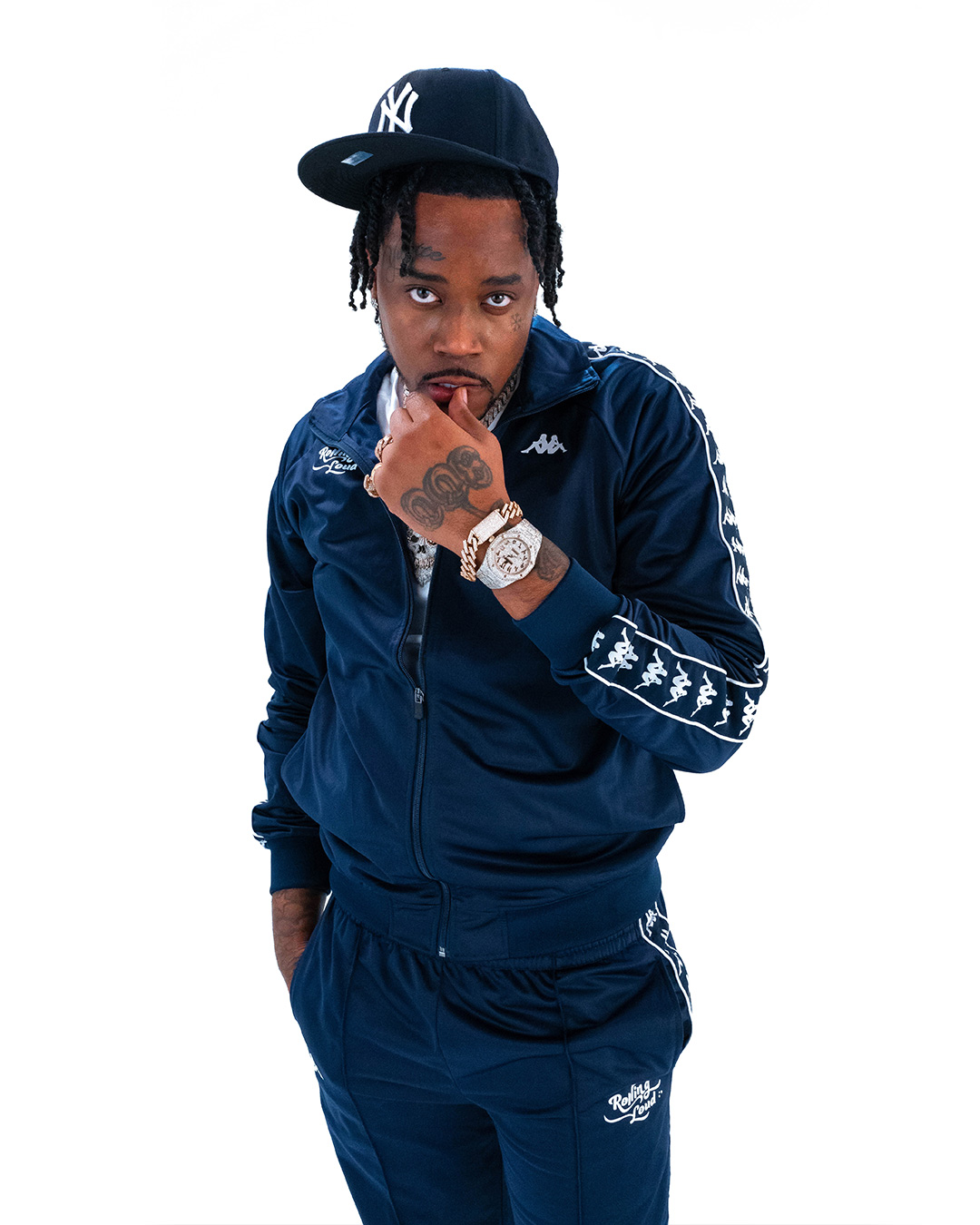 For more info, please contact:
Audible Treats: Michelle, Kerry, or Kevin
Lede Company: Diana or Kim
Critical Praise for Rolling Loud:
"In four and a half years — beginning small in Miami, and now promoting Coachella-sized events around the country — Rolling Loud has established itself as a playground for the young…This time last year, many of the rappers now drawing crowds of several thousand were barely known." – The New York Times
"Rolling Loud is the be-all of hip-hop festivals." – Billboard
"The Rolling Loud New York experiment was a success—one which will likely earn it a return trip to the city in future years. Far from a traditional NYC rap experience, it was a two-day event that catered to the genre's youngest fans, with an eye squarely focused on the future." – Complex
"In only its fifth year with four major destinations and more in the pipeline overseas, athletes, celebrities and others are forking over as much as $20,000 for VIP packages. Of course, imitators are cropping up." – Pollstar
"…within five years Rolling Loud has grown into one of the biggest hip-hop brands in the world. Locally, it has surpassed rival events Ultra and III Points in stature and rivals prestige festivals like Coachella." – Miami New Times
The Background:
About Rolling Loud
Founded by Matt Zingler & Tariq Cherif as a one-day Miami show in 2015, Rolling Loud has grown into a global festival phenomenon, putting on shows on both coasts and in multiple countries. Rolling Loud is the premier festival brand in hip-hop, known for its expert curation of wide-ranging lineups that reflect the state of the genre.
The festival returns from a 18-month hiatus on July 23rd-25th, with the sold out Rolling Loud Miami 2021, its biggest event yet, bringing in over 85,000 fans per day to Hard Rock Stadium in Miami Gardens, FL. With headliners Travis Scott, Post Malone and A$AP Rocky, Rolling Loud Miami 2021 is a triumphant return for live rap music, and a coming out party for risers and new superstars eager to play in front of a festival crowd. Rolling Loud Miami kicks off a massive year for the festival brand, arriving ahead of Rolling Loud New York, headlined by Travis Scott, J. Cole, and 50 Cent, in October and Rolling Loud California, headlined by J. Cole, Kid Cudi, and Future, in December.
During the pandemic, Rolling Loud expanded into much more than just a live festival company. With no in-person show possibilities in sight, Rolling Loud pivoted to become a heavy-hitter in the world of Livestreaming, drawing millions of unique viewers and landing multiple events in Pollstar's Year-End Livestream Chart. In June 2021, Rolling Loud launched Rolling Loud Presents, their first venture into tour promotions, taking the Rolling Loud experience on the road with a series of tours headlined by some of the biggest stars in hip-hop, including Rod Wave, Trippie Redd, Jack Harlow, and more to be announced.
About Kappa
Born in Turin, Italy in 1967, Kappa® is a leading Italian sportswear brand owned and operated by BasicNet SpA, a global manufacturer of apparel, footwear and accessories for sport and leisure. Present in more than 130 countries and worn by professional athletes and style enthusiasts around the world, Kappa® is recognized for its heritage of technical sportswear, and non-conformist blend of Italian technology and style.
Operating through a global network of licensed partners, BasicNet provides R&D, product industrialization, and global marketing services for a diverse portfolio of brands including Kappa® (Kappa Authentic®, Kappa Sport®, KOMBAT™, and Kontroll®), Robe di Kappa®, KWay®, Superga®, Briko®, Jesus®Jeans, Sabelt® and Sebago@. Based in Turin, BasicNet has been listed on the Italian Stock Exchange since 1999.
LINKS:
website | facebook | twitter | instagram
Check out Kappa's website: kappa-usa.com
Follow Kappa on Instagram: @kappa