10.11.2021
Rolling Loud Helps Us Relive Miami 2021 With a Thrilling New Aftermovie
Drawing Over 225,000 Fans and Hosting 150+ Performances From the Hottest Names in Hip-Hop, Rolling Loud Miami 2021 Was the First Major Festival to Successfully Return After the Pandemic
The Announcement:
A joyous celebration of live music's return, Rolling Loud Miami 2021 welcomed a host of artists and a hungry crowd ready to rock out to their favorite songs after many months stuck inside. With the new Rolling Loud Miami 2021 Aftermovie, attendees can relive the unforgettable event, which took place at Hard Rock Stadium in Miami Gardens, FL in July. Expertly cut together by Rolling Loud's internal media team, the new Aftermovie is a life-affirming montage of many of the festival's most memorable moments–from energetic performances, to dazzling pyrotechnics, to a sold-out crowd of fans having the time of their lives–soundtracked by anthemic bangers from Rolling Loud performers like Travis Scott, Lil Baby, Young Thug, Don Toliver, Trippie Redd, and many others.
Setting the bar as the first major festival to return to the stage in 18 months, Rolling Loud boasted performances from headliners A$AP Rocky, Travis Scott, and Post Malone, welcomed dozens of rising artists for their first festival-sized performances since the start of hte pandemic, and served as a gathering place for stars like Rihanna, Diddy, Teyana Taylor, James Harden, Iman Shumpert, Tyler Herro, and many more. For the first time ever, Rolling Loud welcomed the WWE® to the festival's main stage, hosting two star-studded bouts that aired during FOX's WWE SmackDown®.
The Rolling Loud Miami 2021 Aftermovie arrives as Rolling Loud prepares for Rolling Loud New York, coming to Queens at the end of the month. Headlined by Travis Scott, J. Cole, and 50 Cent, the upcoming festival is Rolling Loud's second venture in the birthplace of Hip-Hop and the first one to span three days. Beyond the headliners, the festival promises performances from superstars like Lil Uzi Vert, Lil Baby, Playboi Carti, Polo G, and Lil Durk, as well as a laundry list of NYC stars past and present, including Bobby Shmurda, Joey Bada$$, Ferg, The Diplomats, Action Bronson, Young M.A., J.I., Sheck Wes, Sheff G, Sleepy Hallow, Bizzy Banks, and many more. Occurring at Citi Field on October 28th-30th, Rolling Loud New York is officially SOLD OUT.
In December, Rolling Loud returns to the Golden State, hosting Rolling Loud California 2021. The festival boasts a truly A-List collection of headliners, recruiting J. Cole, Kid Cudi, and Future to top the bill, plus a special duo performance by Young Thug and Chris Brown, who will perform songs from their Slime & B album. Located at NOS Events Center in San Bernardino, and occurring on December 10th-12th, 2021, the festival promises a mix of national names and local heroes that paint a picture of rap's current moment while also nodding at the rich history of the bustling West Coast rap scene. Rolling Loud California is SOLD OUT.
In accordance with state guidelines in New York and California, Rolling Loud will be requiring proof of other COVID vaccination or negative COVID test prior to entering the upcoming 2021 festivals.
Watch Rolling Loud Miami 2021 Aftermovie: https://www.youtube.com/watch?v=zVmzmJ6KLHA
Buy Rolling Loud Merch: shoprollingloud.com
Critical Praise:
#4 on Pollstar's List of 2020's Top Livestreamers
"In four and a half years — beginning small in Miami, and now promoting Coachella-sized events around the country — Rolling Loud has established itself as a playground for the young…This time last year, many of the rappers now drawing crowds of several thousand were barely known." – The New York Times
"Rolling Loud is the be-all of hip-hop festivals." – Billboard
"The Rolling Loud New York experiment was a success—one which will likely earn it a return trip to the city in future years. Far from a traditional NYC rap experience, it was a two-day event that catered to the genre's youngest fans, with an eye squarely focused on the future." – Complex
"In only its fifth year with four major destinations and more in the pipeline overseas, athletes, celebrities and others are forking over as much as $20,000 for VIP packages. Of course, imitators are cropping up." – Pollstar
"…within five years Rolling Loud has grown into one of the biggest hip-hop brands in the world. Locally, it has surpassed rival events Ultra and III Points in stature and rivals prestige festivals like Coachella." – Miami New Times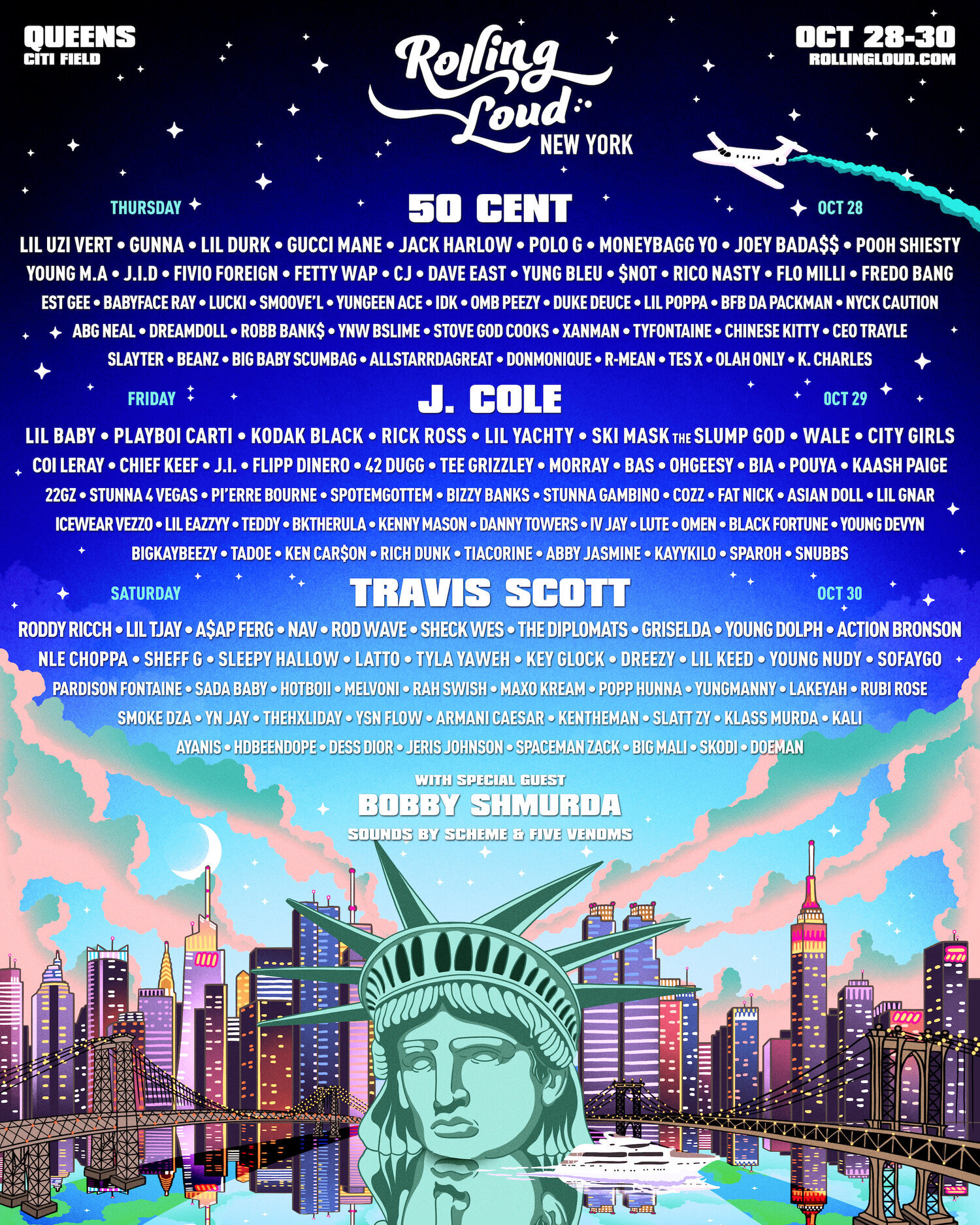 Please contact Michelle, Kerry, or Kevin for more info.
THE BACKGROUND:
About Rolling Loud
Founded by Matt Zingler & Tariq Cherif as a one-day Miami show in 2015, Rolling Loud has grown into a global festival phenomenon, putting on shows on both coasts and in multiple countries. Rolling Loud is the premier festival brand in hip-hop, known for its expert curation of wide-ranging lineups that reflect the state of the genre.
The festival returns from a 18-month hiatus on July 23rd-25th, with the sold out Rolling Loud Miami 2021, its biggest event yet, bringing in over 85,000 fans per day to Hard Rock Stadium in Miami Gardens, FL. With headliners Travis Scott, Post Malone and A$AP Rocky, Rolling Loud Miami 2021 is a triumphant return for live rap music, and a coming out party for risers and new superstars eager to play in front of a festival crowd. Rolling Loud Miami kicks off a massive year for the festival brand, arriving ahead of Rolling Loud New York, headlined by Travis Scott, J. Cole, and 50 Cent, in October and Rolling Loud California, headlined by J. Cole, Kid Cudi, and Future, in December.
During the pandemic, Rolling Loud expanded into much more than just a live festival company. With no in-person show possibilities in sight, Rolling Loud pivoted to become a heavy-hitter in the world of Livestreaming, drawing millions of unique viewers and landing multiple events in Pollstar's Year-End Livestream Chart. In June 2021, Rolling Loud launched Rolling Loud Presents, their first venture into tour promotions, taking the Rolling Loud experience on the road with a series of tours headlined by some of the biggest stars in hip-hop, including Rod Wave, Trippie Redd, Jack Harlow, and more to be announced.
LINKS:
website | facebook | twitter | instagram
For full information, head to
https://www.rollingloud.com
Check out Rolling Loud on Twitch: twitch.tv/rollingloud