4.15.2021
Rolling Loud Announces New Dates for Miami 2021, Occurring July 23rd-25th 2021 @ Hard Rock Stadium
The Biggest Festival Brand in Hip-Hop Returns to the Rage, Preparing Its First In-Person Live Event Since 2019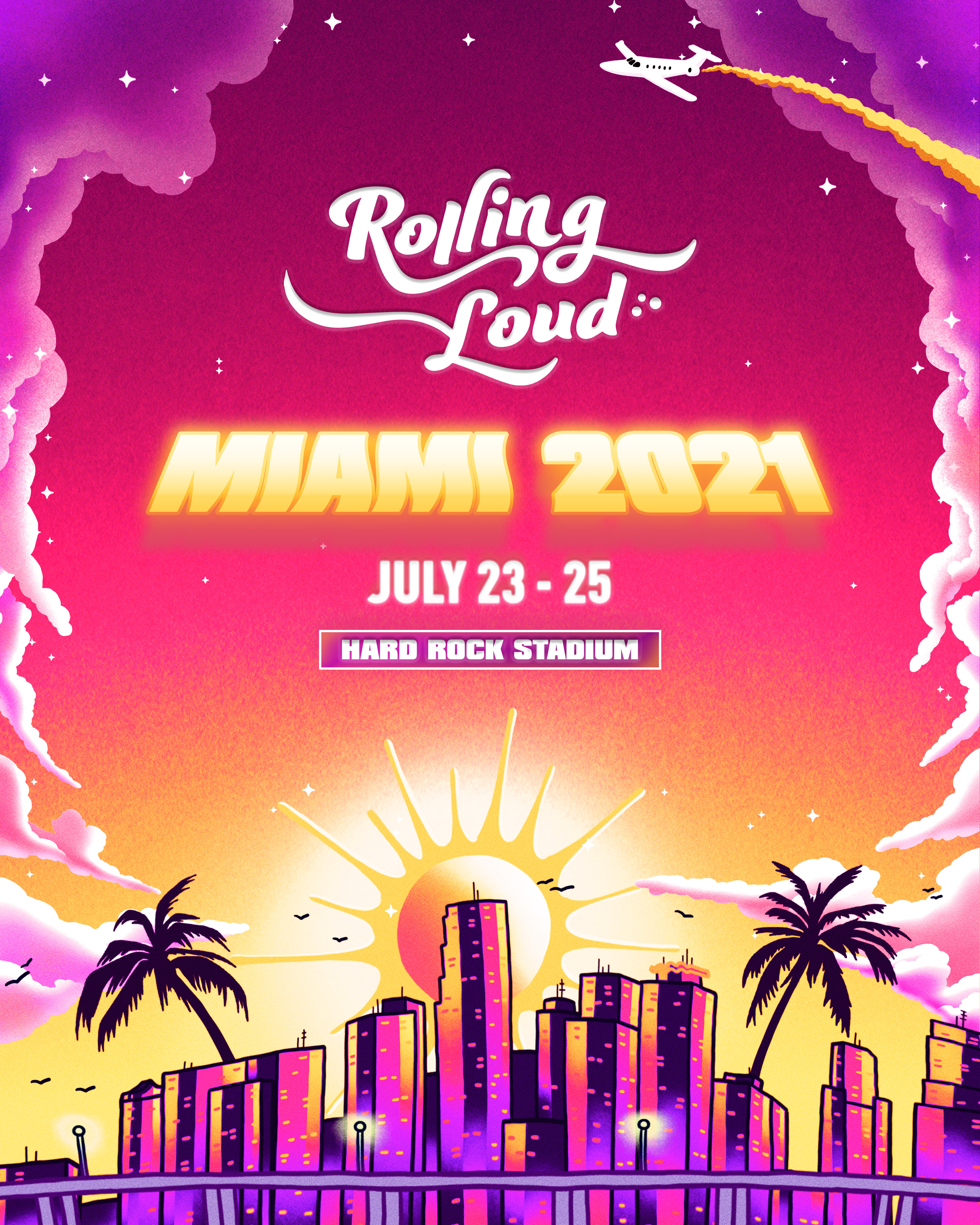 A Statement From Rolling Loud:
Thank you all for your patience.  We kept the faith as long as we could for the May dates, but ultimately we still face challenges that prevent us from gathering together at Rolling Loud Miami in early May.
With that being said, we are excited to announce that Rolling Loud will now take place on July 23-25, 2021 at Hard Rock Stadium in Miami Gardens!
We want to extend a massive thank you to all of our ragers who have held onto their tickets.  Those who can't make the new dates will have the opportunity to obtain a refund.  Information on how to obtain a refund will be sent out to ticket holders later this month.  We are also working on sweetening the deal for those of you who choose to keep your tickets in addition to the rage pack you already earned from the last reschedule.
For those of you who made hotel and/or travel reservations in May, we hear your travel concerns and realize that this is not an ideal situation.  Thankfully, many major airlines are not currently charging change fees, and most Miami hotels have policies in place that allow for refunds.
We can't wait to reunite together in the pits we've all grown to love (and miss) so much.  Many of you, like us, have been looking forward to Rolling Loud for months now.  And although we may need to wait a little bit longer—trust that this comeback and reunion will be even stronger.  Whether you're a Rolling Loud veteran or a first-timer, you are about to be a part of history.  Lineup, show details, on-sale, and more information coming soon, so stay tuned!
The Announcement:
At long last, the world's premier hip-hop festival is back. Rolling Loud announces that its Miami 2021 festival will occur on July 23rd-25th at Hard Rock Stadium in Miami Gardens, FL. Keeping as much of the 2020 lineup intact as possible–including headliners Post Malone and A$AP Rocky–the upcoming event promises a spectacular, show-stopping, and safe return for live hip-hop.
The upcoming event is the first Rolling Loud in the festival's hometown of Miami since 2019, after the 2020 festival was postponed due to the COVID-19 pandemic. For the 2021 edition, Rolling Loud will honor all passes for fans who held onto their 2020 tickets, and will grant refunds to ticket-holders who are no longer able to attend. Limited tickets for the 2021 festival will be available for sale at a date to be announced.
During the pandemic, with no live show possibilities in sight, Rolling Loud pivoted to become a heavy-hitter in the world of Livestreaming, drawing millions of unique viewers and landing multiple events in Pollstar's Year-End Livestream Chart. Rolling Loud has hosted three multi-day "Loud Stream" festivals on Twitch, with headliners like Trippie Redd, Swae Lee, Gunna, Ski Mask The Slump God, Fetty Wap, and Lil Skies. Rolling Loud uses their official Twitch channel to drive and comment on rap culture, welcoming special guests to weekly programming like The Rotation, The Leak, Got Bars?, and more.
The well-being of Rolling Loud attendees, employees, and artists is of the utmost importance. Rolling Loud Miami 2021 will proceed to the extent permitted by local authorities.
Buy Rolling Loud Merch: shoprollingloud.com
Critical Praise:
In four and a half years — beginning small in Miami, and now promoting Coachella-sized events around the country — Rolling Loud has established itself as a playground for the young…This time last year, many of the rappers now drawing crowds of several thousand were barely known." – The New York Times
"Rolling Loud is the be-all of hip-hop festivals." – Billboard
"The Rolling Loud New York experiment was a success—one which will likely earn it a return trip to the city in future years. Far from a traditional NYC rap experience, it was a two-day event that catered to the genre's youngest fans, with an eye squarely focused on the future." – Complex
"In only its fifth year with four major destinations and more in the pipeline overseas, athletes, celebrities and others are forking over as much as $20,000 for VIP packages. Of course, imitators are cropping up." – Pollstar
"…within five years Rolling Loud has grown into one of the biggest hip-hop brands in the world. Locally, it has surpassed rival events Ultra and III Points in stature and rivals prestige festivals like Coachella." – Miami New Times
Please contact Michelle, Kerry, or Kevin for more info.
The Background:
Founded as a one-day festival in 2015 by Matt Zingler and Tariq Cherif, Rolling Loud has evolved into a global behemoth, with annual festivals in Miami, Los Angeles, New York, and the Bay Area. Postponed due to the COVID-19 pandemic, Rolling Loud Miami is scheduled for February 2021, and Rolling Loud Portugal, the brand's first European festival and first-ever 5-day event, recently announced the lineup for next Summer. The company's new Twitch partnership, which includes three virtual festivals in Fall 2020, allows Rolling Loud to maintain its vital cultural role during an impossibly difficult time for festivals and live music.
---
Links:
website | facebook | twitter | instagram
For full information, head to
https://www.rollingloud.com
Check out Rolling Loud on Twitch: twitch.tv/rollingloud