7.22.2022
Rolling Loud Reveals Set Times for Miami 2022
This Weekend's Festival (July 22-24) is the Biggest Rolling Loud Yet, With Headliners Kid Cudi, Future, and Kendrick Lamar, Plus Three Full Days Worth of Performances From A-Listers, Rising Stars, and Underground Heroes
The Announcement:
A multi-faceted enterprise with sky high ambitions, Rolling Loud has established itself as a premium brand in rap music and beyond. Today, Rolling Loud reveals the set times for the sold out Rolling Loud Miami 2022, happening this weekend (July 22-24). Rolling Loud Miami is the festival brand's flagship event, bringing an impressive group of headliners to the Sunshine State: Kendrick Lamar, Kid Cudi, and Future. With those superstars leading an array of A-listers and red hot risers, Rolling Loud Miami touches down imminently at Hard Rock Stadium in Miami Gardens, FL. Scheduled set times are subject to change.
Beyond the headliners is a murderer's row of many of hip-hop's most notable names, offering a snapshot of the current landscape of the genre. Miami 2022 brings A-Listers like Lil Uzi Vert, Playboi Carti, Lil Baby, Lil Durk, City Girls, and Saweetie, meteoric risers like Don Toliver, Baby Keem, City Girls, and Ski Mask The Slump God, plus respected veterans like Gucci Mane, 2 Chainz, Three Six Mafia, and many more. Check out Rolling Loud's livestream on Twitch to see some of these artists in action, and check out the exclusive audio stream on Spotify for music and BTS content.
In addition to its expertly-curated lineups and incredible audio visual presentation, Rolling Loud is well-regarded for its merch. This week, the festival unveiled a merch collaboration with BBC ICECREAM, and earlier today, they announced a brand new partnership with Urban Outfitters, in the form of a capsule collection designed by b2SS. Rolling Loud takes enormous pride in its own merchandise, and once again, Miami 2022 boasts an impressive offering of items available exclusively on the festival grounds and Rolling Loud's own website. Visit shoprollingloud.com to purchase the latest.
Stay tuned for more info, and check out Rolling Loud on Instagram for all the latest updates.
Watch Rolling Loud's Livestream at Twitch.Tv/RollingLoud, starting at 4pm each festival day.
Listen to the audio stream on Spotify
Buy Rolling Loud Merch: shoprollingloud.com
Watch the Miami 2021 aftermovie: https://youtu.be/zVmzmJ6KLHA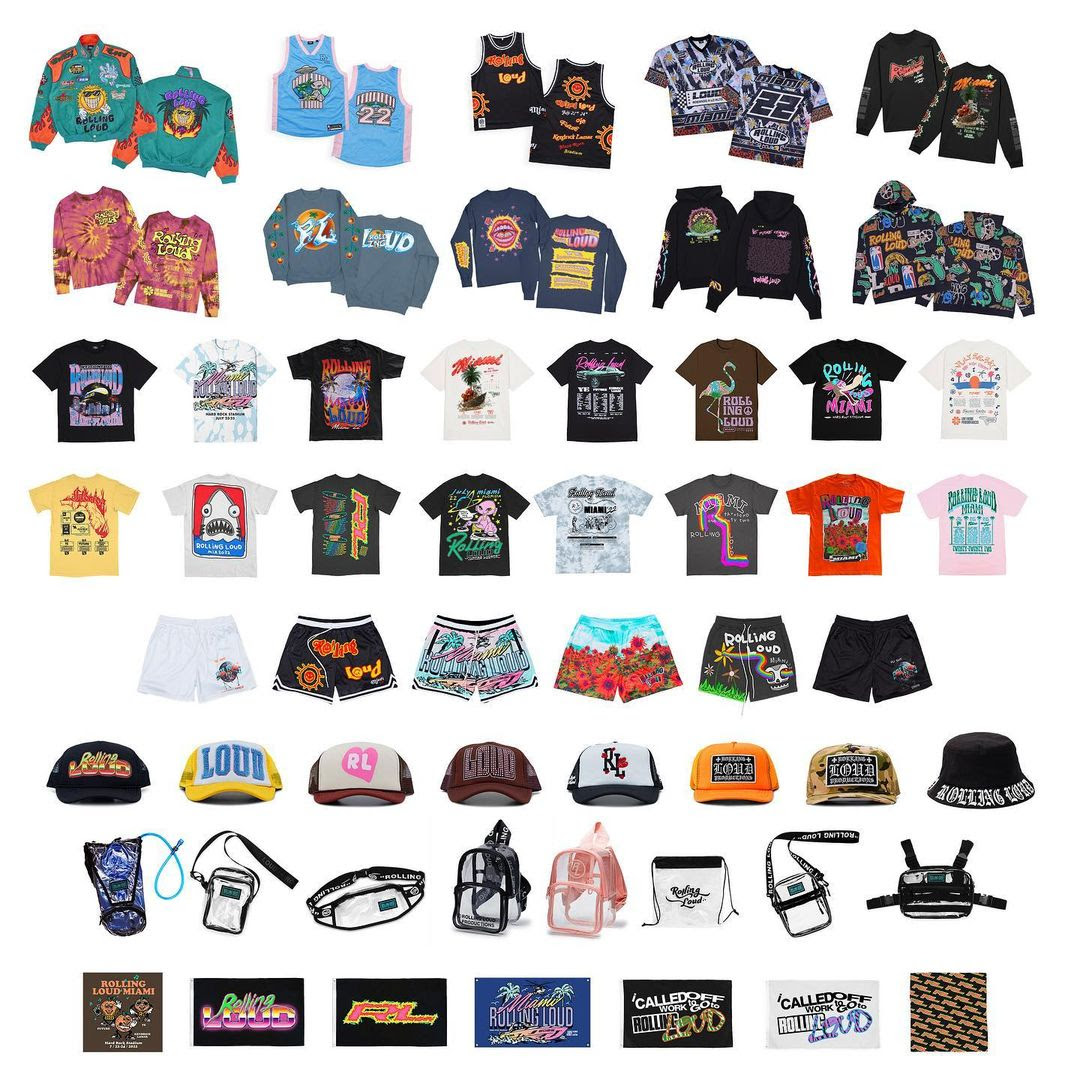 Critical Praise:
"Rolling Loud has become the biggest hip-hop festival in the country" – Variety
"From niche hip-hop festival to must-play event for some of the biggest stars in music." – Pollstar
"Until Elon Musk involuntarily envelops society into a physical cloud universe, Rolling Loud will be the closest experience to actually living inside your streaming app." – Complex
"Rolling Loud's annual New York edition is always something special, but this year's Halloween-weekend extravaganza (not to mention the first post-pandemic) brought seriously spectacular energy to Queens' Citi Field." – Highsnobiety
"Rolling Loud is a lifestyle brand. They are more than just the shows. They have built a community with their consumers and are building new channels to maintain continuity" – Forbes
"In four and a half years — beginning small in Miami, and now promoting Coachella-sized events around the country — Rolling Loud has established itself as a playground for the young…This time last year, many of the rappers now drawing crowds of several thousand were barely known." – The New York Times
Please contact Michelle, Kerry, or Kevin for more info.
The Background:
About Urban Outfitters
Urban Outfitters is a lifestyle retailer dedicated to inspiring customers through a unique combination of product, creativity and cultural understanding. Founded in 1970 in a small space across the street from the University of Pennsylvania, Urban Outfitters now operates over 200 stores in the United States, Canada and Europe, offering experiential retail environments and a well-curated mix of women's, men's, accessories and home product assortments. For more information, visit Urban Outfitters at www.urbanoutfitters.com.
About Rolling Loud
Founded by 5-time Billboard Hip-Hop Power Players Matt Zingler & Tariq Cherif as a one-day Miami show, Rolling Loud has grown into a global festival phenomenon, putting on shows on both coasts and in multiple countries. Rolling Loud is the premier festival brand in hip-hop, known for its expert curation of wide-ranging lineups that reflect the state of the genre.
The festival returned from a 18-month hiatus with the sold out Rolling Loud Miami 2021, bringing in over 85,000 fans per day to Hard Rock Stadium in Miami Gardens, FL. With headliners like Post Malone and A$AP Rocky, Rolling Loud Miami 2021 was a triumphant return for live rap music, and a coming out party for risers and new superstars eager to play in front of a festival crowd. Rolling Loud hosts its biggest event to date with Miami 2022 in July, headlined by Kid Cudi, Kendrick Lamar, and Future, before returning to NY and debuting in Toronto in September 2022.
Links:
For full information, head to
https://www.rollingloud.com
Watch the Miami 2021 aftermovie: https://youtu.be/zVmzmJ6KLHA
Check out Rolling Loud on Twitch: twitch.tv/rollingloud