7.22.2022
URBAN OUTFITTERS AND ROLLING LOUD RELEASE EXCLUSIVE MERCH COLLECTION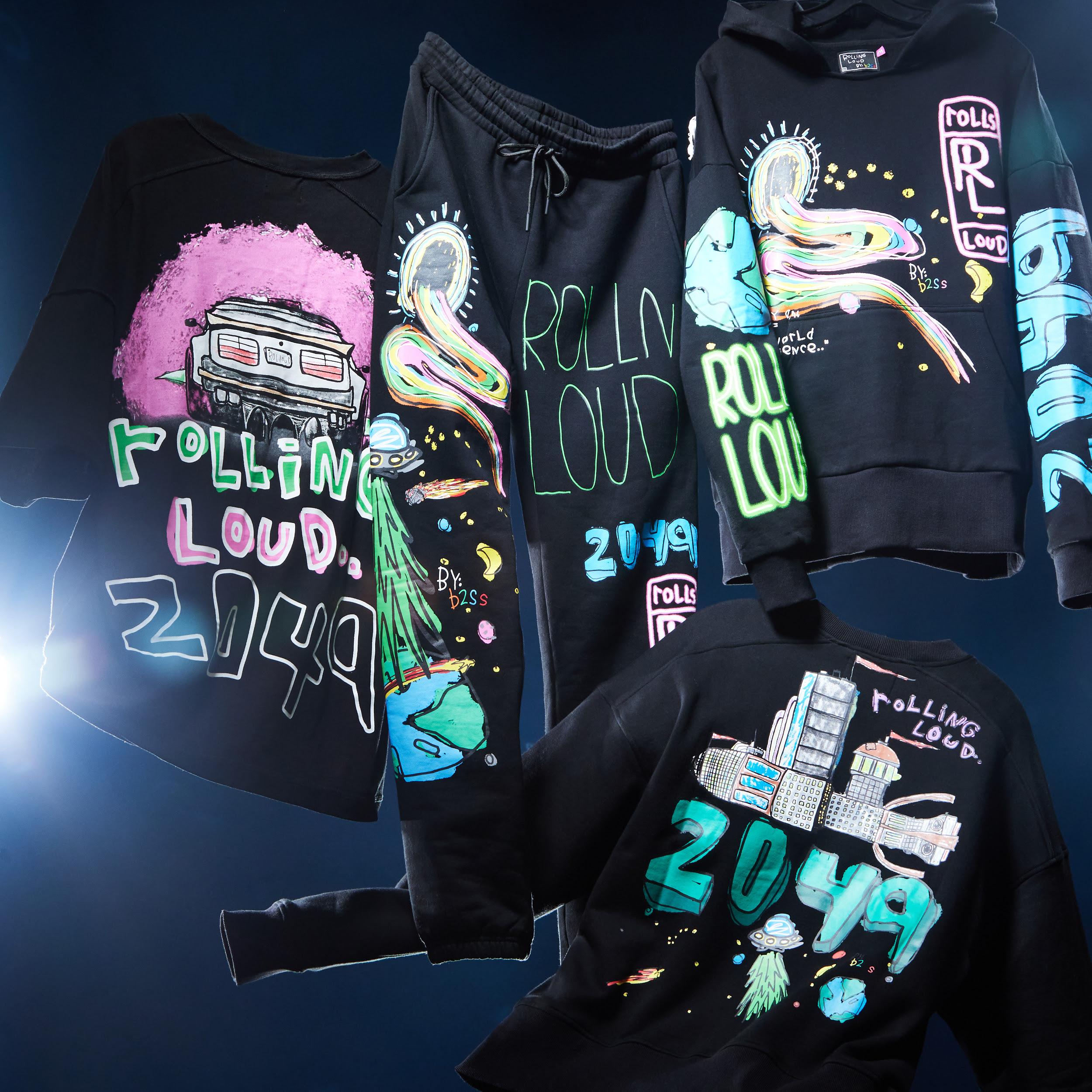 The Announcement:
(July 21, 2022) Urban Outfitters and Rolling Loud Music Festival team up for an exclusive 10-piece merch collection dropping just in time for Rolling Loud Miami 2022. With Kid Cudi, Future, and Kendrick Lamar headlining and an undercard full of some of the most exciting names in hip-hop, Rolling Loud Miami returns on July 22 to July 24.
Started in 2015 by Matt Zingler and Tariq Cherif, Rolling Loud is the biggest festival brand in hip-hop, growing from a single-day event into a global behemoth with multiple festivals per year in North America and Europe. This is the first collab between UO and Rolling Loud, adding to UO's curated collection of music graphics and artist merch. The limited-edition collection features matching sweat sets, graphic tees, woven shirts, shorts and bucket hats adorned with futuristic illustrations and vibrant branding, matching the energy of hip-hop's largest music festival. Rolling Loud's UO collaboration deepens the festival's reputation for stylish streetwear and impeccably-designed, diverse merch.
The collection was designed for Rolling Loud by B2SS. "I had to travel over the rainbow and through the galaxy just to bring you this glimpse of the future," says Gino Deronti, founder of B2SS. "All the way live from 2049, this here is the FUTURE! It's the official, authentic, ultra rare, triple gold star certified, b2Ss x Rolling Loud, 'Outta This World Capsule.' Exclusive launch pads located only at Urban Outfitters, Rolling Loud, and b2Ss.co."
The assortment drops online and in select retail doors on July 21st, with enhanced retail displays at two UO locations: UO Aventura Mall in Miami, FL and UO Lincoln Rd in Miami Beach, FL. The built-out displays will feature special store signage and custom fixtures showcasing the merch. Attendees of Rolling Loud Miami can also shop the exclusive merch capsule at the VIP tent within the festival grounds.
"Urban Outfitters is thrilled to launch and carry this exclusive merch capsule from Rolling Loud and B2SS.  Partnering with one of the largest music festivals in the country is such a great opportunity for us to authentically show up where our audience is and offer an unique experience in our local Miami Urban stores." – Corbin Speir Morrone, Global Music Curator, Urban Outfitters
"We could not be more excited to partner with Urban Outfitters. Rolling Loud strives to offer fans premium apparel that encapsulates hip hop lifestyle and goes beyond traditional concert merch. Urban Outfitters gives us the opportunity to bring our designs and vision to brick and mortar locations across the US for the first time. We can't wait until fans see what we have in store." – Matt Zingler & Tariq Cherif, Co-Founders/CEOs, Rolling Loud
For more information on the Urban Outfitters + Rolling Loud exclusive merch collection, visit www.urbanoutfitters.com.
To shop the collection, click here.
To download hi-res imagery, click here.
Critical Praise:
"Rolling Loud has become the biggest hip-hop festival in the country" – Variety
"From niche hip-hop festival to must-play event for some of the biggest stars in music." – Pollstar
"Until Elon Musk involuntarily envelops society into a physical cloud universe, Rolling Loud will be the closest experience to actually living inside your streaming app." – Complex
"Rolling Loud's annual New York edition is always something special, but this year's Halloween-weekend extravaganza (not to mention the first post-pandemic) brought seriously spectacular energy to Queens' Citi Field." – Highsnobiety
"Rolling Loud is a lifestyle brand. They are more than just the shows. They have built a community with their consumers and are building new channels to maintain continuity" – Forbes
"In four and a half years — beginning small in Miami, and now promoting Coachella-sized events around the country — Rolling Loud has established itself as a playground for the young…This time last year, many of the rappers now drawing crowds of several thousand were barely known." – The New York Times
Please contact Michelle, Kerry, or Kevin for more info.
The Background:
About Urban Outfitters
Urban Outfitters is a lifestyle retailer dedicated to inspiring customers through a unique combination of product, creativity and cultural understanding. Founded in 1970 in a small space across the street from the University of Pennsylvania, Urban Outfitters now operates over 200 stores in the United States, Canada and Europe, offering experiential retail environments and a well-curated mix of women's, men's, accessories and home product assortments. For more information, visit Urban Outfitters at www.urbanoutfitters.com.
About Rolling Loud
Founded by 5-time Billboard Hip-Hop Power Players Matt Zingler & Tariq Cherif as a one-day Miami show, Rolling Loud has grown into a global festival phenomenon, putting on shows on both coasts and in multiple countries. Rolling Loud is the premier festival brand in hip-hop, known for its expert curation of wide-ranging lineups that reflect the state of the genre.
The festival returned from a 18-month hiatus with the sold out Rolling Loud Miami 2021, bringing in over 85,000 fans per day to Hard Rock Stadium in Miami Gardens, FL. With headliners like Post Malone and A$AP Rocky, Rolling Loud Miami 2021 was a triumphant return for live rap music, and a coming out party for risers and new superstars eager to play in front of a festival crowd. Rolling Loud hosts its biggest event to date with Miami 2022 in July, headlined by Kid Cudi, Kendrick Lamar, and Future, before returning to NY and debuting in Toronto in September 2022.
Links:
For full information, head to
https://www.rollingloud.com
Buy Rolling Loud merch: shoprollingloud.com
Watch the Miami 2021 aftermovie: https://youtu.be/zVmzmJ6KLHA
Check out Rolling Loud on Twitch: twitch.tv/rollingloud