8.27.2019
Video: RJMrLA – "Time" ft. Young Thug
The West Coast and the ATL Trap Collide in the Sleek, Billboard-Premiered Clip for the On God Highlight

Critical Praise:
"RJ has built a huge regional following in the West Coast, perfecting his hard uncompromising Cali street sound on this year's OMMIO 3." – HotNewHipHop
"RJ looks like the next one up in the wild, wild West. Pay attention." – XXL
"The Los Angeles rapper first captured his city with a slew of local hits—the biggest being his 2015 single "Get Rich"—that proved his mettle without a major label or blog cosigns. Now, with steady assists from his 400 Summers label heads YG and DJ Mustard he uses MrLA to expand his sound, replacing some of the street-acclaimed grittiness of his O.M.M.I.O. mixtapes with radio-ready selections." – Pitchfork
The Video:
RJMrLA 
is tireless worker, spending countless hours in the studio to make West Coast jams that feel and sound effortless. Stepping back to reflect on the hectic life of a performing artist, RJ shares 
"Time," 
his new video. Kicking back in an opulent L.A. mansion, RJ and fellow mastermind 
Young Thug 
(who lays down a catchy and manic guest verse) enjoy a rare bit of off time, rocking Versace beside an immaculate swimming pool, lounging in a luxurious bath robe, and showing off their coupe collection. Premiered by 
Billboard
, "Time" is one of the highlights of 
On God, 
RJ's recently released debut album. "Time" is the third video from 
On God
, following the thrilling origin story 
"Apartment" 
and the slice-of-life "
Rat Race
."
"Thug and I are real tight. He respects the movement and I respect his," the O.M.M.I.O rapper tells Billboard. "He's family oriented like me, so it was only right to bring this record together. With both of us not having time for our loved ones like we want, we can relate on that. The video is relevant and real, [we] but kept it exciting with the mansion and baddies bagging the work."
Forgoing party anthems for heavier thematic content, On God is a mature effort from RJ, complete with contemplative lyrics, but still bringing enough energy and head-nodding moments to make an ideal listen for the riders. Featuring appearances from Young Thug, Schoolboy Q, Snoop Dogg, Mozzy, Rich the Kid, G-Eazy, Ty Dolla $ign, The Game, and OT Genasis, among others, and production from DJ Swish (who's made hits for YG and Post Malone) and more, On God is available everywhere via EMPIRE.

Watch "Time" ft. Young Thug: https://youtu.be/quHEQCPz2uY
Check out the Billboard premiere: https://www.billboard.com/articles/columns/hip-hop/8528306/rjmrla-young-thug-time-video
Buy/Stream On God here: https://empire.lnk.to/OnGodRJMrLA
On God tracklisting:
1. On God
2. Apartment
3. On One (ft. ScHoolboy Q)
4. Time (ft. Young Thug)
5. Money Goals
6. Rat Race
7. Numb To My Feelings (ft. The Game)
8. Bang My Line (ft. OT Genasis)
9. Pretty B*tches (ft. G-Eazy & Bree Carter)
10. Real L.A. Sh*t (ft. Joe Moses)
11. No Pressure
12. Watching
13. No Face No Case (ft. Larry Jay)
14. Randall Cunningham (ft. Rich The Kid & Mike Wayne)
15. Friday Night (ft. Ty Dolla $ign)
16. Long Way (ft. Snoop Dogg)
17. Real Wit Myself (ft. Mozzy)
18. Move It (ft. Fresco)
19. You Are Who You Are
20. Growing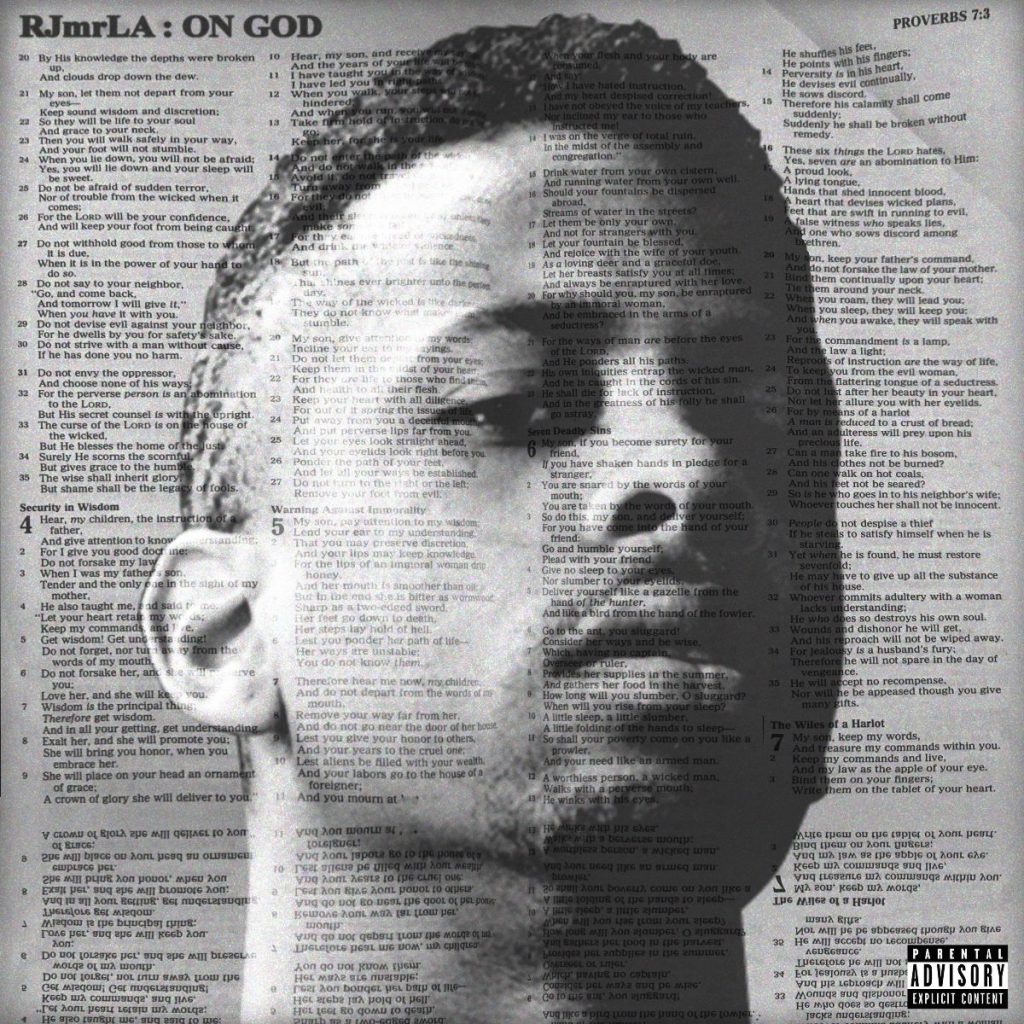 Please contact Michelle for more info.
The Background:
Firmly rooted in the Los Angeles community, RJMrLA is intimately familiar with the hustle. Born and raised in South Central, RJ's father was a businessman with ties to the Westside Pirus and his grandfather a bootlegger, exposing a young RJ to the grind early on. At the age of nine, RJ began channeling his surroundings into raps after his mother put him on to Snoop Dogg. Moving to Atlanta post-high school, RJ became deeply embedded in the city's trap culture. Upon his return to Los Angeles in 2013, RJ caught the attention of DJ Mustard, receiving an invitation to join his 10 Summers crew. RJ appeared on several tracks on DJ Mustard's 10 Summers mixtape series and launched his solo career with the OMMIO (On My Mama I'm On) mixtape series, garnering critical acclaim from the FADER, LA Weekly, XXL, and more. Collaborating with the likes of The Game, Nipsey Hussle, Jeezy, and Ty Dolla $ign, RJ has painted name across the rap game. With his 2017 projects MrLA and The Ghetto, his full-length collaboration with DJ Mustard, RJ is making moves to place himself in the ranks of LA's finest.
---
Links:
twitter | instagram | soundcloud
Bio, photos, and streams available here: http://www.audibletreats.com/rj
"Time" ft. Young Thug: https://thugger.lnk.to/time2 / https://youtu.be/quHEQCPz2uY
On God: https://empire.lnk.to/OnGodRJMrLA
"Bang My Line" ft. OT Genasis: https://Empire.lnk.to/BangMyLineYo
"Rat Race": https://empire.lnk.to/RatRace // https://youtu.be/vvBkKhWHGLc
"Apartment": https://youtu.be/CoV4LGX_uWM