MP3: ProbCause – "Back To The Future"
With His Drifters EP Releasing Next Week, the Chicago Rapper Connects with the Low Temp Label Head/Producer for Energetic Lead Single, Debuted by ThisSongIsSick
08.21.2015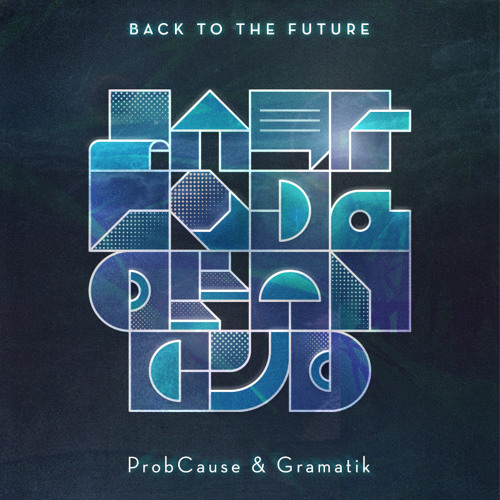 Critical Praise for ProbCause:
"ProbCause nimbly rides fusion-friendly hip-hop tracks; there's the DJ Screwed-up dubstep buzzer 'Ego Trip' and the ecstatic rap-rock track 'Neon Dreams.'" – SPIN
"He's a great rapper who you can imagine killing it at open mics, cyphers and old-school styled club nights." –  PotholesInMyBlog
"You'll find WAVES incorporates several different genres within it's overall hip-hop vibe– electronic, rock, and blues are some of the other elements tapped…" – HotNewHipHop
"The rising rapper […] has continued to dominate his own lane… Prob will have you locked in." – XXL
"…just one conversation with ProbCause is enough to make you realize that he's deeper than even his most serious lyrics suggest." – Chicagoist.com
"The lanky MC's vocal gymnastics have an elastic flow… he raps like a fan in the crowd hollering at the DJ to pump up the volume." – Chicago Reader
"It's diverse, veering from slower flows erring in the sub-genre of jazz-rap to hard-hitting, hard-spitting electro-rap. It's a perfect summer project…" – HillyDilly
"In Chicago and beyond, ProbCause is one to watch. His skills, creativity and persona are refreshing and unlike much else. There is a spin on everything that sounds and feels distinctly his. In both the rap game and the art world he is changing the rules." – FakeShoreDrive.com
The Song:
With his Drifters project slated to release next week via Electronic music producer Gramatik's Lowtemp label, ProbCause has shared the energetic lead single, "Back To The Future." Distorted vocal samples sit atop slapping percussion and fluttering synths that are accompanied by jolted horns and keyboard taps that lay the groundwork for the track, which is produced by the Lowtemp label head. As for the rhymes, ProbCause is in his comfort zone with confident, loose-lipped raps stating "I ain't offended if you give up on me I ain't even mad." Rapping over Gramatik's heavy electronic production, the ProbCause showcases his multi-genre adaptability by delivering the same lyrical punch that we're used to hearing from the Chicago rapper over a foreign backdrop. "Using the innovative capacities of Gramatik's electro-funk and glitch-hop origins, Probcause lays down a spastic flow of progressive lyrics that work perfectly within the production's framework," said ThisSongIsSick in their premiere.
ProbCause's Drifters releases August 28th. Prior to "Back to the Future," he shared the Break Science and Manic Focus remix of "Chicago Style," which features fellow Windy City emcee Twista. Additionaly, the project's first single, "I Feel U," debuted via Consequence of Sound, who stated that the track is "about as Chi-Town as it comes, with every beat ringing like a testament to ProbCause and the scene's history." Drifters is the followup to last year's WAVES and the collaborative ZRO FOX EP with Rhymesayers Ent. rapper Psalm One that released earlier this year. The project displayed a range of hip-hop, trap, and wavy electro-spirited cuts, showing a musical chemistry that reached new creative heights. ProbCause has additionally collaborated with fellow Chicago artists Chance The Rapper and Action Bronson.
Kicking off September, ProbCause will be performing at the North Coast festival in Chicago, and then headlining several Midwest tour dates of his own.
Listen to "Back To The Future" (Prod. by Gramatik): https://soundcloud.com/probcause/probcause-gramatik-back-to-the-future
Check out ThisSongIsSick's premiere: http://thissongissick.com/blog/2015/probcause-x-gramatik-back-to-the-future/
Please contact Michelle or Rory if interested in talking with ProbCause.
ProbCause Background:
ProbCause is a prolific rapper and a painter too. Between performing at SXSW, North Coast, Costa Rica, and tour dates nation-wide, ProbCause is keeping busy and inspiring fellow students at the School of the Art Institute in Chicago. His sound, which jumps from hip-hop, to electronic, to RnB, and then back to a classic boom-bap gritty rap, helped get him signed to high-profile booking agency Paradigm. With stories that make you reminisce and a percussive delivery that highlights his versatile production skills, ProbCause is at the head of the pack of promising new Chicago artists.
---
Links:
official site | twitter | facebook | instagram | soundcloud | bandcamp
"Back To The Future" (Prod. by Gramatik): https://soundcloud.com/probcause/probcause-gramatik-back-to-the-future
"Tilt Mode" – Exmag ft. Gibbz (Manic Focus and ProbCause Remix): https://soundcloud.com/manicfocus/exmag-feat-gibbs-tilt-mode-manic-focus-and-probcause-remix
ZRO FOX EP: https://soundcloud.com/bonafyderecords/sets/zro-fox
"Might Not" ft. Sasha Go Hard: https://soundcloud.com/bonafyderecords/might-not-ft-sasha-go-hard // https://www.youtube.com/watch?v=05jiqtBg1jY
WAVES EP: https://soundcloud.com/probcause/sets/waves
"Chicago Style": http://youtu.be/-msZxXK6xXg
"LSD" (Hood Internet Remix): https://soundcloud.com/probcause/lsd-ft-chance-the-rapper-hood-internet-remix
"LSD" (feat. Chance the Rapper): https://soundcloud.com/probcause/lsd // http://www.youtube.com/watch?v=kfwGplBrAKc
"Flex": http://www.youtube.com/watch?v=CwjG7ZRTcNQ
"Three Course Meal" ft. Action Bronson & Chance the Rapper: https://soundcloud.com/probcause/probcause-three-course-meal
Bio, photos, and streams available here: http://www.audibletreats.com/probcause/