12.4.2020
Pressa Announces Gardner Express EP, With Appearances from, Sheff G, Sleepy Hallow & More, Coming December 11th
The Toronto Rapper Connects with Jackboy for the Punchy "Blackberry Zap" Single
The Drake Co-Signed 24-Year-Old Artist Looks to Go From Driftwood to Hollywood with His Upcoming 7-Track EP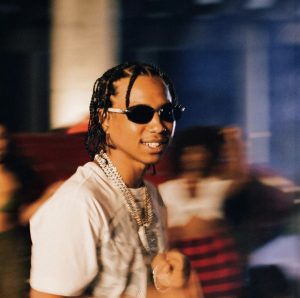 Critical Praise:
"Not a lot of musicians can claim to have the attention of the biggest music names in their country, or have toured with one of the most successful acts of all time and have released an album all before the age of 23. But Canadian artist Pressa is one of the few that would fit the description." – Complex
"Pressa's come a long way from his native of Driftwood and is approaching the business and art of music making like a seasoned veteran." – Vice
The Announcement:
With  a distinctive high-pitched rap voice and an unfiltered lyrical point-of-view, Pressa transcended a rough upbringing to become one of Toronto's most promising artists. Looking to climb the next rung on his ladder to stardom, Pressa announces Gardner Express, his upcoming EP. The EP follows Pressa's journey from an upstart in his Driftwood neighborhood to a local favorite drawing sellouts in downtown Toronto to an attraction on worldwide tours. The title of the seven-track project is a play on words referencing Pressa's last name (Gardner) and Toronto's Gardiner Expressway, an East-West thoroughfare that connects most of the Canadian metropolis with the rest of Ontario, and eventually the U.S. Defined by whip-ready instrumentals and Pressa's visceral and flex-heavy accounts of city life, Gardner Express is home to "Head Tap," a successful single with appearances from Brooklyn drill duo Sheff G & Sleepy Hallow.
Today, Pressa releases "Blackberry Zap," his new single and the latest glimpse of the EP. Carried by a bright acoustic guitar melody and overtones of dramatic bass and airy vox, courtesy of Canadian producer Bijan Amir (Bryson Tiller, Killy), "Blackberry Zap" paints a vivid picture of Pressa's boss lifestyle, complete with shiny new G-Wagons, full cups of Hennessy, and a well-connected plug. All the while, Pressa maintains his street-level perspective, marveling at the life he'd never thought he'd live long enough to enjoy: "Ain't nothin' to play wit/Put my name on a bracelet/If I die today, real n**** I aced it." The song is a collaboration with Jackboy, a Florida native and Kodak Black associate, whose emphatic delivery clipped cadences prove to be the perfect complement for Pressa's machine-gun bursts of syllables.
Beloved in his city and co-signed by the likes of Drake and The Weeknd, Pressa is ready to achieve his lofty ambitions. The 24-year-old rapper grew up in Driftwood, a notoriously rough area of Toronto, and was forced to turn to extra-legal measures to support himself at an early age. He learned how to rap as a teenager while writing pages and pages of lyrics while serving a term in juvenile hall. When he emerged, he quickly caught the attention of his city with "Wass Gang," which eulogized a friend who died at the hands of the police, and capitalized on the moment with the hit single "Canada Goose" (16.8 million Spotify streams). Since then, Pressa evolved into one of Toronto's most promising talents, going on tour with Drake, collaborating with everybody from Lil Uzi Vert to Murda Beatz, and releasing his debut album Prestige–dedicated to his father, who is currently serving time in prison–in 2019.
Gardner Express caps off a busy 2020 for Pressa, marked by hit singles like "Head Tap" (5 million worldwide streams) and weighty artistic statements like "Harriet," which examines the fraught relationship between the police and their cities. Gardner Express arrives on December 11th via Sony Music Canada.
On December 16th at 10pm ET, Pressa will perform songs from Gardner Express on Happin. Buy tickets for the livestream here: https://www.crowdcore.com/post/5fc52b5a17d8fc4e8676a91a
Buy/Stream "Blackberry Zap" ft. Jackboy: https://smarturl.it/Pressa_BlackberryZap
Please contact Michelle or Kevin for more info.
---
Links:
instagram | twitter | merch | youtube | spotify
""Blackberry Zap" ft. Jackboy: https://smarturl.it/Pressa_BlackberryZap
"Head Tap" ft. Sheff G & Sleepy Hallow: https://www.youtube.com/watch?v=3pbeegimfTc
"OTM": https://youtu.be/–ZbWzmU-lI
"96 Freestyle": https://youtu.be/wqMW57_RO7Q