3.8.2022
Pi'erre Bourne Announces "The Purple Tour," an International 30-Date Tour
"The Purple Tour" Finds Pi'erre Continuing to Climb the Ranks of Hip-Hop Stardom As He Embarks on Tour Spanning Santa Cruz to Istanbul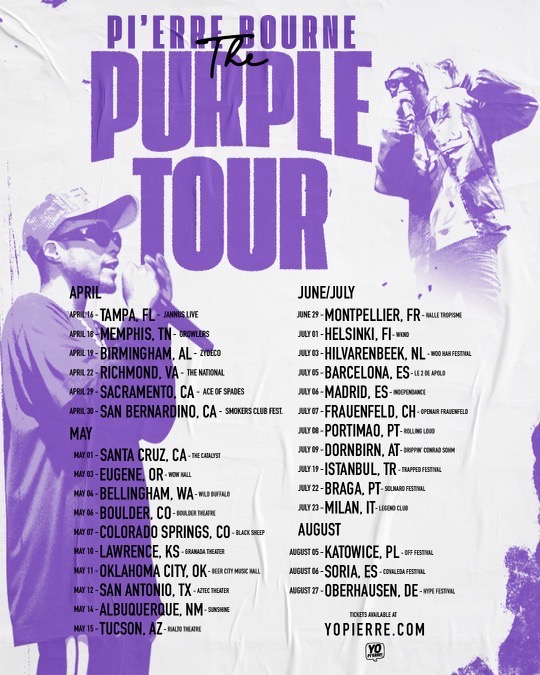 Critical Praise:
"Bourne's raps are wordplay-heavy, funneling boasts about money and fashion, flirtations with lovers, and the occasional autobiographical gem through the tried-and-true art of the metaphor." – Pitchfork
"Pi'erre Bourne just might be on his way to a Kanye-esque crossover." – Rolling Stone
"The Life of Pi'erre 5 reflects the lyrical and emotional growth Pi'erre has gained since dropping the last entry in 2019, while maintaining his usual high-level production."  – Billboard
The Announcement:
Holding it down for his SossHouse label with his mesmerizing beats and hard-biting bars of his own, Pi'erre Bourne continues to grow his dominance in the rap game. Today, Pi'erre announces "The Purple Tour," kicking off April 16th in Tampa, FL before wrapping up on August 27th in Oberhausen, Germany. The tour includes stops at festivals like Smokers Club Fest in the US, as well as European festivals like Woo Hah Festival, Rolling Loud Portugal, Trapped Festival, Solnaro Festival, OFF Festival, Covaleda Festival, and HYPE Festival. Tickets for "The Purple Tour" go on sale Friday, March 11th at 10am ET.
Coming off the heels of the recent Yo!88, Pi'erre's joint album with production powerhouse TM88, his third full-length collaboration and fourth project of 2021, Pi'erre has big things planned for 2022, including upcoming collaborative projects with Memphis veteran Juicy J and superproducer Cardo Got Wings.
Pi'erre Bourne first left his mark as a producer. The Interscope signee kicked off his career working on massive singles for Playboi Carti ("Magnolia"), topped Billboard's Hot 100 Producer chart working with Lil Uzi Vert (Eternal Atake), and eventually became a GRAMMY® Award winning producer (Kanye West's Jesus Is King) – all the while establishing himself as a successful rapper in his own right with his solo critically acclaimed albums The Life of Pi'erre 4 and The Life of Pi'erre 5, which was recently listed as one of Complex's "Top 50 Albums of 2021." Now, the SossHouse supreme prepares to take his on the road once more to shine on the international stage.
Buy Tickets for "The Purple Tour": http://yopierre.com/
Please contact Michelle or Kerry for more info.
Links:
official site | instagram | facebook | twitter | youtube | spotify | soundcloud
Buy Tickets for "The Purple Tour": http://yopierre.com/
Buy SossHouse merch: sosshouse.com
Yo!88: https://yo88.lnk.to/yo88
"Block Boy": https://yo88.lnk.to/blockboy