3.1.2021
Biggie: I Got A Story To Tell
Out Now on Netflix
Executive-Produced by Sean "Diddy" Combs and Voletta Wallace, the New Documentary Digs Deep Into the Origins of The Notorious B.I.G.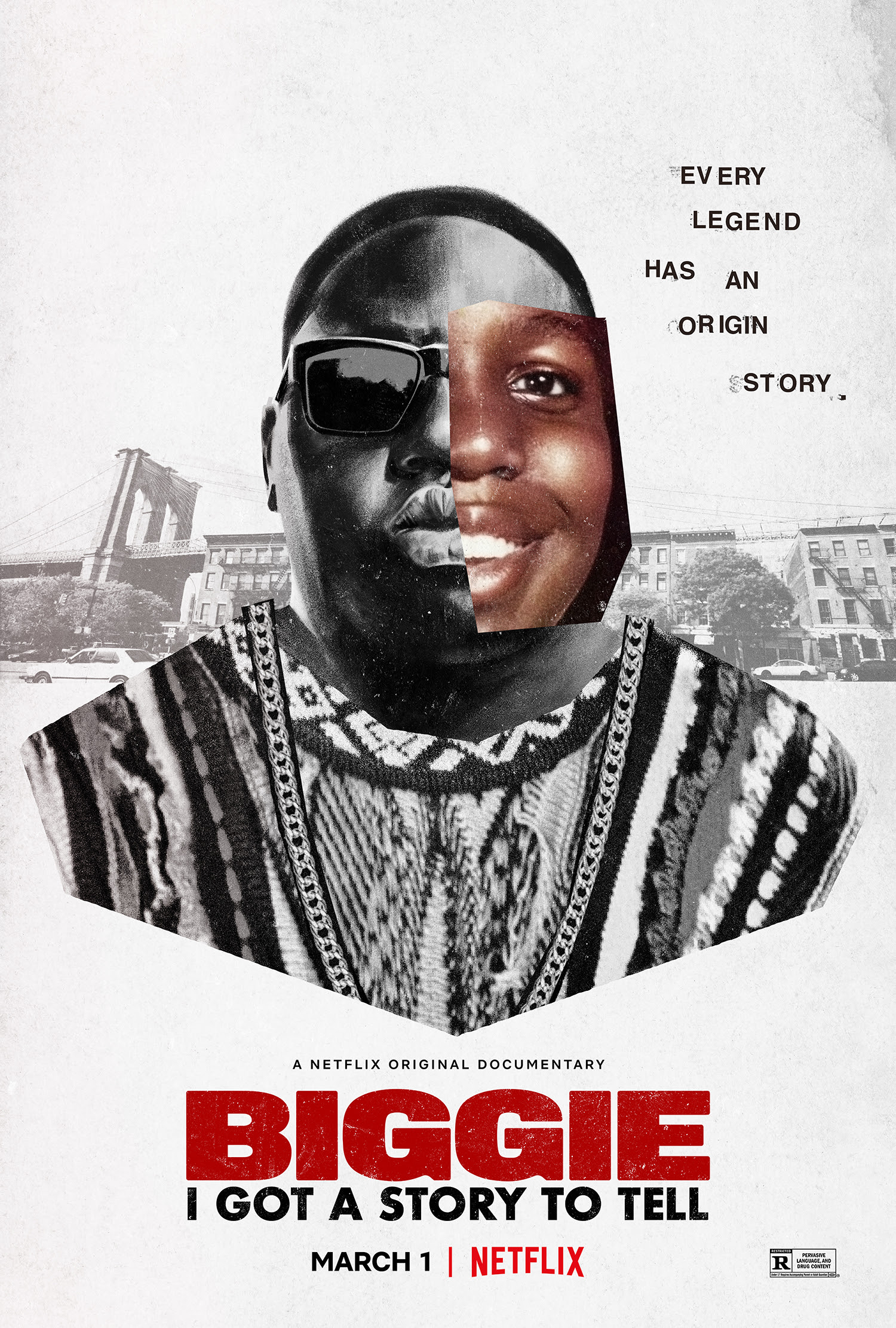 It's impossible to overstate the impact of The Notorious B.I.G.–he forever changed the art of rhyming with sharp storytelling and boundless charisma, redefined the commercial possibilities of rap stardom, and embodied the rough-and-tumble hustle of his home borough of Brooklyn. But before he was Biggie Smalls, he was just Christopher Wallace–ambitious, sweet, if a bit of a troublemaker. A loyal friend and the apple of his mother's eye.
Instead of focusing on the glitz and glamor of Wallace's torrid career and wide-ranging stardom, the new documentary Biggie: I Got A Story To Tell offers a close look at the man behind the myth. Featuring rare archival footage and interviews with the people who knew him best–his mother, Voletta Wallace, his business partner Sean Combs, his girlfriend Faith Evans, and close friends from Bed-Stuy like Lil Cease–I Got A Story To Tell descriptively details the world Biggie was desperate to escape, and the loved ones he wanted to take with him.
Executive-produced by Biggie's mother Voletta Wallace and Sean Combs, and directed by Emmett Malloy, the new doc is packed with stories and nuggets that will interest longtime Biggie fans and newcomers alike, explaining Biggie's diverse musical background that incorporated hip-hop, dancehall, and jazz (thanks to his neighbor and musical mentor Donald Harrison), giving additional context to classic songs like "Respect," "Warning," and "Miss U," among others, and exploring the circumstances behind Biggie's famous Fulton Street freestyle.
Biggie: I Got A Story To Tell allows fans to come closer than ever to knowing and understanding Biggie Smalls the way his closest friends and loved ones did.
Biggie: I Got A Story To Tell is available to watch now on Netflix.
Watch the trailer for Biggie: I Got a Story to Tell: https://www.youtube.com/watch?v=fRj2NxkM84U
---
BIGGIE:  I GOT  A STORY  TO  TELL INFO:
Synopsis: In the wake of the Notorious B.I.G.'s landmark induction into the Rock and Roll Hall of Fame, and ahead of what would have been his 50th birthday, Biggie: I Got A Story To Tell offers a fresh look at one of the greatest, most influential rappers of all time by those who knew him best. Made in collaboration with Biggie's estate, I Got A Story To Tell is an intimate rendering of a man whose rapid ascent and tragic end has been at the center of rap lore for more than twenty years. Directed by Emmett Malloy, this intimate documentary features rare footage filmed by his best friend Damion "D-Roc" Butler and new interviews with his closest friends and family, revealing a side of Christopher Wallace that the world never knew. I Got A Story To Tell is executive produced by Sean Combs, Voletta Wallace, Mark Pitts, Stanley Buchthal, and Emmett and Brendan Malloy.
DIRECTED BY: Emmett Malloy
PRODUCED BY: David Koh, Wayne Barrow, William Green, Aaron L. Ginsburg, Terry
Leopard, Daniel Pappas
EXECUTIVE PRODUCED BY: Stanley Buchthal, Emmet Malloy, Brendan Malloy, Voletta Wallace, Mark Pitts, Sean Combs
INCLUDES TALKING HEAD APPEARANCES FROM:
Celebs – Sean "Diddy" Combs, Faith Evans, Lil' Cease, Fab 5 Freddy
Family/Fam Friends – Voletta Wallace, Gwendolyn Wallace
(Biggie's grandmother), Dave Wallace (Biggie's uncle)
Childhood Friends – Damion "D Roc" Butler, Suif "C Gutta" Jackson,
Hubert Sam, Easy Mo Bee
Industry – Mister Cee, Mark Pitts (Biggie's manager)
To view or embed official trailer, please click here
Download key art here
Download unit stills here
We kindly ask that you please link back to https://www.netflix.com/BiggieIGotaStorytoTell in your coverage.
#IGotAStoryToTell

---
Contact:
For press inquiries regarding Biggie: I Got A Story To Tell, please contact:
Michelle McDevitt, Kevin Grossi, Kerry Harrison
---
About Netflix:
Netflix is the world's leading streaming entertainment service with over 195 million paid memberships in over 190 countries enjoying TV series, documentaries and feature films across a wide variety of genres and languages. Members can watch as much as they want, anytime, anywhere, on any internet-connected screen. Members can play, pause and resume watching, all without commercials or commitments.
---
Links:
instagram | facebook | twitter | youtube | tiktok
Netflix Media Center: https://media.netflix.com/