5.24.2023
My Favorite Color Shares "car pack" Double Single, With Flashy "Pink Lac" and Grounded "Nissan"
The Los Angeles-via-Pittsburgh Rapper Rides in a Cotton Candy-Colored Cruiser in Video for "Pink Lac"
The Acclaimed Rostrum Records Signee Explores the Difference Between Materialistic Lust and Unconditional Love in His Soulful Two-Pack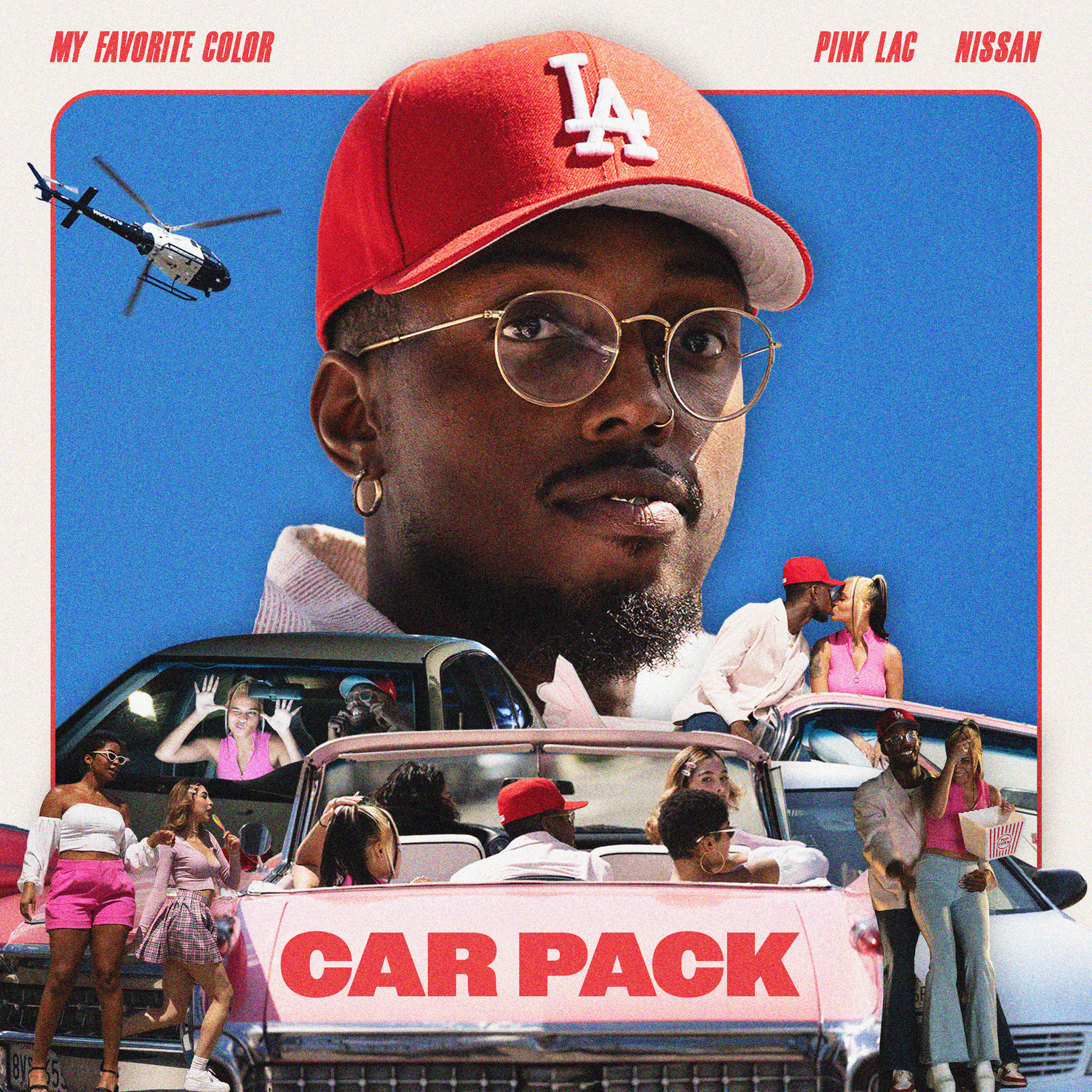 Critical Praise:
"Best New Artist for September 2021: It's clear My Favorite Color is okay not taking himself too seriously and letting the music speak for itself." = Pigeons & Planes
"The Pittsburgh MC once again flashes signs of brilliance on his new song 'Old News.' His zany personality and frenetic flow are the main drivers of his fun-filled anthem."
– Billboard
"He truly brings you on a sonic journey that contains so many different styles, sounds, and narratives, you have no choice but to pay attention."
– Lyrical Lemonade
"His music is powerful. Each bar drips with the confusion and existential dread of a man who feels out of place in his world." – Noisey
The Single + Video:
Effortlessly switching up his style with humor and soul, My Favorite Color never paints with the same hue twice. Serving up an auto-themed double single that tells two sides of a story, the Rostrum Records signee shares "car pack." The first release of the year by the rising rapper, "car pack" contains two thematically connected, but tonally distinct singles.
"I'd say 'Pink Lac' is the dream and 'Nissan' is when I finally wake up," explains My Favorite Color. "I see both songs as the perfect contrast between what you hope this rap sh*t is and what it ACTUALLY is before you get to what you were hoping for. In the life of a rapper, things like love become complicated, to say the least. On 'Pink Lac,' I was thinking I needed the glamour and glitz to find love, but it turns out losing those things is exactly what helped love find me. I don't want anyone loving me for my Pink Lac , if they weren't loving me for my Nissan. 'Pink Lac' is a metaphor for lust while 'Nissan' is a metaphor for love. Choose your car wisely cause it's a long road, regardless."
Driven by a meandering guitar lick and an ambling drumbeat, "Pink Lac" is a soulful and effortlessly fly anthem. A showcase for My Favorite Color's inviting falsetto, "Pink Lac" finds the rapper fantasizing about achieving his goals and enjoying a life filled with adoring female fans, jealous male acquaintances, and Cotton Candy-colored coupes. Though the mood is celebratory, MFC allows some melancholy to seep through: "How would I have time for a ho?/I barely have time for my friends."
The second track, "Nissan," explores the flip side of the first song's luxurious fantasy. Ambling along like a beat-up sedan, "Nissan" swells with a gauzy, synth-filled atmosphere. In between his laid back and tuneful hooks, My Favorite Color describes a deep and loving relationship based not on material things, like pink Cadillacs, but on mutual support and the hope for a better future: "Heard it a million times, I know that love is blind/But I'm tryna work it out, you're like my 9-5." 
"car pack" arrives alongside a music video for "Pink Lac," expanding My Favorite Color's already deep catalog of inventive visuals. Directed by Globe, the video for "Pink Lac" ping pongs back in time between My Favorite Color's childhood and present, as the young rapper fantasizes about what life might be like as a successful rap star. In the fantasy, MFC cruises through the Hollywood Hills to the San Fernando valley in the titular car, reveling in the company of four beautiful women and the jealous looks of his neighbors. By the end of the video, My Favorite Color snaps it back to reality with a humorous twist, showing the hollowness of the feeling he once fantasized about and revealing a crucial life lesson: surround yourself with people who love you for you, not for your things.
Hailing from Pittsburgh and based in L.A., My Favorite Color is constantly evolving. The rapper is known for his inventive music videos, including the recent animated video for "Man Man" ft. Valee, the '90s sitcom-themed "Mama's House," the mannequin-filled "Cut Me In," and 2021's "Old News." The creativity on display in "Old News," in which the artist portrayed multiple characters a la Eddie Murphy, ranging from a kidnap victim, to a possibly untrained pilot, to a truth-telling stand-up comedian, inspired Pigeons & Planes to name him a Best New Artist in September 2021. The naturally funny rapper recently trended on TikTok with a rant in support of one of his favorite artists, Mac Miller.
Currently hard at work on his next project, an effort that keeps up the experimental spirit even as it properly continues the story he started with his heartfelt 2020 debut album Velma, stay tuned for much more from My Favorite Color.
Stream "car pack": http://rostrumrecords.lnk.to/carpack
Watch "Pink Lac": https://www.youtube.com/watch?v=er_f0OU0x8U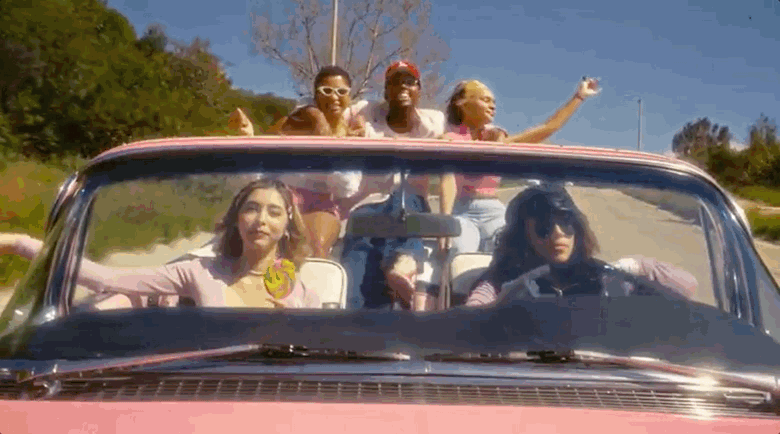 Please contact Michelle or Chris for more info.
---
Links:
instagram | twitter | youtube | spotify | tiktok
"car pack": http://rostrumrecords.lnk.to/carpack
"Pink Lac": https://www.youtube.com/watch?v=er_f0OU0x8U
"Man Man" ft. Valee: http://rostrumrecords.lnk.to/ManMan / https://www.youtube.com/watch?v=kJ8Qljs7OFU
"Mama's House": http://Rostrum.lnk.to/MamasHouse / https://www.youtube.com/watch?v=1rsu5NKxAP8
"Cut Me In": http://lnk.to/MyFavoriteColorCutMeIn / https://www.youtube.com/watch?v=ue3HmnQuQG8
"Dead It": https://youtu.be/O_H7TJf5_Fk / http://lnk.to/DeadIt
"Frustrated": https://www.youtube.com/watch?v=dfogD_HqHmY
"Mayday": https://smarturl.it/MyFavColorMAYDAY / https://youtu.be/3d6lSpLwf7A
"Old News": https://smarturl.it/MFCOldNews / https://youtu.be/aCbEpgPLIY4
Velma: https://smarturl.it/MyFavColorVelma
"Dale": https://smarturl.it/MyFavColorDale
"Funeral": https://smarturl.it/MyFavColorFuneral / https://youtu.be/DsTMpiv9WWg
Go: https://open.spotify.com/album/4lecD6MBZj8LC4QG3Dg7w2?si=J1RmkzfNT0y71uH0OV9Tbg