11.19.2021
Video: Morray – "Never Fail" ft. Benny The Butcher
Fresh Off a Nomination for Best New Artist at the Soul Train Awards, the Red Hot North Carolina Native Assures That He's Not Finished Rising in the Video for His New 808 Mafia-Produced Banger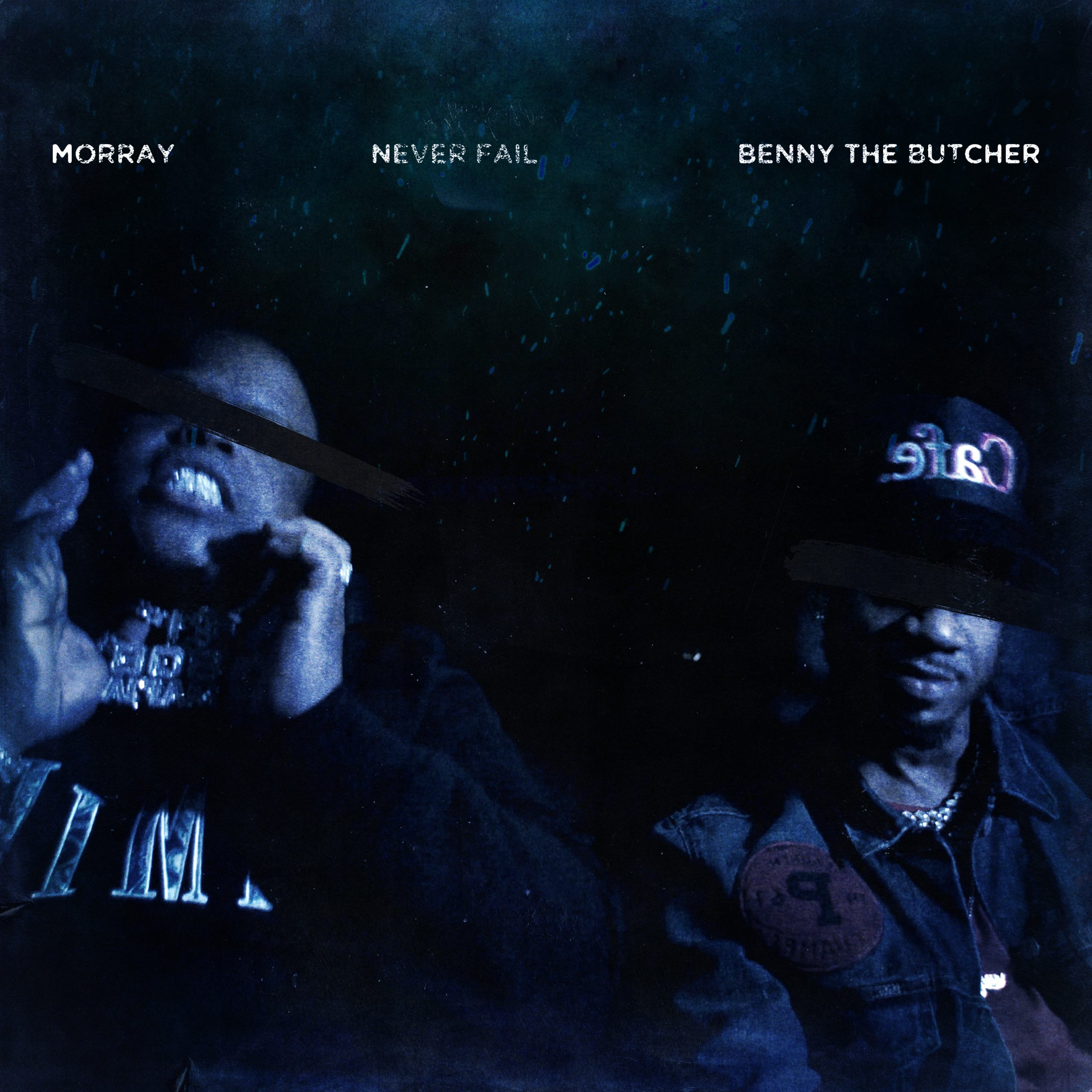 Critical Praise:
"'Trenches,' from an album due next week titled Street Sermons, rides the minor chords and trap beats that often accompany antisocial boasts. But while 'Trenches' doesn't ignore gangs, drugs or poverty, Morray also recognizes a community that holds families, neighbors and friends" – The New York Times
"Few crooning rappers have his polish, resonance, and soul." – SPIN
"With only four songs on streaming platforms—all released in 2020—Fayetteville, North Carolina rapper Morray has already proven he's a hitmaker. His debut single "Quicksand" is undeniable, anchored by the type of hook you get from a Roddy Ricch or Rod Wave song and infused with storytelling and charisma to paint a picture even if you're unfamiliar with the newcomer." – Pigeons & Planes
"An impressively feverish turn from Morray, whose 2020 breakout single "Quicksand" leaned toward the spiritual. Here, though, he's ferocious, rapping with a scratchy yelp and a sense of defiance. He's accompanied by Benny the Butcher, who is among the calmest-sounding boasters in hip-hop. An unexpected and unexpectedly effective pairing." – The New York Times
"One of the most promising up-and-coming talents in hip-hop right now, and his new single 'Never Fail' featuring Benny the Butcher is just his latest entry in his increasingly impressive catalog." – Complex
"The offering shines a light on Morray's verbal dexterity and fast-paced melodic runs." – HYPEBEAST
"Morray has become one of the brightest new voices in the soul/rap crossover moment" – Brooklyn Vegan
"North Carolina rapper Morray went from a practically unknown name to one of rap's most promising new acts in a matter of just one year." – UPROXX
The Video:
Climbing charts with his soaring melodies and inspirational lyrics, North Carolina's Morray is one of hip-hop's brightest young stars. Promising the world that his successful 2021 was just the beginning, the rising rapper shares "Never Fail," an anthemic new video single. Produced by Smatt Sertified, Akachi, and Sonickaboom of 808 Mafia, "Never Fail" is a change of pace for Morray, eschewing guitar loops for epic trap production and allowing the artist to flex his verbal dexterity with fast-paced melodic runs. The song is a lyrical showcase for the Pick Six Records rapper, who shares harsh words for his doubters and asserts that he won't be satisfied until he proves himself to be the best in the game: "I'ma just count up the millions it's touching the ceiling I love how it fall dog/You get one shot to make an impression or you blow it like a sawed off." "Never Fail" features a guest appearance from Benny The Butcher, the Griselda rapper matching Morray's lyrical intensity with a percussive and powerful 16 bars.
Directed by Whipalo, the "Never Fail" video finds Morray and Benny spitting in the shadow of skyscrapers, as they tour New York City and mean mug for the camera. "Never Fail" follows in the wake of "Better Things," a behind-the-scenes video that gave fans an inside look at Morray's meteoric rise, and September's "Bad Situations," which garnered over 6 million views. Morray is currently working on his follow-up to Street Sermons, the artist's critically acclaimed debut album.
Debuting at  #41 on the Billboard 200 and propelling Morray to #1 on Billboard's Emerging Artists chart, Street Sermons taps into the spiritual uplift and church-trained singing that makes Morray's brand of hip-hop so unique, taking unflinching looks at the Fayetteville native's youthful struggles and indiscretions and examining his motivations to succeed. Home to his breakout single "Quicksand," which recently earned a GOLD certification from the RIAA and racked up more than 200 million streams, the project contains universal truths about the tragedies and triumphs of growing up in the hood, filtered through Morray's experience as a neighborhood kid made good. Complex ranked Street Sermons at #10 on their list of Best Albums of 2021 So Far. In July, Morray revisited one of the tape's highlights "Trenches," recruiting Polo G to add a verse for "Trenches" (Remix).
One of the biggest breakout stars in hip-hop over the past calendar year, Morray recently earned a nomination at the Soul Train Awards for Best New Artist, following a nomination at the BET Hip-Hop Awards in the same category. The honor is the latest in a long line of accolades, including a position on the coveted XXL Freshman list for 2021 and "one to watch" designations from Complex, Billboard, SPIN, Pigeons & Planes, and many more. He's established himself as a go-to guest artist, appearing on "m y l i f e," the #2 Billboard Hot 100 hit by fellow Fayetteville, NC native J. Cole, and more recently, lending his talents to "In My Blood," a new video by the late Mo3, one of Morray's favorite artists. Morray is an engaging live performer, joining J. Cole on "The Off-Season Tour" and rocking sold-out crowd in a series of stadium dates. This summer, Morray performed "Quicksand" on JImmy Kimmel Live, and was highlighted by Rolling Stone as the "Best Debut" performer at Rolling Loud Festival in Miami.
Street Sermons was merely the first step in Morray's rise towards stardom, proving that he's more than ready to build an artistic legacy and a nest egg for his wife and kids. For an artist with Morray's talent, the sky is the limit.
Buy/Stream 'Never Fail" ft. Benny The Butcher: https://morray.lnk.to/NeverFail
Watch "Never Fail" ft. Benny The Butcher: https://youtu.be/GLZ-Fjo254c
Buy/Stream Street Sermons: http://morray.lnk.to/StreetSermons
Please contact Michelle or Erin for more info.
The Background:
Morae Ruffin known professionally as Morray, is an American rapper, singer, songwriter. Best known for his combinations of rapping and singing, Morray's days as lead singer of his church choir heavily influenced his melodic and unique style. Growing up in Fayetteville, NC and getting in and out of trouble, Morray turned to music as his escape. He uses his real life struggle as inspiration for his music.
Links:
instagram | twitter | youtube | soundcloud | spotify
"Never Fail" ft. Benny The Butcher: https://youtu.be/GLZ-Fjo254c / https://morray.lnk.to/NeverFail
"Better Things" (BTS Video): https://www.youtube.com/watch?v=eN-dw2U6FoI
"Bad Situations": https://morray.lnk.to/BadSituations
"Trenches" (Remix) ft. Polo G: https://morray.lnk.to/TrenchesRemix
"Mistakes": https://www.youtube.com/watch?v=QCtxybROvN8
"Nothing Now": https://youtu.be/rlUtK1YI-dg
Street Sermons: http://morray.lnk.to/StreetSermons
"Can't Use Me": https://Morray.lnk.to/CantUseMevid
"Trenches": https://www.youtube.com/watch?v=yF5u8LOLJ9M
"Kingdom": https://picksix.ffm.to/kingdom / https://picksix.ffm.to/kingdomvid
"Big Decisions": https://picksix.ffm.to/bigdecisionsvid / https://picksix.ffm.to/bigdecisions
"Dreamland": https://picksix.ffm.to/dreamland.opr / https://picksix.ffm.to/dreamlandvid.opr
"Low Key": https://picksix.ffm.to/lowkey / https://picksix.ffm.to/lowkeyvid
"Switched Up": https://picksix.ffm.to/suvid.opr / https://picksix.ffm.to/switchedup
"Quicksand": https://picksix.ffm.to/qsvid.opr