MP3: Mikey Dollaz – "Forever Be Dat Guy" ft. King Louie (Prod. by SALVA)
The Chicago Rappers Reunite For the SALVA-Produced Cut Sampling Art of Origin's "Moments in Love"
01.22.2016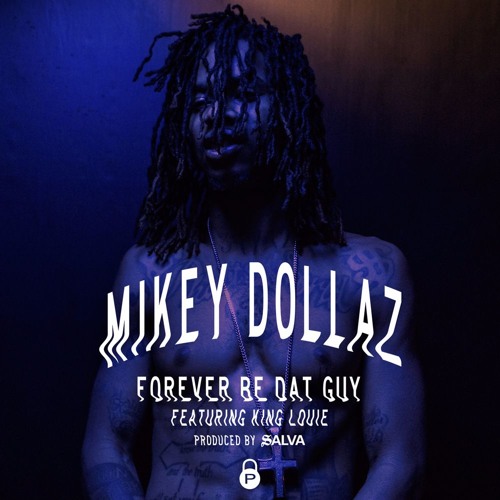 The Song:
Mere seconds into what seems to be a tranquil, sensual love tune, "Forever Be Dat Guy" gets punctuated by gunshots and flips Art of Noise's "Moments in Love" into a boastful drill anthem led by the sub-genre's architect King Louie and frequent collaborator Mikey Dollaz. "Mikey [Dollaz] has star quality," SALVA says. "He's wild. He shines bright. He's a beast in the studio… his voice is crazy too, I get flashes of 2pac in there every now and again." Having met through management, Mikey Dollaz flew to L.A. to record the spastic, energetic track with Salva. Mikey Dollaz and King Louie's "fierce verses nicely accentuate Salva's hard-hitting trip hop production," states Pigeons & Planes, while HYPETRAK praises the rapper's for delivering "catchy triplet flows over the hard-hitting instrumental."
Following his fourth quarter 2015 release Sex Music 2, Mikey Dollaz is gearing up for the release of a new mixtape, Picture Me Rollin', on February 19th. Brining an energy comparable to Danny Brown with a voice nearer to Young Dro, Mikey Dollaz was born and raised on the West Side of Chicago, where street drama derailed a promising basketball career. After a prison stint, he invested himself in the city's burgeoning hip-hop scene, working with influential Chicago director DGainz on "All We Know is Drill," which earned him a co-sign from King Louie, who he's since collaborated with several times. It's through DGainz that Mikey Dollaz also linked up with Tink and Dreezy, the latter of which he teamed up with for 2013's Business and Pleasure project. With his new mixtape on the way, "Forever Be Dat Guy" is steering Mikey Dollaz in a promising direction.
Listen to Mikey Dollaz ft. King Louie – "Forever Be Dat Guy" (Prod. by SALVA): https://soundcloud.com/salva/mikey-dollaz-feat-king-louie-forever-be-dat-guy-prod-by-salva
Please contact Michelle or Rory if interested in talking with Mikey Dollaz.
Mikey Dollaz Background:
Mikey Dollaz hit the ground running, parlaying his work ethic and obvious potential into local buzz. After a session with the up and coming Lil Chris went particularly well, the two joined up with I.L. Will to form the group M.I.C. In late 2012, he shot a video for his single "All We Know Is Drill" with influential Chicago director DGainz. As Gainz's videos were crucial in the rise of the likes of Chief Keef and King Louie in the city's YouTube-centric scene, the clip took Dollaz to another level. King Louie would eventually co-sign him as well, contributing verses to a handful of future tracks.
Through DGainz, Mikey also eventually found himself in a rap-centric love triangle with Tink and Dreezy. The details are neither here nor there, but he shines on multiple tracks with both women, and an entire tape with Dreezy: 2013's excellent Business and Pleasure.
In 2016, Mikey Dollaz finds himself established and ready to make a statement as an artist. Done workshopping his flows and test-driving various styles, he's ready to break out of the midwest and reach for national acclaim with a proper album. Only a couple of years into his career, it's clear Mikey is yet to reach the limit of his potential.
---
Links:
twitter | facebook | soundcloud
"Forever Be Dat Guy": https://soundcloud.com/salva/mikey-dollaz-feat-king-louie-forever-be-dat-guy-prod-by-salva