3.24.2023

LOLA BROOKE UNVEILS OFFICIAL REMIX TO HIT SINGLE
"DON'T PLAY WITH IT"
FEATURING LATTO & YUNG MIAMI
LISTEN HERE
WATCH THE OFFICIAL MUSIC VIDEO HERE
Critical Praise:
"…with her petite frame, gruff voice and almost macho bars, Lola Brooke has carved out her own distinct lane in rap." – VOGUE
"She bellows her bars like they could knock down walls." – Rolling Stone
"She's breathing new life back into the Big Apple" – Billboard
"Lola Brooke may be petite in stature, but the emerging rapper has a giant voice that's bound to blow listeners away." – Complex
"Boisterous, versatile, and uniquely self-aware, Brooklyn MC Lola Brooke easily stands out among the latest crop of newcomers in hip-hop." – Genius
"Echoing a lyrical mixture of street-life realizations and braggadocious self-awareness, Brooke's ability to command attention is cementing her name in the rap game." – Essence
The Announcement:
Maarch 24, 2023 (NEW YORK, NY) – Today, the new face of New York, Lola Brooke, arrives with the official remix to her breakout single "Don't Play With It." The latest release from the Brooklyn-born rising rap phenom adds Yung Miami and Latto to the astronomically-rising native single, originally featuring Billy B. The 'Don't Play With It' movement accelerates considerably with today's fresh new offering, coinciding with an official music video available to experience HERE via Lola Brooke's YouTube channel. Listen to "Don't Play With It Remix" featuring Latto & Yung Miami HERE, out now via Arista Records/Team Eighty Productions.
The all-star chemistry between Lola, Yung Miami, and Latto creates an irresistible, synergetic energy that brings the New York-flavored track to new horizons. The remix is the latest step in the rise of the Dizzy Banko-produced track, which has remained the soundtrack of New York City over the past year and has placed Lola Brooke in the conversation as one of the best new artists to watch on a global scale.
​​"Don't Play With It," has received an array of international acclaim since its release, including  77M+ worldwide streams to date, over 27M+ views for the official music video, and placements on flagship Hip Hop playlists like Spotify's "RapCaviar," Apple Music's "Rap Life," and Amazon Music's "Rap Rotation." On the global front, as Lola concludes her first tour tonight in London, England with A Boogie wit da Hoodie, "D.P.W.I." continues to receive stellar radio support from Europe including plays from the UK's BBC 1Xtra, Radio 1, Capital XTRA, Kiss Fresh, and Pie Radio, plus Belgium's Fun Radio, France's Mouv Mix and Rinse France, Germany's TIDE Radio, Ireland's FM 104, Norway's NRK P3, and more. Big Gator's worldwide takeover has only just begun.
Earlier this month, Lola released her highly praised song "So Disrespectful," along with an official music video touted by Okayplayer as one of the "best videos to drop last week." HYPEBEASThighlighted the track stating, "The rising star has done it again" and "there's a special magic that rests in New York City when it comes to procuring talented rappers. Lola Brooke is one of the newest stars on the scene, and with her caliber of recent hits, she's here to stay." Vibe Magazineadded, "So Disrespectful carries similar gritty energy as 'Don't Play With It' and could strike fear even into the most macho men… it's hard to determine whether her rap voice, flow, or diction stand out the most. Either way, the Brooklyn rapper turned in another impressive performance." The track was highlighted by XXL as 'the best in Hip Hop for the week,' included in Billboard's R&B/Hip-Hop Fresh Picks column, and praised in Rolling Stone's 'all the songs you need to know this week' column. Listen to "So Disrespectful" HERE.
Listen to "Don't Play With It" (Remix) ft. Latto & Yung Miami HERE
Watch "Don't Play With It" (Remix) ft. Latto & Yung Miami HERE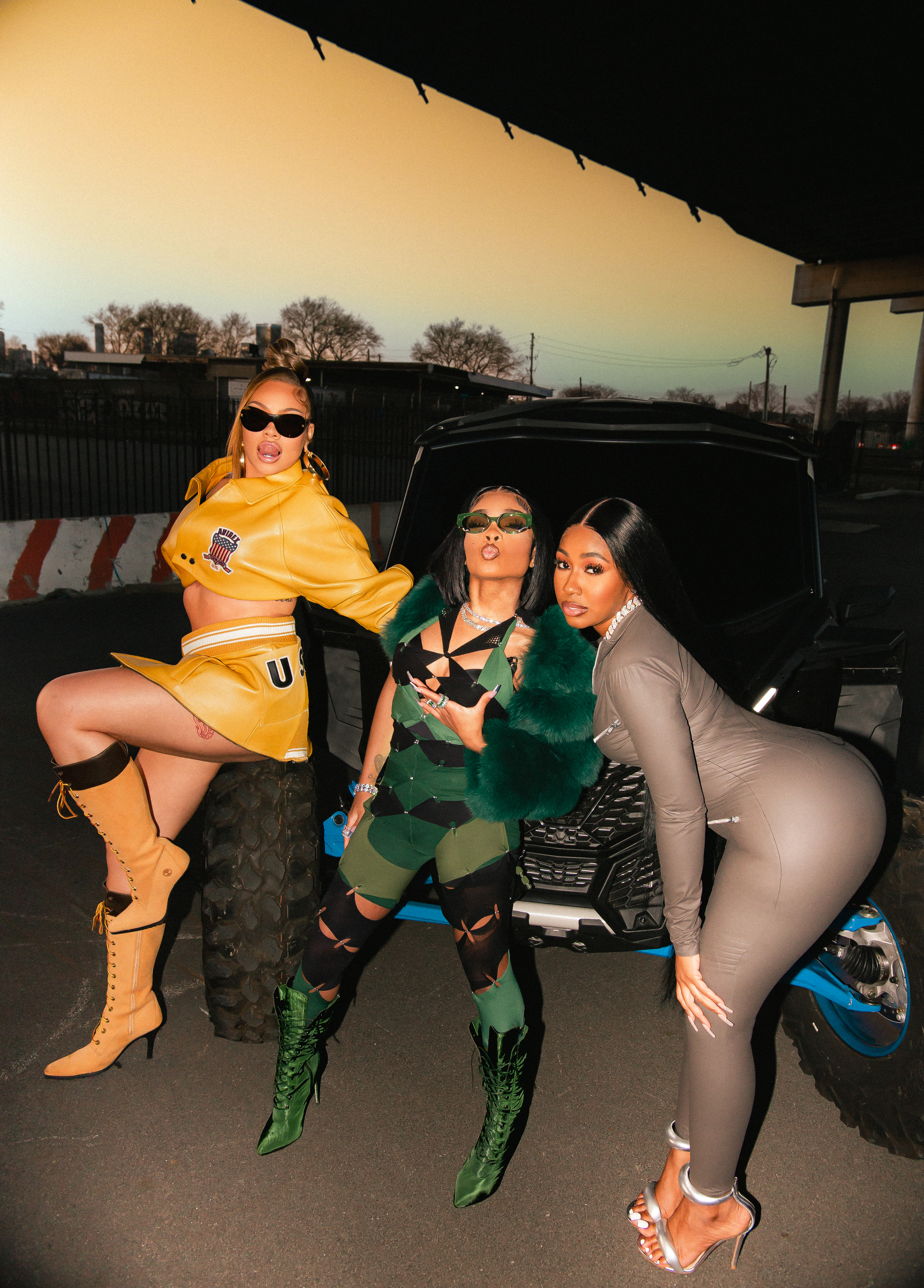 Credit: @ShutterSpeed
Please contact:
Michelle McDevitt, Audible Treats
Destiny Riley, Audible Treats
Paul Thom, The Thom Brand
The Background:
Few have been able to stay true to the roots that is Brooklyn, New York while also possessing the necessary charisma and talent to transcend its world-renowned identity. However, Lola Brooke has shown herself to be just that, while also making a stand-out case as one of the new heavyweights in a city that might just boast the best legacy in all of Hip-Hop. Though short in stature, her lyrical presence and personality cast a skyscraper-sized shadow over the game. With quotable lyrics and unforgettable bars, she delivers street-influenced songs with an unwavering confidence and an unpredictable cadence that evokes an essence reminiscent of the golden age of Hip Hop as she leans into the future of music with genre-busting fire.
Lola's love for rap started at an early age. Inspired by artists such as Meek Mill, Lil Wayne, and Foxy Brown, she began writing music as early as eight years old. Lola dropped her first music video to a freestyle titled "2017 Flow" and instantly started to build a buzz in the city. She continued to release numerous songs, each one displaying her incredible rapping skills and starlike persona; but it was her song "Don't Play With It" that really started to grab people's attention. Soon after, she started to perform at events such as Rolling Loud NYC, Break The Internet Fest, and HOT97's "Who's Up Next" showcase as well as a halftime performance for her beloved hometown team the Brooklyn Nets. She closed out the 2022 year pulling up to Future's sold-out show at Barclays Center in her hometown of Brooklyn, NY eliciting massive roars from the crowd as soon as she hit the stage. During the first half of 2023 Lola embarked on her first nation-wide tour with A Boogie wit da Hoodie signaling her rising super-stardom status felt outside of the East coast.
She continues to garner and mesmerize new fans every day with her dominant flow and powerful rhymes. With an attitude that embodies the unbridled energy that is Brooklyn, it's no surprise that Lola continues to assert herself as New York's next hometown hero. And with a growing body of work that has already tallied streams and views in the millions, the 4'9″ Lola Brooke may also be music's NEXT BIG THING.
---
Links:
instagram | spotify | youtube | twitter | tiktok | soundcloud
"Don't Play With It" (Remix) ft. Latto & Yung Miami: https://www.youtube.com/watch?v=ZuCnKQZ7_AE
"So Disrespectful": https://www.youtube.com/watch?v=7SSUfl5pEfk
"Here I Come": https://LolaBrooke.lnk.to/HereICome / https://www.youtube.com/watch?v=rWmzEixggyA
"Don't Play With It" ft. Billy B: https://www.youtube.com/watch?v=quaQV3tHsi8
"Gator Season": https://www.youtube.com/watch?v=KFodCexxIZw
"Dummy Ummy": https://www.youtube.com/watch?v=p9vsOJdPwM4