11.22.2019
Lil Durk Puts His Only The Family Label on the Map With Family Over Everything Project, Releasing on 12/11 in Partnership with Alamo Records
The Chicago Superstar Drops "Blicka Blicka," the Tape's Energetic, DY-Produced First Single
Critical Praise:
"Vocally, Lil Durk is the current scene's melodic forebear." – Pitchfork
"Lil Durk continues to be one of the most consistent rappers out." – The FADER
"The rose that blossomed from the concrete of Chi-Town's drill music scene" – Billboard
The Announcement:
Boasting a hungry roster of Chicago standouts, Lil Durk's Only The Family label made its presence felt in 2019, thanks in part to Durk's chart-topping Love Songs 4 The Streets 2. Capping off a banner year for OTF, Durk announces Family Over Everything, a new project. With a deep and talented crew of rising rappers, the OTF roster boasts King Von, the voracious storyteller who hit it big with "Crazy Story," the melodic mastermind Booka600, who dropped his well-received Word To L.A. project earlier this year, and Memo600, currently taking over the streets with his tough-talking bangers.
The new project boasts new music from Durk and showcases the strengths of Von, Booka, Memo, JusBlow600, Doodie Lo, and OTF Ikey. Featuring appearances from the likes of Polo G, NLE Choppa, Tee Grizzley, G Herbo, and more, Family Over Everything arrives on December 11th via Only The Family/Alamo.
To accompany the announcement of the tape, OTF shares "Blika Blika," the latest single by Lil Durk. Produced by DY, an affiliate of 808 Mafia and a frequent Durk collaborator,"Blika Blika" is a frenzied drill war cry, as Durk drops the auto-tune to tell his haters what's what: "Man WHAT? Why you talkin' like you that, you really a sneaky dista/You be talkin' like a killa, you ain't even keep your pistol."
"Blika Blika" is Durk's first new single since the release of Love Songs 4 The Streets 2. Last week, Durk gathered his OTF brethren for the "Weirdo Hoes" video, which already has over 1 million views, and earlier this month, Durk connected with 21 Savage for the flashy video for "Die Slow."
Listen to "Blika Blika": https://smarturl.it/BlikaBlika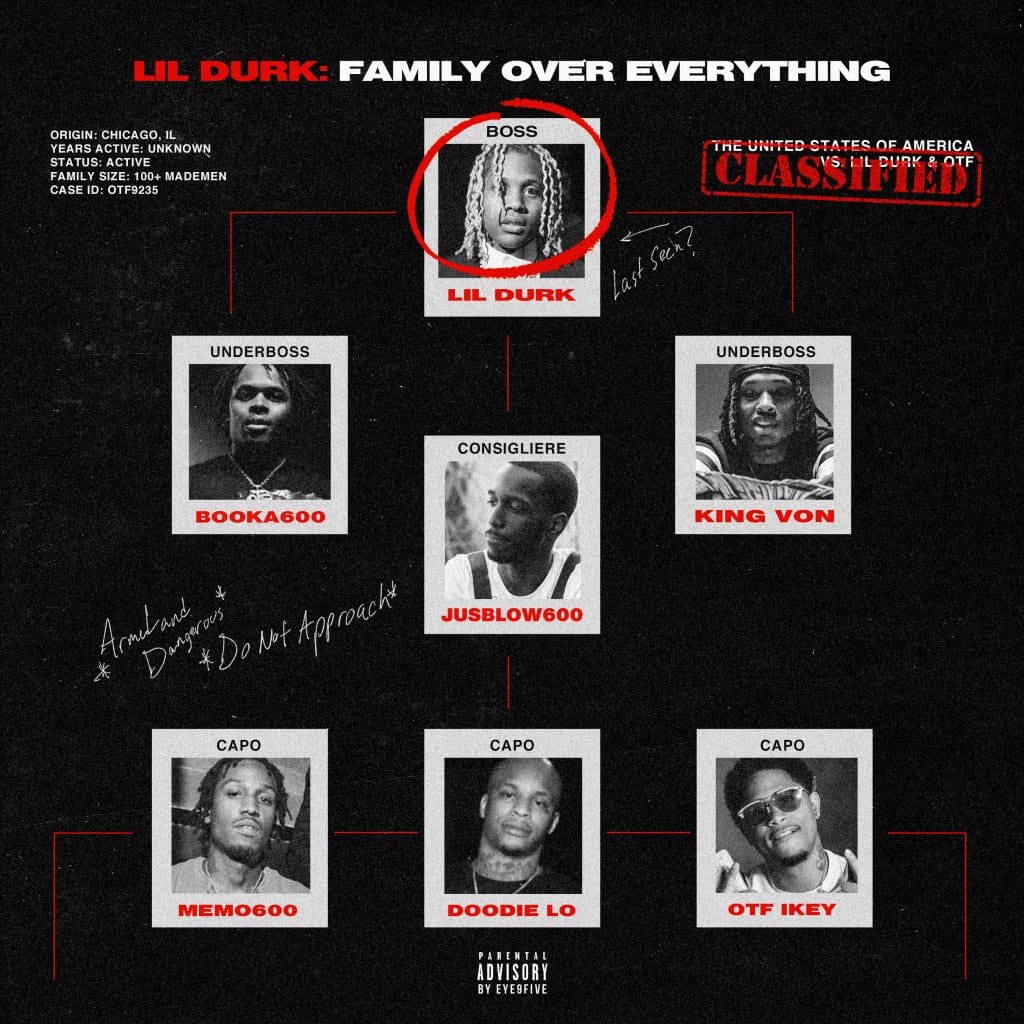 Please contact Michelle or Scott for more info.
The Background:
About Only The Family (OTF):
With a young and hungry roster of Chicago-born emcees, Lil Durk's OTF label signees have made their intentions clear–they're coming to take over the game. Most notable among the OTF roster is King Von, whose breakout hit "Crazy Story" earned more than 35 million views on YouTube and 14 million combined plays on Apple and Spotify. King Von is currently preparing his debut mixtape. Returning to the scene with his Dirty-Glove Bastard-premiered single "War Scars," melodic mastermind Booka600released his mixtape Word To LA in June. The OTF crew showcased their talents in two label mixtapes released last year, Lil Durk Presents: Only The Family Involved Vol. 1, released last summer, and its sequel, released just before the New Year.
---
Links:
website | twitter | instagram | facebook | youtube
Bio, pics, and more available here: http://www.audibletreats.com/lil-durk
"Blicka Blicka": https://smarturl.it/BlikaBlika
"Weirdo Hoes": https://youtu.be/VbONF4saaIU
"Die Slow" ft. 21 Savage: https://youtu.be/DygKwT1buu4
Love Songs 4 The Streets 2: https://smarturl.it/LS4TS2