10.2.2020
Audio: K$upreme – "It's Whatever" ft. Future
The Atlantic Records Signee and the ATL Trap Legend Don't Keep Score in Their New Trap Banger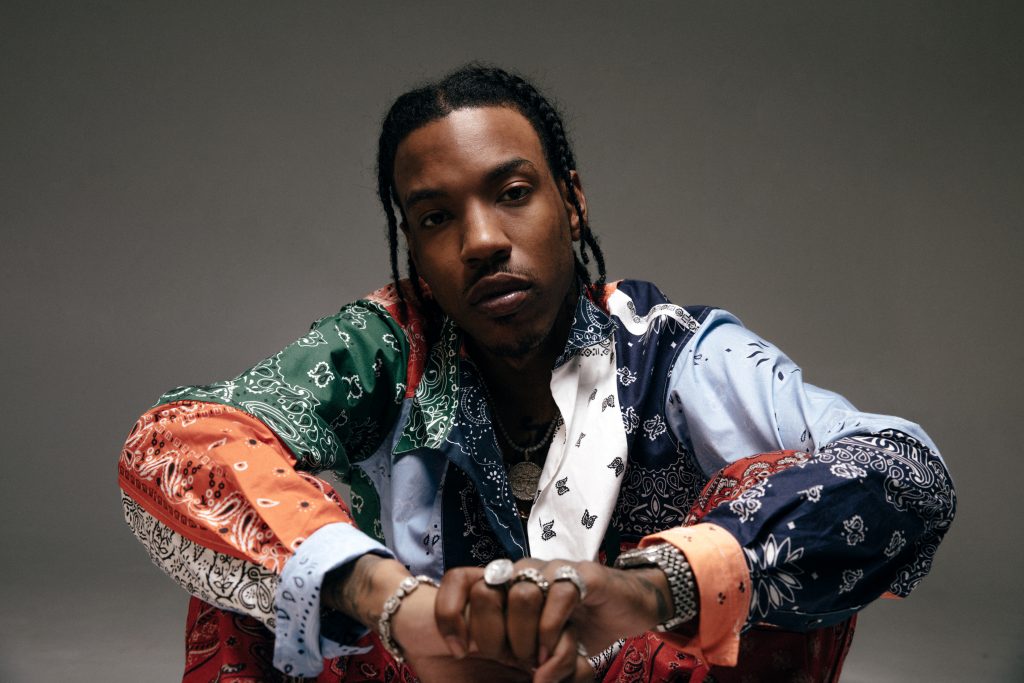 The Song:
A versatile rapper who can adapt to any style, K$upreme has the respect of many of the rap game's titanic figures. Joining forces with Future for a melodic anthem, K$upreme shares "It's Whatever." Riding a luxurious trap instrumental, complete with space-age synths and ringing piano chords, K$upreme and Future sneer at suckers who can't afford to buy their baes the latest designer threads: "I put the Chanel sh*ts on your face/Look at the stairs while you riding in the Wraith/Put them diamonds on your neck, now you know you bae," sings K$upreme in a lilting melody. The song is powered by Future's hook, which rumbles like a thunderstorm above the syncopated kick drums as Pluto brags about his bands.
"It was fun to go outside of the box of my usual sound with this song, as well as tap into some new subject matter," says K$upreme. "It was dope being able to get in the studio with Future. Originally when I knew we were having a session together, I was hoping to record a more up-tempo, club record. But when my producer sent through this beat, he really liked and just started singing and then recorded to it. After we finished the song and I sent it to Future, he was laughing and telling me 'I know you like the song now, right? You know it this is a hit now, right?' It was real special, man."
"It's Whatever" is K$upreme's first new single since the release of Caught Fire, the Atlantic Records signee's latest project. Created in collaboration with producer ChaseTheMoney, the project paired K$upreme's flex-heavy bars with Chase's thudding low-end, and featured appearances from Chief Keef and K$upreme's good friend Lil Yachty. The project concluded with the standout single "Gucci Cologne," which generated over 25 million streams across platforms.
Caught Fire was the most significant landmark yet in K$upreme's slow-and-steady build towards stardom. The 24-year-old rapper started his career as a member of Lil Yachty's Sailing Team, but quickly made a name for himself with projects like Flex Muzik 2. "It's Whatever" is the latest in a long line of K$upreme's high-quality collaborations–he's connected in the past with the likes of Playboi Carti, Ski Mask The Slump God, Rich The Kid, Jim Jones, Hoodrich Pablo Juan, and many more. Stay tuned for more music and updates from K$upreme in the coming weeks.
Buy/Stream "It's Whatever": https://ksupreme.lnk.to/itswhatever
Please contact Michelle or Kevin for more info.
K$upreme Background:
Hailing from Pasadena, Calif., rapper K$upreme first began exploring a creative path after a  chance meeting with Lil Yachty in 2013. The pair gravitated towards one another due to their like-minded interests in fashion, music and youth culture. Soon thereafter, K$upreme became an integral part of the Atlanta rapper's Sailing Team collective. After being briefly incarcerated in 2016, a trying situation that led Lil Yachty to drop the track "Free K$upreme" in solidarity, the aspiring rapper swiftly bounced back with the release of his prison-inspired single, "First Day Out." Keeping that same momentum, K$upreme released his debut mixtape, Flex Muzik, in 2017. The project boasted a bucket list contribution from his longtime influence Chief Keef, as well as featured Rich the Kid, Kodie Shane, Duwap Kaine and Lil Yachty. That same year, K$upreme was recruited to help promote Lil Yachty's collaboration with Urban Outfitters and Nautica, a campaign that further exemplified how the Sailing Team is tactfully representing multifaceted youth-driven culture at the mainstream level.
In 2018, K$upreme released his anticipated follow-up, Flex Muzik 2, a 17-track offering that featured guest appearances from the likes of Jim Jones, Ski Mask the Slump God, Hoodrich Pablo Juan, Playboi Carti, Young Scooter, Goonew and Slime Sito. In March 2019, the Atlantic Records signee dropped "Gucci Cologne," setting the tone for what is destined to be a standout year. With his sights set on the definitive desire to continue elevating and evolving, K$upreme's recent project Caught Fire, features executive production by ChaseTheMoney.
---
Links:
linktree | instagram | twitter | spotify | youtube

"It's Whatever" ft. Future: https://ksupreme.lnk.to/itswhatever
"Gucci Cologne": https://www.youtube.com/watch?v=ABGwOdxeVEQ
Caught Fire (w/ ChaseTheMoney): https://open.spotify.com/album/6ijzLeD8Lwz14YFVYjJQk0?si=qE8y3MwpTFOOItJHevGD-Q