11.11.21
Album: KINGMOSTWANTED – Time For The Throne
Critical Praise:
"KING has a wildly entertaining POV" – Passion Of The Weiss
"KingMostWanted's infectious bars and cadence-like delivery makes him a fan favorite." – Rosecrans Ave.
The Album:
When discussing promising young artists, factors like hometown hero status or social media virality are viewed as strong potential indicators for success in the future. Most up-and-comers can stake their claim as a standout with just one of these elements, but in the rare case of KINGMOSTWANTED who possesses both and more, those indicators are more like warnings. Fittingly, those warnings are embodied by his latest album as best evidenced in its title: Time For The Throne. With his snapping flows and boundless braggadocio, the 8PETOWN rapper has viewed his own success as a given while he's focused his attention on building a dynasty in the Inland Empire and beyond.
Born out of KING's unique creative process–he thinks of his rhymes, organizes a flow, and then works with the producer to craft a beat around his words–Time For The Throne bursts with the confidence of a 19-year-old kid convinced his music will take over the world. Featuring recent singles such as the romantic "Couple Questions" and "KUNGFU WARRIOR" ft. AzChike & FrostyDaSnowmann, Time For The Throne continues to pave the way for SoCal's Inland Empire sound; largely influenced by the current L.A scene, but delivered with a spartan demeanor and danceability that makes KING's growing TikTok fanbase seem nothing short of a natural progression.
The leader of a burgeoning rap scene in the so-called Inland Empire–an area east of Los Angeles and the San Fernando Valley that is more populous than nearly every American city–KINGMOSTWANTED has been bubbling in his city since he released his single "No Case" in 2018, when he was just 16. Since then, his star has only continued to rise, taking a leap when he released "In My City," a hometown banger featuring his 8PETOWN associate MCM Raymond, which generated over 15 million combined streams and over 1 million video creations on TikTok. Since the release of "In My City," he's been a favorite on TikTok, with over 173k followers who devour his every release, including Charli D'Amelio-approved "Different Varieties," and he's capitalized on his viral success with exciting projects like 2020's FRESHMAN YEAR, which featured guest spots from AzChike and Quin NFN. With Time For The Throne, KINGMOSTWANTED looks to deliver on the ambitions of his artist name and elevate to elite status on the west coast scene.
Buy/Stream Time For The Throne: https://lnk.to/TimeForTheThrone
Time For The Throne tracklist:
Moon Landing
Kung Fu Warrior (feat. AzChike)
Do It
Want Her Friend
Free Deni/Free Poodah
Playboy (feat. KayDaBandit)
Couple Questions
I Want Bham Back
Always Right
Pill Popper
Time 2 Be Judged
Stu Vibes (feat. MCM Raymond)
Current Location (feat. KayDaBandit)
N****s Cant Tell Me Shit (feat. Kp)
Choosin Szn (feat. AzChike)
Different Varieties (Remix) [feat. Mike Sherm]
Robbed You (feat. Peysoh)
In My City (feat. MCM Raymond)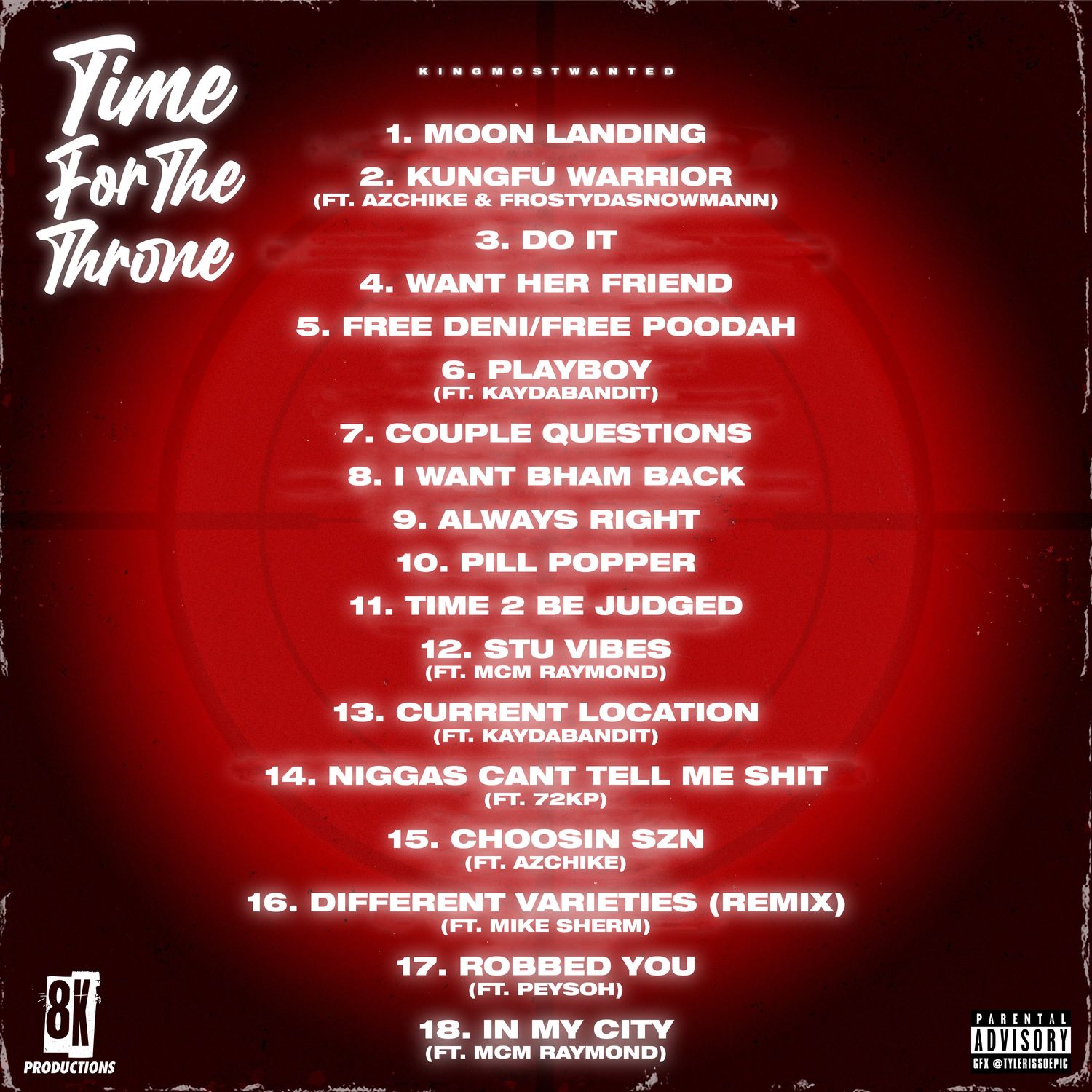 Please contact Michelle or Destiny for more info.
The Background:
About KINGMOSTWANTED
KINGMOSTWANTED wasn't even old enough to buy a pack of cigarettes when his first hit single, "In My City," made him one of the most promising young artists in the Inland Empire, an exurb of Los Angeles often overshadowed due to its close proximity to the entertainment capital. Since then, the now 19-year-old artist has proved he's more than a one-hit-wonder by amassing millions of views on Tik-Tok with a steady stream of stripped-down, West Coast bangers, backed by a crew of creatives that show no sign of slowing down.
---
Links:
instagram | twitter | youtube | soundcloud | spotify | tiktok
Time For The Throne: https://lnk.to/TimeForTheThrone
F#*K YO SAMPLES (Hosted by DJ Five Venoms): https://soundcloud.com/bigmoney_king/sets/f-k-yo-mixtape-kingmostwanted
"Couple Questions": https://lnk.to/COUPLEQUESTIONS / https://youtu.be/YXowyp35eLM