1.17.2020
Video: Key Glock – "Mr. Glock"
The Memphis Rapper Pays Homage to His City's Rap Tradition in the New Video from the Upcoming Yellow Tape
The Video:
One of the South's most promising risers, Key Glock annihilates tracks with his blunt-force flow. Flexing on his haters and demanding respect, Glock shares "Mr. Glock," an impossibly hard new video single. With a backing track that recalls the tension-heavy trap made by Memphis icons DJ Paul and Juicy J, "Mr. Glock" provides the perfect canvas for Glock to expand his arsenal of flows, switching up his patter in each ultra-confident verse: "Never leave the house without my muthaf*ckin' strap/I was 14-years-old with that muthaf*ckin' sack/I don't f*ck with none of these rappers, they know that." In the video, directed by Iconick/RayRayFilm, Glock mobs with his crew in front of his bright yellow Rolls Royce SUV–the same one that graces the cover of his upcoming Yellow Tape. 
Packed with authoritative bars, nimble flows, and outrageous punchlines, Yellow Tape is the Paper Route EMPIRE artist's warning to the rest of the rap game–he's taking aim at his competition, knowing that he can't be topped. Shouldering the 16-track load without any features, Yellow Tape finds Key Glock working with some of the best producers in the game. Last week, Glock connected with PRE's Bandplay for the witty, speaker-knocking single "Look At They Face," and earlier this week, he shared the song's Eddie Murphy-homaging music video (2.1 million YouTube views since Monday). The follow-up to last year's Dum & Dummer, the hit collaborative album with PRE head honcho Young Dolph, Yellow Tape arrives on January 31st via Paper Route EMPIRE.
Powered by punchy lyrics, dynamic chemistry, and the dramatic production of Bandplay, Dum & Dummer peaked at #8 on the Billboard 200. The culmination of Young Dolph and Key Glock's rise from Memphis legends to national stars, Dum & Dummer is home to a series of successful video singles, including "Baby Joker" (18.3 million views on YouTube), "Water On Water On Water" (18.7 million views),  "Ill" (16.3 million views), "Dum & Dummer" (11.7 million views), and the recent "Back To Back" (8.5 million views). Stay tuned for details about Key Glock & Young Dolph's national "No Rules Tour," kicking off in February.
Watch "Mr. Glock": https://youtu.be/qfBtPySlU-M
Buy/Stream "Mr. Glock": https://Empire.lnk.to/MrGlock
Buy tickets for Young Dolph & Key Glock's "No Rules Tour": http://www.Youngdolph.com/tour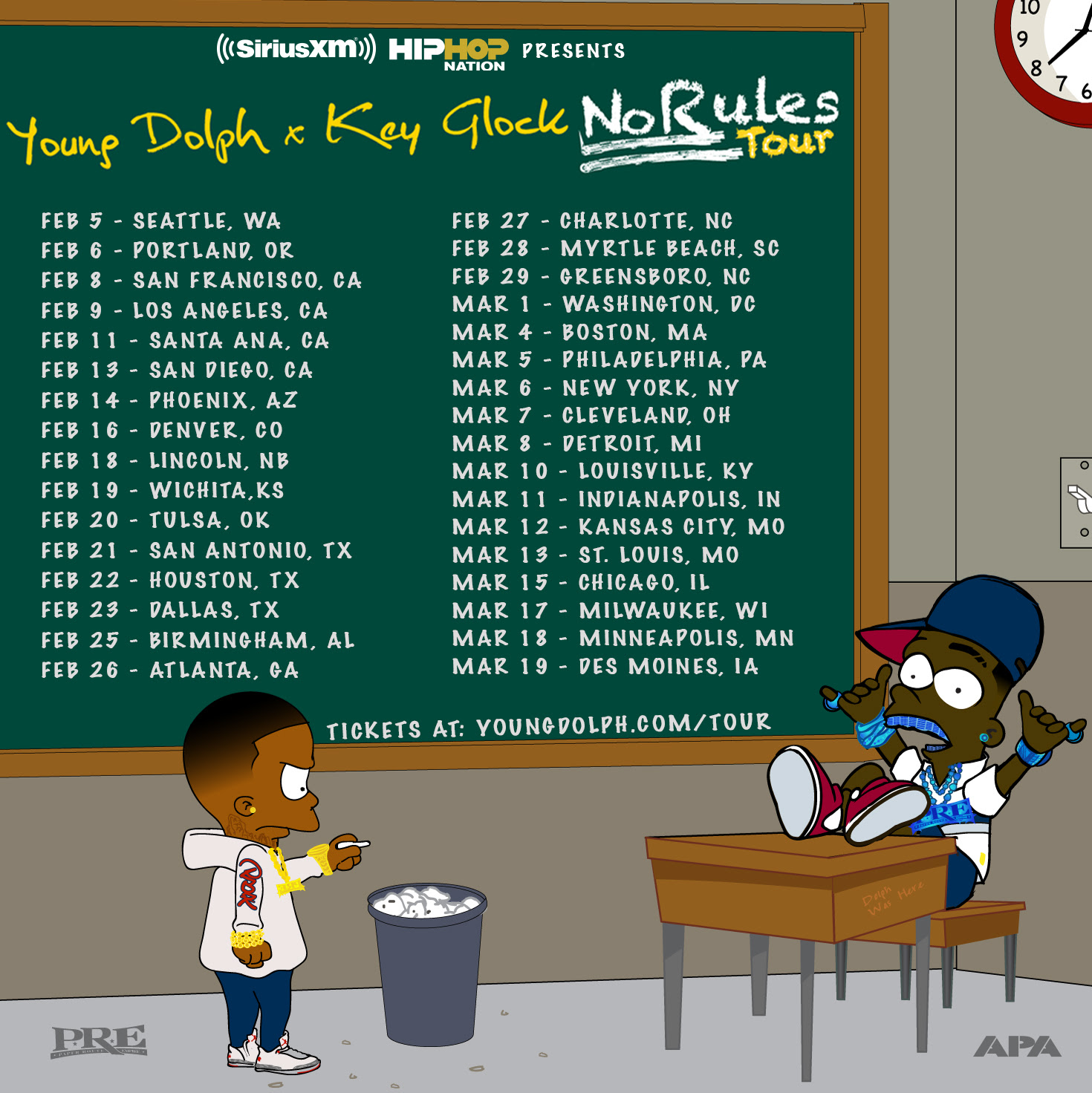 Please contact Michelle or Scott for more info.
---
Links:
twitter | facebook | soundcloud | youtube | instagram | official site | spotify
Bio, photos, music and more can be found at www.audibletreats.com/key-glock
"Mr. Glock": https://youtu.be/qfBtPySlU-M
"Look At They Face": https://www.youtube.com/watch?v=2qO3OpoRgwc / https://empire.lnk.to/LATFYo
Buy tickets for Young Dolph & Key Glock's "No Rules Tour": http://www.Youngdolph.com/tour
"Monster": https://www.youtube.com/watch?v=OEamCUjEhNc
"Back To Back": https://www.youtube.com/watch?v=WWozF4loq9U
"Water On Water On Water": http://www.youtube.com/watch?v=BM81wKOSpz8
"Dum & Dummer": https://www.youtube.com/watch?v=givz9WM8iW4
Dum & Dummer: https://empire.lnk.to/dummer
"Ill": https://www.youtube.com/watch?v=ZgEH6lUYy-E // http://vevo.ly/dkgJGC
"Baby Joker": http://www.youtube.com/watch?v=On9g7aqX9Xk / https://EMPIRE.lnk.to/babyjoker