EP: J.R. Donato – Fast Money & Freedom
The 21 Year-Old Chicago-bred Taylor Gang Rapper Teams Up With Producer Sledgren For a Hazy, Hypnotic EP

09.25.2015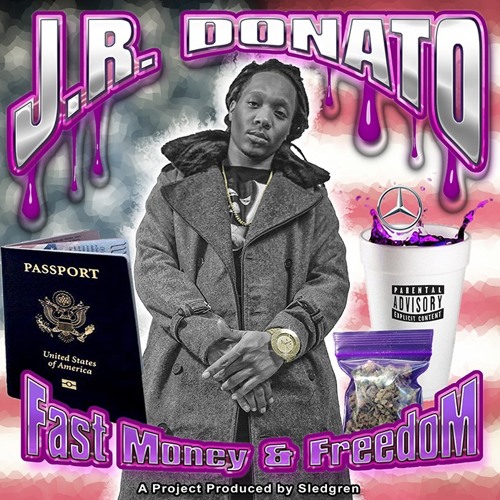 Critical Praise:
"…he uses his voice and flow in unique ways that only someone who's been writing for close to a decade could pull off" – HotNewHipHop
"The future is looking type bright for J.R." – Fake Shore Drive
"At 21-years old, the Chi town native J.R. Donato has already accomplished a lot" – GoodMusicAllDay
"Make it count and get in tune with Young Donato" – onSMASH
The EP: 
On Fast Money & Freedom, Taylor Gang rapper J.R. Donato revisits his roots in Chicago and propels himself forward as a buzz-worthy new artist. While 2014's North Pole found Donato teaming up with Wiz Khalifa, Ab-Soul, and Iamsu!, Fast Money & Freedom symbolizes a coming of age for the rapper. "In Chicago, Fast Money & Freedom is the perfect way to describe how we look at life at 17, 18 years old," he explains. "A lot of people drop out of school because they can't go to school without getting into a fight that's gonna lead to a shootout. So motherfuckers end up focusing on other ways they can feed their family. That's our mindstate here: fast money and freedom. We can't think about college and all that slow motion shit. We gotta get it right now."
In the lead-up to 21-year-old J.R. Donato's Fast Money & Freedom EP, the North Chicago rapper has shared a series of singles. "I Suppose" found Donato couch-surfing through the Chi, while he partied with some friends in the carefree video for "Life So Sweet." Additionally, audio singles "Make It Count" and "Mad At Me" showcased Donato embracing the opportunities that he's encountered in his nearly ten year rap career while paying no mind to the people that've hated along the way. Produced in-full by Sledgren, Fast Money & Freedom has a consistently hazy, laid back vibe that matches Donato's breezy, charismatic presence on the mic.
Rapping since the age of 13, J.R. Donato started off early with his regional hit "500 Degrees." Still, his peers didn't take him very seriously as he was distributing CD's of his music at school – finding the music he worked to make on the floor or in the garbage didn't deter his ambitions, rather it pushed him to take things a few steps further. Donato had been taken under the wing of Chi-Town legend Twista, who embarked on a regional high school tour that gave a teen-aged Donato his first platform to perform. After mentoring from Twista, the rapper that garnered attention for rapping over Lil Wayne beats was coming into his own. He soon crossed paths with Wiz Khalifa back stage on the Under the Influence Tour. Wiz later enlisted J.R. for a feature on his Cabin Fever 2 mixtape before signing him to Taylor Gang Ent. Now with eight years under his belt, Donato is primed for a break-out.
Listen to Fast Money & Freedom: https://soundcloud.com/jrdonato/sets/fast-money-freedom
Download the EP on DatPiff: http://www.datpiff.com/JR-Donato-Fast-Money-Freedom-mixtape.735001.html
Purchase the EP on iTunes: smarturl.it/fastmoneyandfreedom
Please contact Michelle or Rory if interested in speaking with J.R. Donato.
JR Donato Background:
J.R. Donato's music can be summed up into three words; conceptual, vivid and thorough. His image, outlook on life and positivity that he brings to the hiphop community is a breathe of fresh air. His passion manifested itself early in the form of songwriting. "I always wrote about things I had been through or seen," J.R. says. "I still do. Every song is another piece of my life and story." Before J.R. reached his teenage years, he was already penning lyrics for himself and others. By the time he was 13, Young J.R. had a regional hit single "500 Degrees," with a live performance presence that was unheard of for a kid who just left his teens. That led to other tracks like "Money On My Mind" and "We Be Rydin," creating a sizeable buzz for young entertainer. He was popping up on mixtapes and performing at clubs he was too young to even attend.
---
Links:
official site | facebook | twitter | instagram | soundcloud
Fast Money & Freedom: http://www.datpiff.com/JR-Donato-Fast-Money-Freedom-mixtape.735001.html
"Mad At Me": https://soundcloud.com/jrdonato/mad-at-me
"Life So Sweet": http://www.vevo.com/watch/USUYG1080291
"Make It Count":  https://soundcloud.com/jrdonato/make-it-count-ft-cody-blankz/
"I Suppose": https://www.youtube.com/watch?v=7q2wlT7PxmQ / https://soundcloud.com/jrdonato/i-suppose
"Gotta Get It": https://soundcloud.com/jrdonato/gotta-get-it-ft-laboo
"Some More": https://soundcloud.com/jrdonato/some-more
"Gimme That": https://soundcloud.com/jrdonato/gimme-that-prod-ricky-p
"How It Feel" (ft. Iamsu!): https://soundcloud.com/jrdonato/how-it-feel-ft-iamsu
North Pole: http://www.livemixtapes.com/mixtapes/30934/jr-donato-north-pole.html