Video/News: Jarren Benton – "We On" Ft. Dizzy Wright & Pounds + Announces Headline Tour
Jarren Benton Announces 16-City Headline My Grandma's Basement Tour, For August; Will Co-Headline Australian Tour With Dizzy Wright In July
06.24.2013
Critical Praise for Jarren Benton:
"As [My Grandmas Basement] unfolds, one thing becomes clear: [Jarren Benton] can handle himself just fine." – Creative Loafing, 4/5 review
Benton has an extraordinarily nimble flow and sense of rhythm." – HipHopDX
The Tour:
Earlier this month, Jarren Benton, the newest member of Funk Volume, an independent label that also includes back-to-back XXL Freshmen Dizzy Wright and Hopsin, along with SwizZz and DJ Hoppa, released his official debut through the label, My Grandmas Basement. The album came out of the gate strong, with a #4 debut on the iTunes hip-hop charts and a similarly impressive #4 debut on Billboard Magazine's Heatseekers Albums chart. In July, Jarren will co-headline a 10-stop tour in Australia with Dizzy Wright and DJ Hoppa. In August, Jarren will headline his first ever U.S. tour, a 16-city run kicking off August 1st. And today, Jarren is excited to release the video for the latest single from My Grandmas Basement, "We On," which features Dizzy Wright and Pounds. The song is produced by Kato and the video is directed by George Orozco for On Point Films.
Benton's My Grandmas Basement Tour will kick off on August 1st in Jacksonville, Florida, at the Roc Bar, making stops in 16 cities along the way, including Jarren's hometown of Atlanta, Georgia; Brooklyn, New York; and more. The tour will end on August 19th in Columbus, Ohio (all tour dates below).
Jarren is no stranger to the stage. Studied in the anything-goes showmanship of Prince, Marilyn Manson and Method Man, Jarren pays attention to the power of the spontaneous connection between performer and live audience. "The essence of giving of a good show is not givin' a fuck," he says. "I'm excited to consistently get back on the road and get to the point where the pressure melts away. Once we start moving, performing seems like the most natural thing in the world, and I'm excited to become closely connected with each and every audience. I'll be down in the crowd, dancing and getting turnt up with the people."
Before Jarren heads out this August, he'll be joining label mates Dizzy Wright and DJ Hoppa on a 10-city tour through Australia. He's looking forward to the adventure. "Australia is absolutely nuts for a performer," says Benton. "I love the energy that the people there bring, across the board. They know how to party."
Watch the video here: http://www.youtube.com/watch?v=TF_VXpUPOTk
[youtube]http://www.youtube.com/watch?v=TF_VXpUPOTk[/youtube]
Tour Dates: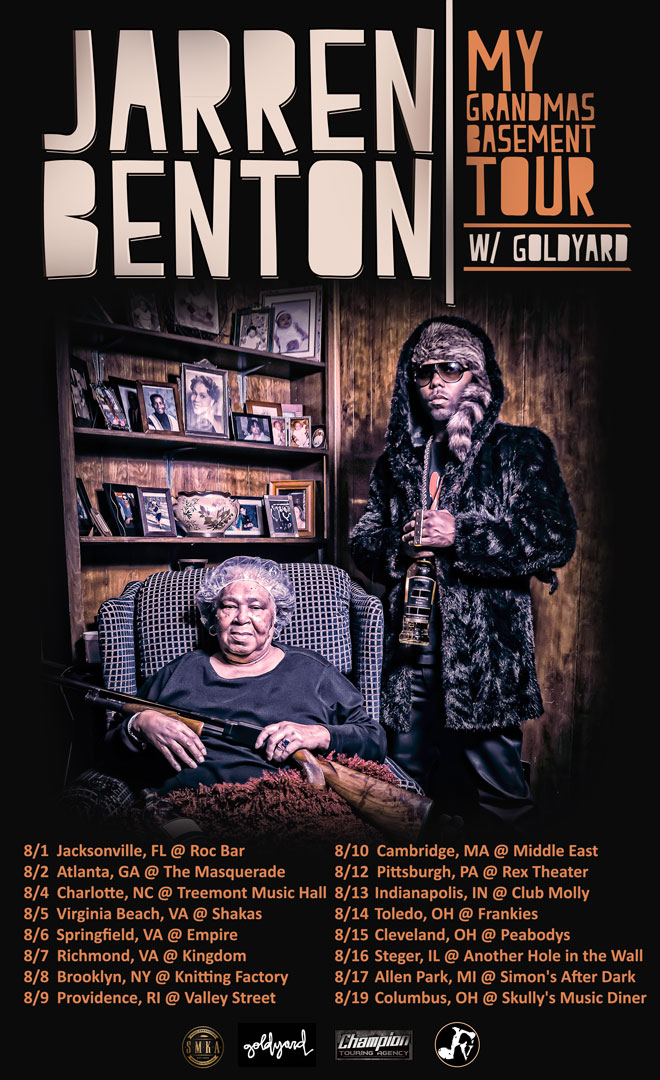 To Buy Tickets: http://myfunkvolume.com/artist/jarren-benton/
8/1/2013            Jacksonville, FL @ Roc Bar
8/2/2013            Atlanta, GA @ The Masquerade
8/4/2013            Charlotte, NC @ Treemont Music Hall
8/5/2013            Virginia Beach, VA @ Shakas
8/6/2013            Springfield, VA @ Empire
8/7/2013            Richmond, VA @ Kingdom
8/8/2013            Brooklyn, NY @ Knitting Factory
8/9/2013            Providence, RI @ Valley Street
8/10/2013          Cambridge, MA @ Middle East
8/12/2013            Pittsburgh, PA @ Rex Theater
8/13/2013            Indianapolis, IN @ Club Molly
8/14/2013            Toledo, OH @ Frankies
8/15/2013            Cleveland, OH @ Peabodys
8/16/2013            Steger, IL @ Another Hole in the Wall
8/17/2013            Allen Park, MI @ Simon's After Dark
8/19/2013            Columbus, OH @ Skully's Music Diner
Please contact Michelle or Dan if interested in talking with Jarren Benton.
Jarren Benton Background:
For an artist with serious mainstream aspirations, Decatur, Georgia's Jarren Benton has spent his career going against the grain. One of Funk Volume's premiere acts, Jarren admits, "I love the music I do now. I do it in the safe-mode." That's rather shocking for an artist whose last album, Freebasing With Kevin Bacon lived up to its name, at least in attitude and style, evident on single "Skitzo." He continues, "I want to take it a lil' further. I just haven't had the balls to go all the way there yet, 'cause I presently want to keep a foot in the mainstream too." After two successful digital releases and a video with over one million YouTube plays, Jarren is preparing his August tour in support of the June 11th release of his Funk Volume debut, My Grandmas Basement.
Funk Volume Background:
Funk Volume is a record label, marketing and production company founded to give hip hop artists a home to freely express themselves without feeling controlled or pressured by any other outside forces. Currently home to Hopsin, SwizZz, Dizzy Wright, Jarren Benton and DJ Hoppa, Funk Volume's plan is to represent only the sickest, most talented, and most creative artists that we can find. The label's objective is to produce music that it feel competes with any other artists or labels in the industry. Funk Volume is not a "movement", not a "gang", not a "squad." Funk Volume is a commitment – to protect the integrity of the music and conduct our business properly. It is a commitment to hip-hop, to its fans, and to each other.
---
Links:
official site | facebook | twitter 

"We On" Ft. Dizzy Wright & Pounds: http://www.youtube.com/watch?v=TF_VXpUPOTk
"Go Off" Ft. Hopsin & SwizZz: http://www.youtube.com/watch?v=tQsPT4ejEpU
"Bully" Ft. Vinne Paz: http://www.youtube.com/watch?v=HZE-N1UqFMk
"Cadillacs & Chevys": http://www.youtube.com/watch?v=H3wH81zTyJ
"The Basement Interview Pt.1″: http://www.youtube.com/watch?v=htDPCAe_v3s
"Razor Blades And Steak Knives": http://www.youtube.com/watch?v=cFW3ffGjJBY
Bio, pictures and streams available here: http://www.audibletreats.com/jarren-benton/