9.23.2020
Audio: Jaah SLT – "Right Now" ft. Young Nudy
The Alamo Records Signee Shares a Wavy New Single and Reveals Tracklist for His 9-25-20 Project, Out This Friday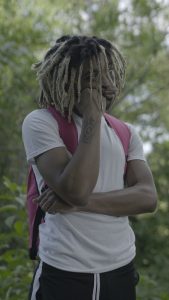 Critical Praise:
"Be prepared to see a whole lot more of Jaah in the coming months as he continues his ascension." – ELEVATOR
The Song :
Switching up his flow to suit each instrumental, Charlotte rhymer Jaah SLT is impatiently waiting for his turn to blow. Confidently asserting his unwillingness to wait much longer, Jaah shares "Right Now," his latest single. A vibey and meditative trap track, "Right Now" derives its power from a burbling electric keyboard riff and an off-kilter hi-hat pattern. Undeterred by the laid-back atmosphere, Jaah restlessly packs in syllables between snare snaps, while guest rapper Young Nudy paints around the edges of the beat with his auto-tuned drawl.
"Right Now" is the latest standout single from 9-25-20, the Charlotte native's project, coming this Friday. The follow-up to 2-7-2020, an energetic 7-track EP, 9-25-20 is the next step on Jaah's journey towards becoming North Carolina's next rap star. Spanning 10 energetic and hypnotic trap tracks, 9-25-20 finds the 20-year-old rapper showing off his athletic rhymes, stacking boasts together in sing-song cadences as he slices through monster movie instrumentals. The upcoming project is home to recent singles like the pensive "Out Of My Body" (100k views) and the come-up anthem "Grimey."  Featuring appearances from SLT crew members Sleep Walkin SLT, Nsikan SLT, and Loweye SLT, 9-25-20 arrives on September 25th via Alamo Records.
Jaah SLT is on the cusp of reaching a new level, riding a wave of momentum in the wake of  "Tuff," his biggest hit to date. The Brelly Beats-produced anti-police turn-up anthem recently crossed the 1 million view threshold on YouTube, and reached the Spotify's US Viral 50 chart and Rolling Stone's Breakthrough 25 chart in May. Released in September 2019, "Tuff" experienced a slow-and-steady rise, eventually catching fire on TikTok (nearly 300k video creations) and making its way to urban radio in North Carolina. This summer, Jaah has treated his fans to a series of quality singles, including  "Same Me" and "Dottin Up," which earned a premiere in Lyrical Lemonade and racked up over 375k views on YouTube.
Buy/Stream "Right Now" ft. Young Nudy: http://smarturl.it/RightNowJaahSLT
9-25-20 tracklist: 
1. Intro
2. Grimey (feat Sleep Walkin SLT)
3. Chevy
4. Can I Get That
5. What We Do
6. Hate (feat Nsikan SLT)
7. Lowkey
8. Fake Ass Love
9. Right Now (feat Young Nudy)
10. Said What I Said (feat Loweye SLT)
Pease contact Michelle or Andrea for more info.
The Background:
With uniquely animated vocalizations over trap-punk beats, rapper Jaah SLT—a nickname spawned from a mashup of Charlotte's airport code, CLT, and a childhood fight club named SALT—first caught viral attention with his 2019 single, "Tuff." With the song soundtracking playful Tik Tok videos and charting high on Spotify Viral Charts, Shazam Top 200 and Rolling Stone Charts, the North Carolina native is quietly emerging from the internet underground to solid hip-hop spotlight.
Links:
instagram | twitter | facebook | soundcloud | spotify
"Right Now" ft. Young Nudy: http://smarturl.it/RightNowJaahSLT
"Grimey" ft. Sleep Walkin SLT: https://www.youtube.com/watch?v=FzuCRCJeTYU / http://smarturl.it/GrimeyJaahSLT
"Out Of My Body": https://www.youtube.com/watch?v=WXuShbeBPJ8
"Real Sh*t": http://smarturl.it/RealShitJaahSLT
"Y2K" ft. Eman SLT: https://youtu.be/jRfqRabXkWU
"Same Me": https://youtu.be/1-VcX88HlmU / http://smarturl.it/SameMeJaahSLT
"Dottin Up": http://smarturl.it/DottinUp / https://youtu.be/V9Mc2O6fQdA
"Tuff": http://smarturl.it/JaahSLTTuff
2-7-2020: https://open.spotify.com/album/2gngi54ZR6FSwOpfM66Nzr