12.1.2021
The Charlotte Native Strives to Sharpen His Pen and Perfect His "Trap Punk" Style on Tireless New Project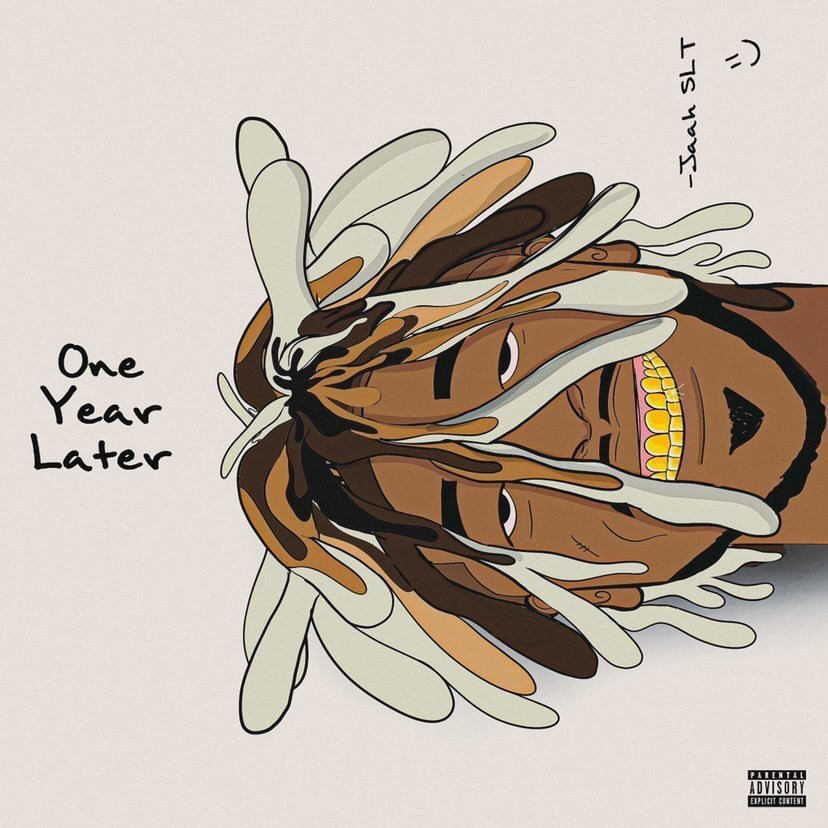 Critical Praise: 
"Be prepared to see a whole lot more of Jaah in the coming months as he continues his ascension." – ELEVATOR
"I think there's no question that he's going to be the next big thing out of North Carolina sooner rather than later." – Lyrical Lemonade
The Project:
With his meticulous mania and flair for ferocity, Charlotte's Jaah SLT is poised to be the next North Carolina native to take the rap game by storm. After a year of growth and increased focus on his craft, Jaah returns in full-force to share One Year Later, his new project. Jumping from brutal bangers to melodic vibe-setters and everything in between over 12 tracks, Jaah's attentive versatility and quality-over-quantity approach to music is evident throughout.
The project boasts a selective feature list highlighting Jaah's support from his SLT family, with verses from his crewmates Loweye SLT and SleepWalkin SLT as well as an appearance from "Break S***" hitmaker, Jasiah. On Jaah's deftest, most refined project to date, he continues to let his unpredictable, athletic flows shine while keeping listeners on their toes with his brutally candid, confident lyricism. Jaah's originality and irreplicable swagger shine through on every second of the project, with ear-catching bars like, "I'm a JUCO dropout, turned to a standout/Racks in the safe, I ain't never had a handout," on standout track, "Hot Lil N****." One Year Later is available everywhere via Alamo Records.
One Year Later arrives following the release of recent singles, "I Love It" ft. Jasiah, "For The Week," "Rent Free," "Toxic" and "Feeling Hot," all of which appear on the project. The latest efforts from Jaah SLT follow in the wake of "In My Bag (Remix)," featuring Dallas diva Erica Banks. The original "In My Bag" gained particular traction in Texas, the home of chopped-and-screwed music, thanks to a TikTok dance trend set to a slowed version of the song, inspiring over 150k video creations. Before releasing the Erica Banks-featuring remix, Jaah shared a Houston-style remix of the song produced by club god BeatKing. With over 2.3 million streams on Spotify, "In My Bag" was the second TikTok hit for the North Carolina native, following 2019's "Tuff" which hit 32 million streams on Spotify after generating over 250k video creations on the video platform.
With One Year Later, Jaah SLT looks to continue his upward trajectory and stake his claim as Charlotte's next star. Stay tuned for more.
Stream One Year Later: https://smarturl.it/oneyearlater
One Year Later tracklist:
Crazy ft. Loweye SLT
I Love It ft. Jasiah
Hot Lil N**
Feeling Hot
Unpredictable
Go Jaah Go Pat ft. SleepWalkin SLT
Count It Up
For The Week
Toxic
Everyday
Matrix
Rent Free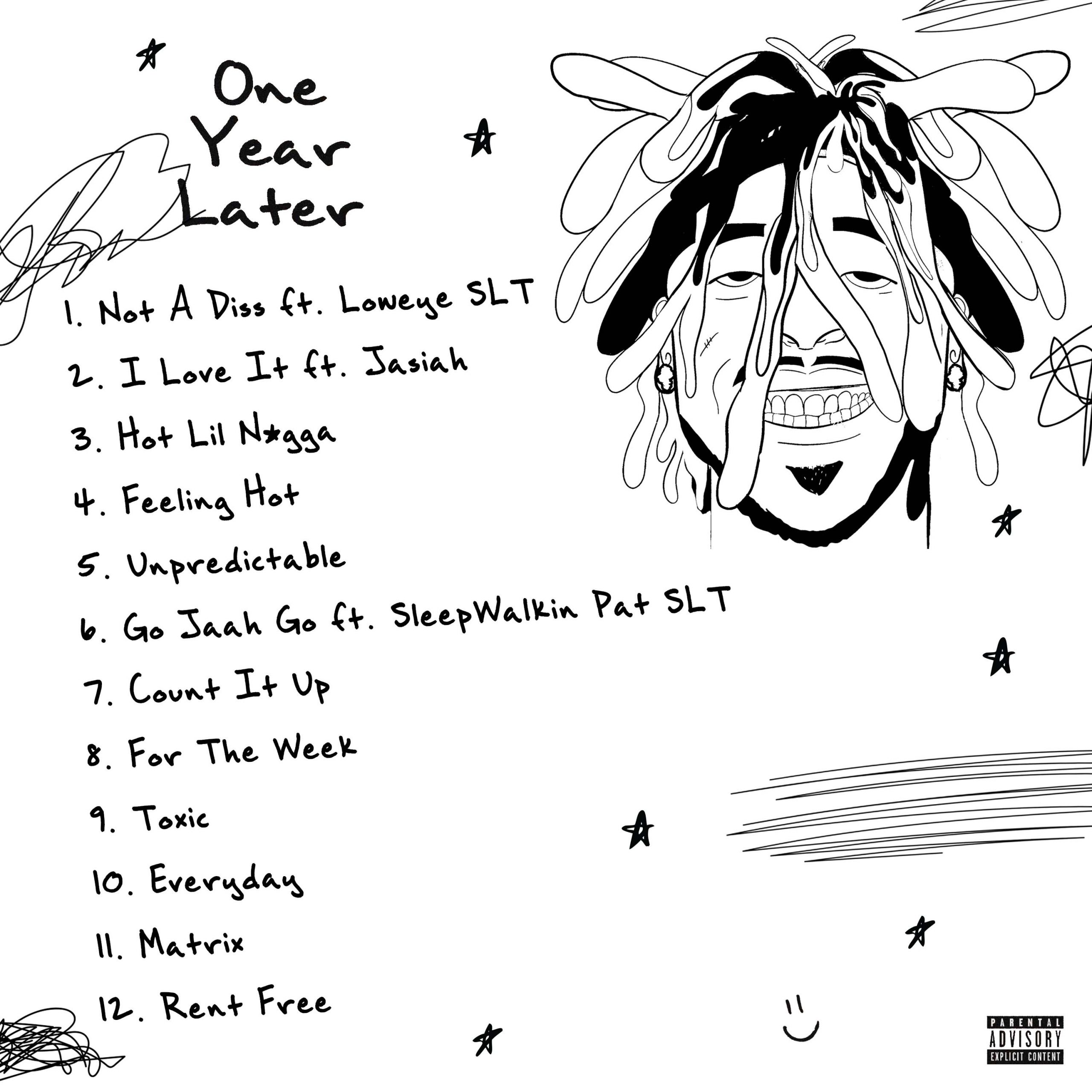 Please contact Michelle or Myles for more info.
The Background:
With uniquely animated vocalizations over trap-punk beats, rapper Jaah SLT—a nickname spawned from a mashup of Charlotte's airport code, CLT, and a childhood fight club named SALT—first caught viral attention with his 2019 single, "Tuff." With the song soundtracking playful Tik Tok videos and charting high on Spotify Viral Charts, Shazam Top 200 and Rolling Stone Charts, the North Carolina native is quietly emerging from the internet underground to solid hip-hop spotlight.
---
Links:
instagram | twitter | facebook | soundcloud | spotify
One Year Later: https://smarturl.it/oneyearlater
"I Love It" ft. Jasiah: https://www.youtube.com/watch?v=z2Tf1BTrG5w
"For The Week": https://smarturl.it/fortheweek / https://www.youtube.com/watch?v=wD7EXSP5fZ0
"Feelin Hot": https://www.youtube.com/watch?v=ovwLk84iciU
"Rent Free": https://smarturl.it/jaahsltrentfree / https://youtu.be/W25nzl828ZM
"Toxic": https://smarturl.it/toxicjaahslt
"In My Bag" (Remix) ft. Erica Banks: http://smarturl.it/InMyBagRemix
"In My Bag" (Remix) (Prod. by BeatKing): https://youtu.be/bBg08m1rao0
"2021 Banger": https://youtu.be/UidB7ogmTAc
"Right Now" ft. Young Nudy: http://smarturl.it/RightNowJaahSLT
9-25-20: http://smarturl.it/9-25-20-JaahSLT
"Chevy": https://www.youtube.com/watch?v=8x6_d6_0vuM
"Grimey" ft. Sleep Walkin SLT: https://www.youtube.com/watch?v=FzuCRCJeTYU / http://smarturl.it/GrimeyJaahSLT
"Out Of My Body": https://www.youtube.com/watch?v=WXuShbeBPJ8
"Real Sh*t": http://smarturl.it/RealShitJaahSLT
"Y2K" ft. Eman SLT: https://youtu.be/jRfqRabXkWU
"Same Me": https://youtu.be/1-VcX88HlmU / http://smarturl.it/SameMeJaahSLT
"Dottin Up": http://smarturl.it/DottinUp / https://youtu.be/V9Mc2O6fQdA
"Tuff": http://smarturl.it/JaahSLTTuff
2-7-2020: https://open.spotify.com/album/2gngi54ZR6FSwOpfM66NzR