MP3: J.Lately– "I Miss You" (ft. Champluther Vandross & Della)

Prepping For the Release of His Let's Just Be Friends Album, the Bay Area Emcee Shares Jazzy Hip-Hop Track, Debuted by HYPEFRESH Mag
10.07.2015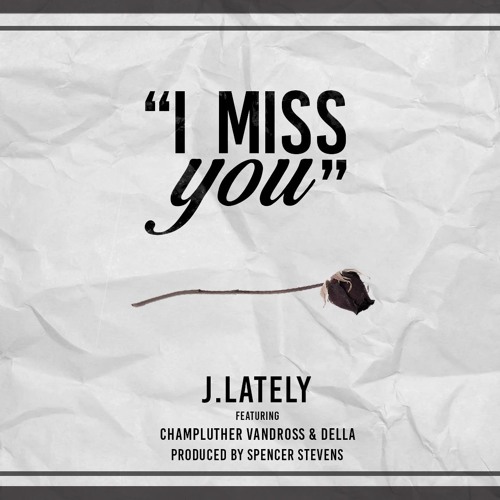 The Song:
With a catalogue that spans the past few years, J.Lately has distinguished himself as an emcee with soulful style and a laid back flow. Today he's sharing "I Miss You," a single from his forthcoming Let's Just Be Friends album. Premiered by HYPEFRESH Mag, horn jabs give the nostalgic hip-hop track a jazzy twist as the Oakland rapper is joined by vocalists Champluther Vandross and Della, the latter of which was spotlighted in the latest episode of J.Lately's Food With Friends series.
On his previous release "Can't Go For That," which premiered on GoodMusicAllDay, J.Lately teamed up with Tanya Morgan's Von Pea and Bambu to speak on living life to the fullest and avoiding roadblocks along the way. "J.Lately's flow is smooth and very relaxing to listen to as he delivers perfectly over the Oops production. Another element of this song to appreciate is the storytelling as J.Lately takes us through everyday life and dodging obstacles as he refuses to be a product of his environment," GoodMusicAllDay said in their premiere post.
Coming from the small town of Sebastopol, and having split time between Oakland and Southern California, J.Lately's influences are eclectic and mesh together effortlessly to form his own individual style. A relentless drive has kept Lately on tour across the country with artists such as Zion I, Locksmith, Los Rakas, Chuuwee, and Rey Res to name a few. He has released multiple solo and collaborative projects, with his most recent solo release being 2014's Make.Believe, J.Lately's upcoming album, Let's Just Be Friends, releases October 23rd and is available for pre-order.
J.Lately – "I Miss You" (ft. Champluther Vandross & Della): https://soundcloud.com/justlately/imissyou
Check out the HYPEFRESH Mag premiere: http://hypefreshmag.com/premiere-j-lately-delivers-jazzy-hip-hop-single-i-miss-you/
Pre-order Let's Just Be Friends: http://justlately.bandcamp.com/album/lets-just-be-friends
Please contact Michelle or Rory if interested in talking with J.Lately.
J.Lately Background:
With no pretend marketing scheme or gimmick, J.Lately distinguishes himself with his classic style and laid back flow. A true appreciation for music, along with the unique ability to put everyday life into a relatable perspective has allowed him to flourish in the local Bay Area scene. "It's not about rushing it" explains Lately, "it's about quality music and progress."
---
Links:
official site | twitter | facebook | instagram | youtube
"I Miss You": https://soundcloud.com/justlately/imissyou
"Can't Go For That": https://soundcloud.com/justlately/cant-go-for-that-ft-von-pea-of-tanya-morgan-bambu-prod-oops
Food With Friends | Episode One w/ Oops: https://www.youtube.com/watch?v=fN7m7-fPWYw
Make.Believe: http://justlately.bandcamp.com/album/make-believe
"Roses" ft. Grynch: http://youtu.be/xnQv7ZcaVqw
"All Away" ft. TiRon (Prod. Ben Rosen): http://justlately.bandcamp.com/track/all-away-ft-tiron-prod-ben-rosen-2
"Destinations" ft. Rayana Jay (Prod. Matcy P): https://justlately.bandcamp.com/track/destinations-ft-rayana-jay-prod-matcy-p
"Make.Believe": http://youtu.be/tceOb8xUaL4
"Roses" ft. Grynch (Prod. The Blacksmiths): https://justlately.bandcamp.com/track/roses-ft-grynch-prod-the-blacksmiths