11.7.2019
Video: Hoodrich Pablo Juan – "Pirate" (Prod. by Tay Keith)
With Production from Tay Keith, Southside, Maaly Raw, Zaytoven, and More, DMV is the 1017 Artist's Second Album of 2019
Critical Praise:
"By releasing more than 12 projects over the last four years, with contributions from Atlanta power players and producers ranging from Migos to Zaytoven, Hoodrich Pablo Juan's unique flow has permeated through DeKalb County's invisible boundaries and straight into the buzzing rap scenes in Dallas, and the D.M.V. (D.C., Maryland, and Virginia) metro area. His nonchalant, whisper-y delivery sounds like the low rumble of a fine-tuned luxury car engine." – The FADER
"Nine out of ten rap fans seem to agree: Hoodrich Pablo Juan is up next." – Complex
"HoodRich Pablo Juan should be Atlanta's next up." – Stereogum
"A smooth-talking rapper with a nonchalant charm." – Pitchfork
The Video:
Known for his soft-spoken, hard-hitting bars, Hoodrich Pablo Juan always delivers high quality trap music. Offering an inside glimpse at his ATL operation, Pablo shares "Pirate," his latest video. With a rumbling beat from Memphis superproducer Tay Keith, defined by a creeping left-hand piano melody, "Pirate" takes swipes at jealous rivals and flaunts his hard-earned wealth with a nimble flow: "MPR chain, graffiti in 3D/Old school dope, I spin it like CDs/How you gonna hate when you really wanna be me?" Directed by JuddyRemixDem, the video melds the glitz of high fashion with the grittiness of street life, Pablo stunts with his crew in the kitchen, working the stove and counting their Benjamins in designer ski masks. "Pirate" is the latest video from DMV, the 1017 Eskimo signee's latest album, following the outrageous video for "Minute Maid" and the revealing clip for "DMV Intro." 
With a title that stands for "Dope, Money Violence," the 15-track DMV finds Pablo shouldering the load with minimal features, perfecting his gem-like flexes and offering a deeper glimpse into his money motivations. With production from the likes of Tay Keith, Southside, TM-88, Zaytoven, Maaly Raw, Ronny J, rising ATL sound architect Pyrex, frequent Pablo collaborator Danny Wolf, and more, DMV is a glistening example of state-of-the-art trap, equally suited to the club, the whip, and your headphones. Featuring appearances from Gucci Mane, Wiz Khalifa, and MPR Tito, DMV is available everywhere via 1017 Eskimo/Alamo.
Watch "Pirate": https://www.youtube.com/watch?v=sZy7u15VMXk
Buy/Stream DMV: https://smarturl.it/hpjdmv
DMV tracklist:
1) DMV Intro (prod. Pyrex)
2) Water Boi (prod. Maaly Raw)
3) Street Rich (prod. SK808)
4) Plea The 5th (prod. DJ Champ)
5) No Safety (prod. Quay Global)
6) Drop (prod. Ronny J & Cubeatz)
7) Got What It Takes (prod. Cakeboy Bally)
8) Iced Up feat. Gucci Mane and Wiz Khalifa (prod. Southside & TM88)
9) Broke Ass Boi (prod. Zaytoven)
10) Minute Maid (prod. Ronny J & Nils)
11) Pirate (prod. Tay Keith)
12) Good Boy feat. MPR Tito (prod. D Sims)
13) Shit (prod. DJ Champ)
14) Skating On Ice (prod. Spiffy)
15) Str8 Outta Candler (prod. Danny Wolf)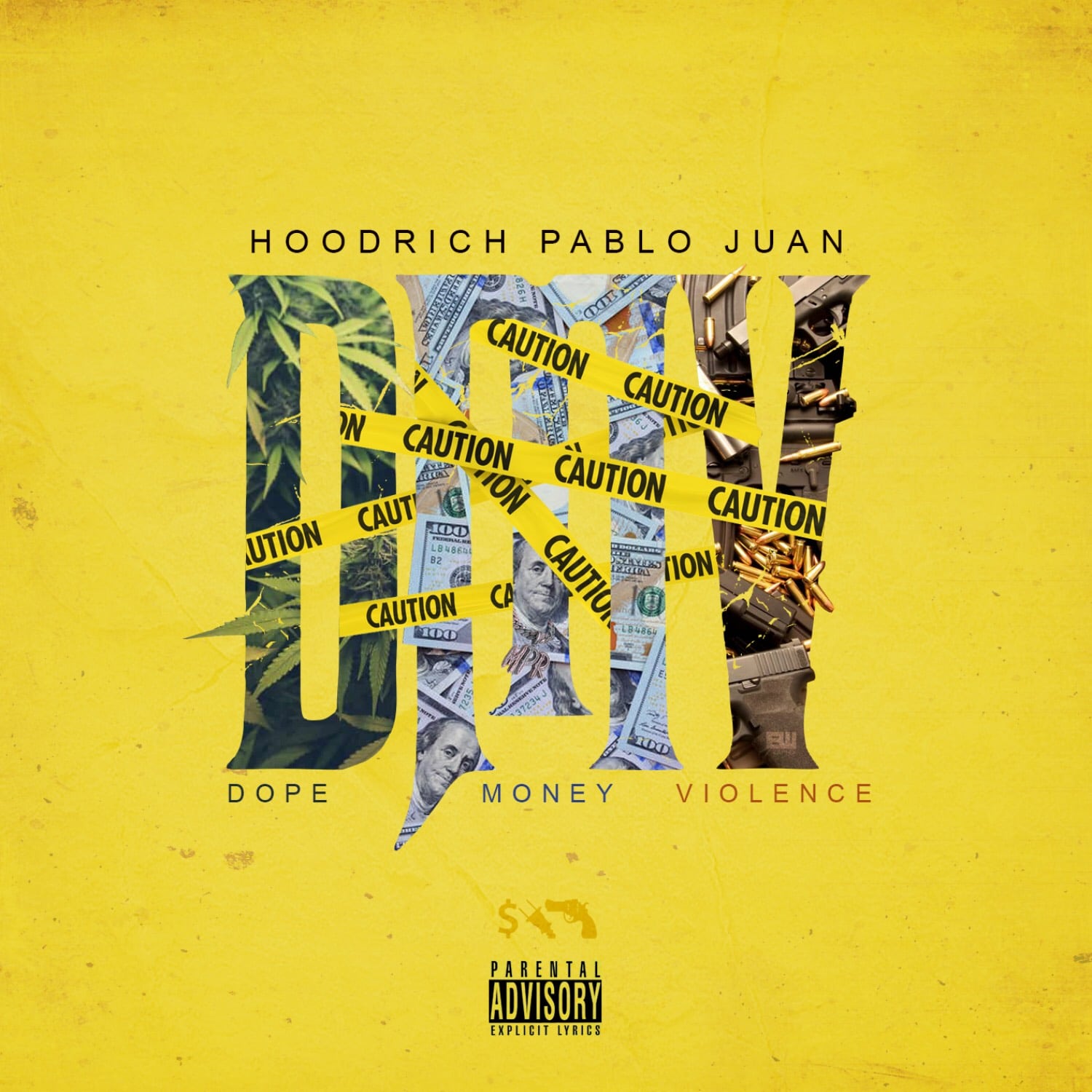 Please contact Michelle or Kierra for more info.
---
Links:
soundcloud | twitter | facebook | instagram | spotify
Bio, pics, and more available here: www.audibletreats.com/hoodrich-pablo-juan
"Pirate" (Prod. by Tay Keith): https://www.youtube.com/watch?v=sZy7u15VMXk
DMV: https://smarturl.it/hpjdmv
"DMV Intro": https://youtu.be/LcJizO1udV8
"Minute Maid": https://www.youtube.com/watch?v=_tfwyeas8Lc
BLO The Movie: https://Empire.lnk.to/BLOTheMovie
"Can't Fall In Luv" ft. Smooky Margielaa: https://youtu.be/cSrctxVyI54|| https://soundcloud.com/hoodrichpablojuan/hoodrich-pablo-ft-smooky-margielaa-cant-fall-n-luv/
"Shoebox" ft. Gucci Mane & NAV: https://soundcloud.com/hoodrichpablojuan/hoodrich-pablo-juan-shoebox-ft-gucci-mane-nav
"Screaming Slatt" ft. Young Thug: https://soundcloud.com/hoodrichpablojuan/hoodrich-pablo-juan-ft-young-thug-screaming-slatt
"Fireworks": https://www.youtube.com/watch?v=D7cJ7khpo-I