11.1.2019
Hoodrich Pablo Juan Shares DMV Album, Along with the Revealing Video for "DMV Intro"
With Production from Tay Keith, Southside, Maaly Raw, Zaytoven, and More, DMV is the 1017 Artist's Second Album of 2019
Critical Praise:
"By releasing more than 12 projects over the last four years, with contributions from Atlanta power players and producers ranging from Migos to Zaytoven, Hoodrich Pablo Juan's unique flow has permeated through DeKalb County's invisible boundaries and straight into the buzzing rap scenes in Dallas, and the D.M.V. (D.C., Maryland, and Virginia) metro area. His nonchalant, whisper-y delivery sounds like the low rumble of a fine-tuned luxury car engine." – The FADER
"Nine out of ten rap fans seem to agree: Hoodrich Pablo Juan is up next." – Complex
"HoodRich Pablo Juan should be Atlanta's next up." – Stereogum
"A smooth-talking rapper with a nonchalant charm." – Pitchfork
The Album + Video:
Hoodrich Pablo Juan worked hard to emerge from poverty to become one of Atlanta's freshest emcees. Coming through with a 15-track dose of straight dope, Hoodrich Pablo Juan shares DMV, his second project of 2019. With a title that stands for "Dope, Money Violence," DMV finds Pablo shouldering the load with minimal features, perfecting his gem-like flexes and offering a deeper glimpse into his money motivations. With production from the likes of Tay Keith, Southside, TM-88, Zaytoven, Maaly Raw, Ronny J, rising ATL sound architect Pyrex, frequent Pablo collaborator Danny Wolf, and more, DMV is a glistening example of state-of-the-art trap, equally suited to the club, the whip, and your headphones. Featuring appearances from Gucci Mane, Wiz Khalifa, and MPA Tito, DMV arrives via 1017 Eskimo/Alamo.
Taking a peek back to a troubled childhood, Pablo shares "DMV Intro," his new video. Produced by Pyrex, the "DMV Intro" is a foreboding trap track with aqueous bass and ethereal synths, as Pablo nimbly attacks the track with his signature basso voice: "Seen some n****s lose they life playin' hard/Came from the bando to five-car garage/Sold every drug and I put that on God/Ain't savin' that money, I'm lettin' it ride." In the video, Pablo returns to his home projects in Atlanta, mixing clips of neighborhood life with present-day shots of Pablo looking as fresh as ever, as he plays 52-card pickup with Benjamin Franklins. Last week, Pablo shared the video for "Minute Maid," the Ronny J-produced lead single from DMV.
Buy/Stream DMV: https://smarturl.it/hpjdmv
Watch "DMV Intro": https://youtu.be/LcJizO1udV8
DMV tracklist:
1) DMV Intro (prod. Pyrex)
2) Water Boi (prod. Maaly Raw)
3) Street Rich (prod. SK808)
4) Plea The 5th (prod. DJ Champ)
5) No Safety (prod. Quay Global)
6) Drop (prod. Ronny J & Cubeatz)
7) Got What It Takes (prod. Cakeboy Bally)
8) Iced Up feat. Gucci Mane and Wiz Khalifa (prod. Southside & TM88)
9) Broke Ass Boi (prod. Zaytoven)
10) Minute Maid (prod. Ronny J & Nils)
11) Pirate (prod. Tay Keith)
12) Good Boy feat. MPR Tito (prod. D Sims)
13) Shit (prod. DJ Champ)
14) Skating On Ice (prod. Spiffy)
15) Str8 Outta Candler (prod. Danny Wolf)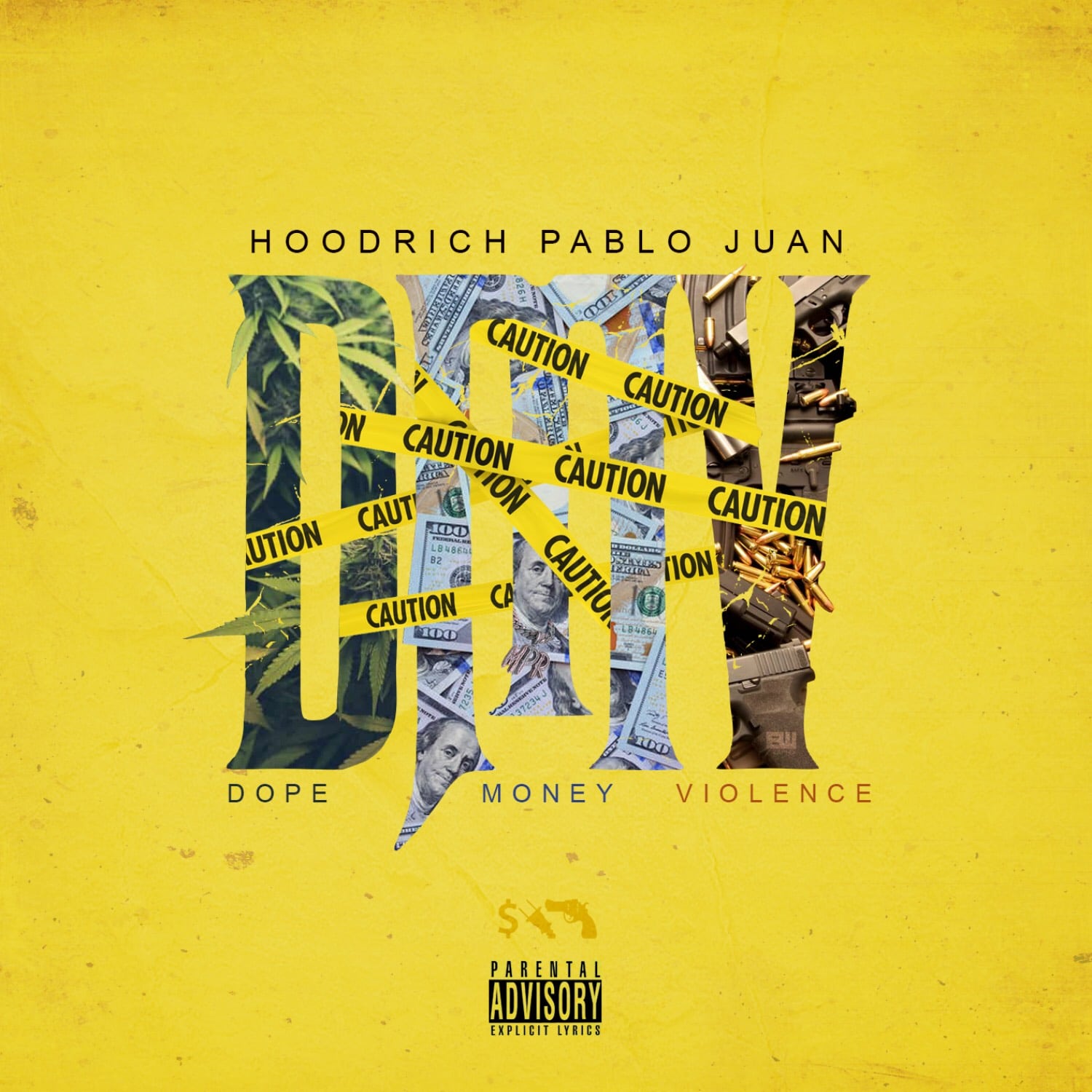 Please contact Michelle or Kierra for more info.
---
Links:
soundcloud | twitter | facebook | instagram | spotify
Bio, pics, and more available here: www.audibletreats.com/hoodrich-pablo-juan
DMV: https://smarturl.it/hpjdmv
"DMV Intro": https://youtu.be/LcJizO1udV8
"Minute Maid": Spotify | Apple
BLO The Movie: https://Empire.lnk.to/BLOTheMovie
"Can't Fall In Luv" ft. Smooky Margielaa: https://youtu.be/cSrctxVyI54|| https://soundcloud.com/hoodrichpablojuan/hoodrich-pablo-ft-smooky-margielaa-cant-fall-n-luv/
"Shoebox" ft. Gucci Mane & NAV: https://soundcloud.com/hoodrichpablojuan/hoodrich-pablo-juan-shoebox-ft-gucci-mane-nav
"Screaming Slatt" ft. Young Thug: https://soundcloud.com/hoodrichpablojuan/hoodrich-pablo-juan-ft-young-thug-screaming-slatt
"Fireworks": https://www.youtube.com/watch?v=D7cJ7khpo-I