11.22.2019
Project: Flipp Dinero – Love For Guala
The Fiery New Project from the Brooklyn Rising Star Hosts the Top 20 Hit "Leave Me Alone," the Lil Baby-Featuring "How I Move," and the Brand New "Westside" Video Single
The Project + Video:
Weaving memorable melodies with his inimitable rasp, Flipp Dinero won't rest until he's NYC's biggest emcee. Taking another admirable step towards that goal, Flipp shares Love For Guala, his lyrical and radio-friendly new project. Packed with entrancing melodies and tough-talking bars, Love For Guala paints a vivid picture of life from Flipp's point-of-view, in which each moment is a new opportunity to earn a dollar. The project illustrates Flipp's progression from the son of Haitian immigrants in one of NYC's roughest neighborhoods to his current status as a luxury-living ladies man.
Explains Flipp Dinero, "Guala is 'God's Unique Accolade Life Acquired,' and it means money and success. Being on the road so much and coming off such a big song and having so many other songs, I felt that people have so much love for me. I know everyone has been waiting for this project, and I know they'll all love it."
Love For Guala plays host to "Leave Me Alone," the insidiously catchy kiss-off that cemented Flipp's status as a genuine hitmaker, a pair of a pair of Tay Keith-produced standouts in "Not Too Many" and "If I Tell You," and last week's single "How I Move," the woozy Lil Baby-featuring banger, included in Spotify's Most Necessary playlist. The project also boasts brand new highlights like the Jay Critch-featuring "Fritolays" and the emotional closing track "'Til I'm Gone," featuring Kodak Black. With an additional feature from Rich The Kid and with production from the likes of DJ Khaled, Tay Keith, Frank Dukes, Ben Billions, and more, Love For Guala is available everywhere via Cinematic Music Group/We The Best/Epic Records.
To accompany the release of the project, Flipp Dinero shares "Westside," his new music video. A bouncy and romantic anthem from the new project, "Westside" is a charming invitation to Flipp's current bae to glimpse his glamorous life: "Call you from the Westside, I'll let you know, yeah/I ain't tryna f*ck wit you, I'll show you what I know, yeah." In the video, Flipp flexes in his Brooklyn bodyshop, showing off his bright orange Lambo and his We The Best chain as he mobs with a masked biker crew.
Buy/Stream Love For Guala: https://smarturl.it/LOVEFORGUALA
Watch "Westside": https://www.youtube.com/watch?v=r2obMaT-kW0
Love For Guala tracklist:
Intro (Prod. by Kyle Junior & Based1)
How I Move ft. Lil Baby (Prod. by Pluto Beats, Kyle Stemberger (Co.))
Fritolays ft. Jay Critch (Prod. by Cam Beats)
Lookin At Me (Prod. by NOCAP3)
If I Tell You (Prod. by Tay Keith & G Koop)
Shawty Do You (Prod. by Ben Billions)
Take a Lil' Time (Prod. by Dre Moon, Co. Prod by Seb & CVRE)
Not Too Many (Prod. by Tay Keith)
Westside (Prod. by Filthy Plux)
Hills (Prod. by Pale1080, co prod by: Coop the Truth)
Perry (Prod. by Chronic Cloud)
Leave Me Alone (Prod. by YoungForeverBeats & Cast Beats)
'Til I'm Gone ft. Kodak Black (Prod. by DJ Khaled & Frank Dukes, with add. production from Ben Billions)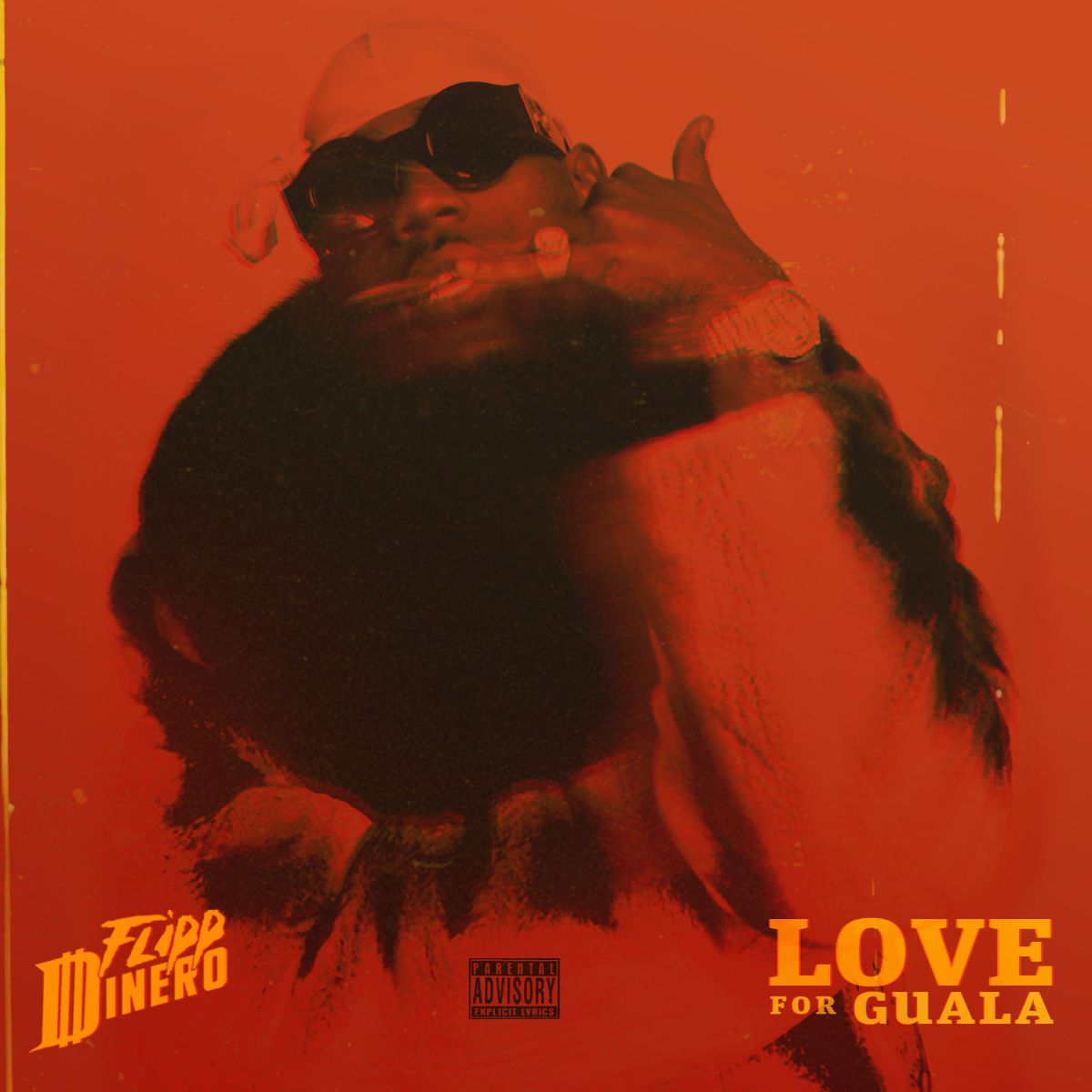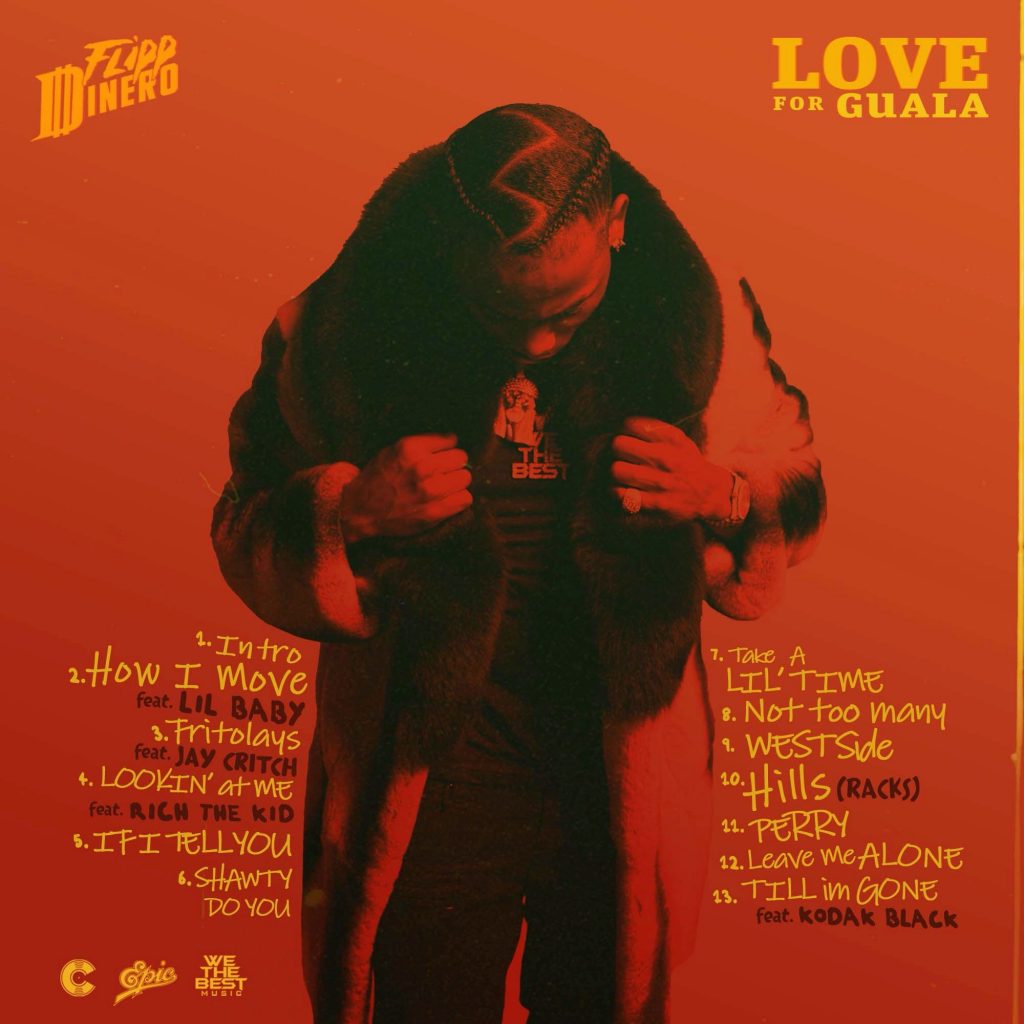 Please contact Michelle or Erin for more info.
The Background:
Flipp Dinero is a 24 year old artist from Canarsie, BK who debuted in early 2017 with his first hit single, "I Do" premiered by Complex. Toward the closing of the year, Flipp dropped a remix featuring G Herbo to "Time Goes Down", one of the standout records from his summer 2017 debut project entitled The Guala Way. The remix video premiered by WorldStarHipHop and has been widely well received, garnering 2 million+ views with continued support from Apple Music's Ebro Darden and key Spotify playlists. To date, Flipp has captured the attention of Billboard, XXL, Hip Hop DX, Hot New Hip Hop, Elevator, and Mass Appeal to name a few. His  release, "Leave Me Alone", which dropped in March 2018, became a national smash. Since its release Flipp has been co-signed by Odell Beckham Jr., which helped the song surpass the 1 million streaming count milestone on SoundCloud, Apple Music, and Spotify. Odell's viral Instagram clip and dance to the song received coverage from ESPN, Bleacher Report, TMZ Sports, Yahoo Sports, and more. The song peaked at #20 on the Billboard Hot 100 and spent multiple weeks in the top 5 of the Hip-Hop/R&B Airplay charts.
---
Links:
instagram | twitter | facebook | spotify
Love For Guala: https://smarturl.it/LOVEFORGUALA
"Westside": https://www.youtube.com/watch?v=r2obMaT-kW0
"How I Move" ft. Lil Baby: https://smarturl.it/HowIMove
"If I Tell You" (Prod. by Tay Keith & G Koop): http://smarturl.it/IfITellYou.FD // http://smarturl.it/IfITellYouFD
"Not Too Many" (Prod. by Tay Keith): http://smarturl.it/NotTooMany
"Feelin Like": http://smarturl.it/FeelinLike
"Leave Me Alone": http://flippdinero.lnk.to/LMA
The Guala Way EP: https://flippdinero.lnk.to/TheGualaWay