10.05.2021
Global Superstar FARRUKO Makes American Late Night TV Debut, Performing "PEPAS" on The Tonight Show Starring Jimmy Fallon
"PEPAS" Is Currently Sitting at #29 on the Billboard Hot 100 with Over 300 Million Streams to Date
Home to Global Hits "PEPAS" and "La Tóxica," The Artist's New Album LA 167 Is Available Now on All Platforms
The Announcement:
Multi-platinum Puerto Rico-born singer-songwriter Farruko made his American late night TV debut last night, performing his global hit "PEPAS" on The Tonight Show Starring Jimmy Fallon. Flanked by two singers and a triumphant trumpeter in a colorful backdrop that reflects the song's club-ready theme, Farruko enthusiastically performed his verses and egged on the crowd during the song's anthemic chorus.
Watch the performance HERE
The performance highlights the latest milestone in the song's road to world-conquering success. "PEPAS" landed Farruko the #1 spot on Billboard's "Hot Dance/Electronic Songs," "Dance/Electronic Digital Song Sales," "Dance/Electronic Streaming Songs," and "Latin Digital Song Sales" charts. The track currently ranks at #6 on Spotify's Global Top 50 chart, with nearly 303 million total streams, surpassing 2.9 million daily streams, and at #1 on Billboard's "Hot Latin Songs" chart for 6 consecutive weeks. Last month, Farruko recruited internationally renowned superstar DJ, David Guetta for the official remix version of the global hit.
"PEPAS": https://farruko.lnk.to/Pepas / https://youtu.be/y8trd3gjJt0
"PEPAS" (Remix) ft. David Guetta: https://Farruko.lnk.to/PepasRemix
"PEPAS" is featured on LA 167, the two-time Latin GRAMMY award winner's brand new album. Named after the main highway that runs through his hometown of Bayamón, PR, the project finds the global chart-topping reggaetonero further defying industry standards — creating an eclectic ambiance fit for various subcultures and genres. Intentionally crafted to honor the intersections of the culture of Bayamon and the legacy of his late grandfather, the album displays a Farruko that is nostalgic, festive, vulnerable, and proud. The 25-track album's expansive sound incorporates nostalgic perreo beats, weaves in the "pilita" or EDM trends popularized in the neighboring country of the Dominican Republic, and his traditional love for Jamaica's reggae—all while remaining loyal to his grittier influences like his trap, drill, and reggaeton essence.
Buy/Stream LA 167: https://Farruko.lnk.to/La167
Along with "PEPAS," LA 167 is home to  "La Tóxica," which debuted in the top 10 of  Billboard's "Latin Digital Song Sales" list and in the top 15 of "Hot Latin Songs, it peaked at no. 1 in 9 countries, #1 on Billboard's Hot Latin Songs and Latin Streaming Songs, and scored him a 2021 Latin GRAMMY® nomination in the "Best Reggaeton Performance." Last week, Farruko shared the festive video for EDM-inflected banger "El Incomprendido," which interpolates the 1999 eurodance classic "Better Off Alone" by Alice Deejay and generated nearly 6 million YouTube views in just 5 days. The album features a new collaboration with Pedro Capó, who connected with Farru in 2019 for the 25x Platinum hit "Calma," Farru's fellow Bayamón native Ñengo Flow, and additional appearances from Myke Towers, Jay Wheeler, Brray, Secreto, Noriel, Luar, White Star, India Martinez, Lenier, and Jamaican dancehall singer Mavado.
Characterized as a definitive artist of his generation of Latin musicians, Farruko illustrates his natural approach to both commercial and rooted styles with LA 167. This November he will kick off his first US Tour making stops in 15 cities. He recently made history selling out Puerto Rico's renowned Coliseo arena during a presale for 2 nights for his upcoming homecoming shows of  "LA 167 Tour."
LA 167 is available to stream everywhere via Sony Music Latin/Carbon Fiber Music.
LA 167 Tracklist
1. Ki (ft. Oniell & Daniel Habif)
2. La Toxica
3. PEPAS
4. GPS (ft. Jay Wheeler)
5. F* LOVE (ft. Dímelo Flow & DJ Adonis)
6. Cucaracha (ft. Ñengo Flow)
7. Lambo
8. My Lova
9. Baja Cali
10. La Perla
11. Cuervos
12. El incomprendido (ft. Victor Cardenas & DJ Adonis)
13. Embalao (ft. White Star)
14. Jíbaro (ft. Pedro Capó)
15. $
16. 167
17. Baya (ft. Yomo)
18. Doble L (ft. Brray & Noriel)
19. Guerrero (ft. Luar La L)
20. Amigos Nuevo (ft. Fresy Franklin)
21. Bendición (ft. Lenier)
22. WFM (ft. Mavado)
23. Apunta y Dispara (ft. India Martinez & Lito MC)
24. Siempre Sere (ft. Myke Towers, Tempo, Secreto, & Pacho El Antifeka)
25. Helicoptero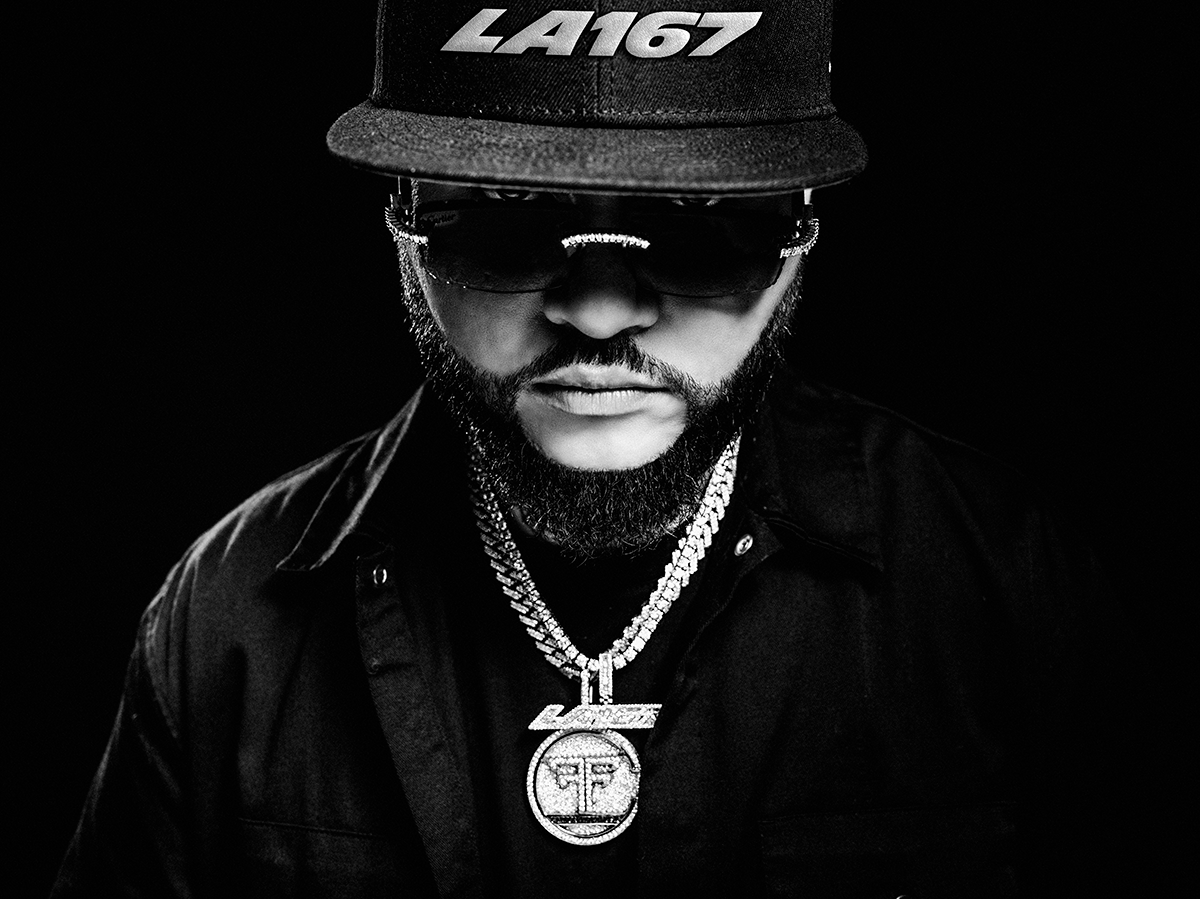 (Credit: Mike Ho)
Please contact Michelle or Erin for more info.
Farruko Stats & Accolades:
Social Media Following: Instagram (18.5 million), Twitter (4.7 million), Facebook (15 million likes), YouTube (13.7 million)

2x Nominee at the 2021 Latin American Music Awards (vote here until 3pm ET on March 23rd)

Winner – Premios Juventud 2021 (La Mezcla Perfecta)

2x Latin GRAMMY Award Winner (2016, 2019)
ASCAP Latin Songwriter of the Year (2018)
Latin Billboard Award Winner (2015)
Nine Latin Airplay #1 Hits (including 2020's "La Toxica")
"After his 2017 single 'Krippy Kush' became the first Latin trap song to reach the Hot 100 singles chart, Farruko did the unexpected by shifting his next album away from the burgeoning format and returning to urbano's reggae roots. Eschewing tough rap braggadocio in favor of tuff gong vibrations, Gangalee makes Carribbean connections via cuts like the breezy 'Quédate' and the throwback 'Pórtate Mal.'" –  Rolling Stone's Best Latin Albums of 2019 (Gangalee)
"Whether or not you realize it, this Puerto Rican rapper is one of the most popular artists in America right now." – Vice
"Luckily, a few artists have taken on the task of ensuring [reggaeton's] origins aren't suppressed or forgotten. Farruko is one of the few at the forefront, doing so in the most overt fashion…Farruko, who has over a decade of experience in the music industry, has been a part of that time of reinvention for reggaeton, trap en español, and now reggae…Taking on the advice of the wise, Farruko more often than not says the least but does the most, pouring out his thoughts, emotions and vision for the future of Latin music into extended albums and tracks." – Remezcla
Background:
About Farruko
Farruko is recognized as one of the most important musical phenomena in the Latin music industry. Thanks to his fantastic artistic versatility and his excellence on stage, the multi-platinum artist and two-time Latin GRAMMY winner has managed to conquer massive audiences around the world, becoming one of the most innovative exponents of the reggaeton genre. With eight successful studio albums and multiple collaborations with international artists of different genres, his success has impacted the Hispanic American community, in such a way that his career has been recognized by HBO with a documentary, "Farruko: En Letra de Otro."
His latest album Gangalee debuted #2 on Billboard's "Top Latin Songs" chart, entered the "Billboard 200" global chart, and was certified 7x multi-platinum. This album presents essential singles like "Nadie," "Inolvidable," "La Cartera" with Bad Bunny, and "Delincuente" with Anuel AA. Likewise, his single "Calma – Remix" with Pedro Capó became an iconic hit of popular reggaeton, which not only received a Latin GRAMMY award but has also been certified as platinum by the RIAA. Additionally, the song received an ASCAP 2020 award and has almost two billion views in its music video. Farruko is characterized by his highly-adaptable skills across musical genres, and his ability to break international barriers with his unique talent. Constantly demonstrating his musical evolution, Farruko reaffirms his position as an artistic powerhouse in the Latin music industry.
About Carbon Fiber Music
Carbon Fiber Music, Inc. (CFM) is a record label specializing in the international Latin market, established in 2014 and founded by international superstar, Farruko, and his manager/entrepreneur Franklin Martinez. Today, Carbon Fiber Music is one of the most respected independent record labels in the music industry and is responsible for the internationalization of multiple artists such as: Farruko, Ankhal, Lary Over, Milly, Akim, Lil Tati, Josephlee, and producers and songwriters: Sharo Towers, K4G K LO K, Ghetto, White Star.
The label is characterized by its mastery of a wide variety of musical styles, which reflect the constant evolution of the Hispanic American youth thanks to its wide and successful catalog that has taken it to win multiple Latin GRAMMYS and tour the world with its artist roster.
Carbon Fiber Music has always distinguished itself for its consistency and the quality of its releases, leading it today to become one of the most recognized and significant brands in Latin Urban music, with more than 3.97 million followers through its social networks and more than one billion views on its official YouTube channel.
---
Links:
official site | instagram | spotify | youtube | facebook | twitter

Watch Farruko perform on The Tonight Show Starring Jimmy Fallon: https://youtu.be/7V2aGXbaiJo
LA 167: https://Farruko.lnk.to/La167
"El Incomprendido": https://youtu.be/Zpi7CTDvi1A
"PEPAS" (Remix) ft. David Guetta: https://Farruko.lnk.to/PepasRemix
"PEPAS": https://farruko.lnk.to/Pepas / https://youtu.be/y8trd3gjJt0
Buy tickets for "LA 167" Tour at www.farruko.com
"PREMIUM": https://smarturl.it/FarrukoPREMIUM
"La Tóxica": https://www.youtube.com/watch?v=puugRJxgdt4