2.26.2021
Farruko Shares "Premium" Package, With Two New Singles & Music Videos
The Puerto Rican Superstar Connects with Myke Towers for the Romantic "Oh Mama," and with El Alfa for the Genre-Bending "XOXA"
The Artist Behind Recent Hits like "La Toxica" and "Calma" Shows Off His Versatility With Two Fiery Collaborations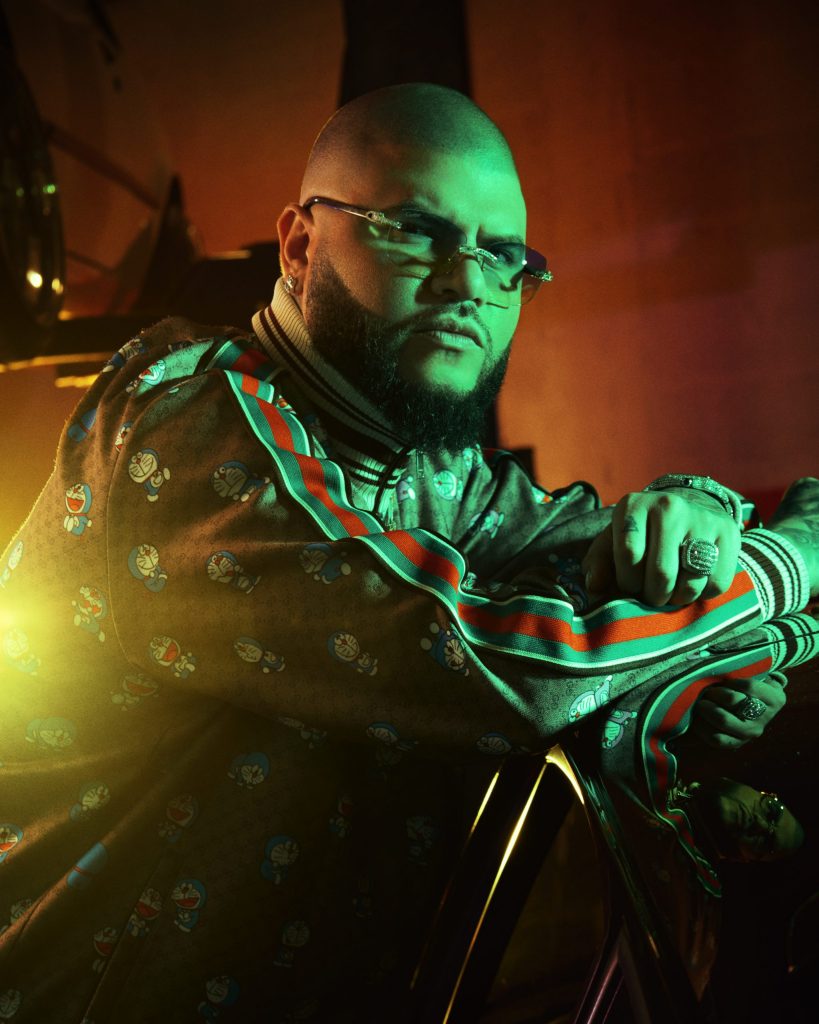 Farruko Stats & Accolades:
Social Media Following: Instagram (18.5 million), Twitter (4.7 million), Facebook (15 million likes), YouTube (13.7 million)
2x Latin GRAMMY Award Winner (2016, 2019)
ASCAP Latin Songwriter of the Year (2018)
Latin Billboard Award Winner (2015)
Nine Latin Airplay #1 Hits (including 2020's "La Toxica")
"After his 2017 single 'Krippy Kush' became the first Latin trap song to reach the Hot 100 singles chart, Farruko did the unexpected by shifting his next album away from the burgeoning format and returning to urbano's reggae roots. Eschewing tough rap braggadocio in favor of tuff gong vibrations, Gangalee makes Carribbean connections via cuts like the breezy 'Quédate' and the throwback 'Pórtate Mal.'" –  Rolling Stone's Best Latin Albums of 2019 (Gangalee)
"Whether or not you realize it, this Puerto Rican rapper is one of the most popular artists in America right now." – Vice
"Luckily, a few artists have taken on the task of ensuring [reggaeton's] origins aren't suppressed or forgotten. Farruko is one of the few at the forefront, doing so in the most overt fashion…Farruko, who has over a decade of experience in the music industry, has been a part of that time of reinvention for reggaeton, trap en español, and now reggae…Taking on the advice of the wise, Farruko more often than not says the least but does the most, pouring out his thoughts, emotions and vision for the future of Latin music into extended albums and tracks." – Remezcla
The Announcement:
Pushing the genre forward with his versatility and deep musicality, Farruko is one of the most vital artists on today's Latin music scene. Today, the Sony Music Latin Artist and  Carbon Fiber Music co-founder shares "Premium," a 2-pack of singles that shows his range. The package contains "Oh Mama," a song with Puerto Rican rap star Myke Towers, and "XOXA," featuring Dominican dembow boss El Alfa.
A romantic ballad with moody saxophones, reverbed guitars, and an insistent snare drum, "Oh Mama" is a contemporary Latin trap ballad equally suited to club nights or intimate moments. Demonstrating the chemistry that has fueled numerous collaborations between the two Puerto Rican artists, most recently on the remix for Farruko's Billboard Hot 100 hit "La Tóxica," Farruko and Towers address the object of their affections with nimble vocals. Farruko ably switches from hard-nosed raps to gentle croons in his verses and his infectious hook, while the brashly confident Towers serves up rapidfire rhymes in his signature baritone. In the Fernando Lugo-directed video, premiered earlier this week on Telemundo, Farruko welcomes Towers into his world of fast cars and beautiful women, as they cavort in a serene swimming pool and a garage full of collectible hot rods.
Meanwhile, "XOXA" is a mutating, multi-part banger that offers a tour through the history of contemporary Latin music, from traditional balladry to radio-friendly reggaeton to fiery dembow and back. The song kicks off with a showcase for Farruko's pipes, as he croons atop gentle acoustic guitars until the reggaeton riddim drops and he switches to his lower register. Not content with two beat switches, "XOXA" transforms a third time during the entrance of guest star El Alfa, ratcheting up the tempo to satisfy even the most dedicated dembow stans in the Dominican Republic. Also directed by Fernando Lugo and premiered by Telemundo, "XOXA" is as playful and wide-ranging as the song itself. Starting with a fight in an East Asian hookah bar, the video finds Farruko and El Alfa trying on dozens of costumes to fit increasingly absurd situations–highlights include Farruko doing his own version of Napoleon Dynamite's film-ending dance (the video also features references to The Mask and Rocky), Farruko and El Alfa dressing up as traditional showmen in a bachata band, and much more.
The "Premium" package continues a busy year for Farruko, highlighted by momentous wins at the 33rd annual Premios Lo Nuestro Awards ("Collaboration of the Year – Pop" and "Song of the Year – Urban/ Pop" for his global anthem "Si Me Dices Que Si" featuring Reik and Camilo). Earlier this month, the 29-year-old artist connected with Ñengo Flow for the apocalyptic and operatic "Burros De Salitre," and at the start of 2021, he hopped the remix to "Natti, Karol, Becky" with Jon Z, Natti Natasha, and many others. The Latin GRAMMY-winning superstar rode into 2021 on a wave of momentum from his recent hit "La Tóxica," his tenth song to reach the top 10 of Billboard's Hot Latin Songs chart, and the remix to Sech's Latin hit "Relación," which also featured J Balvin, Daddy Yankee, and Rosalía.
The artist's most recent album was 2019's Gangalee, which was an in-depth exploration of Farruko's roots and the origins of the reggaeton genre. Gangalee debuted at #2 on Billboard's Hot Latin Albums chart, reached the Billboard 200, and was certified 7x multi-Platinum. The album was home to singles like "Delincuente" ft. Anuel AA (over 200 million views on YouTube), "La Cartera" ft. Bad Bunny, and the global megahit "Calma" (Remix) w/ Pedro Capo, which reached #75 on the Billboard Hot 100, was recently certified 25x multi-Platinum by the RIAA, racked up over 2 billion YouTube views, and nabbed Alicia Keys for the English language remix.
Stay tuned for much more from Farruko in the coming weeks.
Buy/Stream "Premium" ft. Myke Towers & El Alfa: https://smarturl.it/FarrukoPREMIUM
Watch "Oh Mama" ft. Myke Towers: https://youtu.be/_QykZxOvsSg
Watch "XOXA" ft. El Alfa: https://youtu.be/D9t4APjK4jU
Background:
Farruko is recognized as one of the most important musical phenomena in the Latin music industry. Thanks to his fantastic artistic versatility and his excellence on stage, the multi-platinum artist and two-time Latin GRAMMY winner has managed to conquer massive audiences around the world, becoming one of the most innovative exponents of the reggaeton genre. With eight successful studio albums and multiple collaborations with international artists of different genres, his success has impacted the Hispanic American community, in such a way that his career has been recognized by HBO with a documentary, "Farruko: En Letra de Otro."
His latest album Gangalee debuted #2 on Billboard's "Top Latin Songs" chart, entered the "Billboard 200" global chart, and was certified 7x multi-platinum. This album presents essential singles like "Nadie," "Inolvidable," "La Cartera" with Bad Bunny, and "Delincuente" with Anuel AA. Likewise, his single "Calma – Remix" with Pedro Capó became an iconic hit of popular reggaeton, which not only received a Latin GRAMMY award but has also been certified as platinum by the RIAA. Additionally, the song received an ASCAP 2020 award and has almost two billion views in its music video. Farruko is characterized by his highly-adaptable skills across musical genres, and his ability to break international barriers with his unique talent. Constantly demonstrating his musical evolution, Farruko reaffirms his position as an artistic powerhouse in the Latin music industry.
---
Links:
official site | instagram | spotify | youtube | facebook | twitter

"PREMIUM": https://smarturl.it/FarrukoPREMIUM
"Oh Mama" ft. Myke Towers: https://youtu.be/_QykZxOvsSg
"XOXA" ft. El Alfa: https://youtu.be/D9t4APjK4jU
"Burros De Salitre" ft. Ñengo Flow: https://www.youtube.com/watch?v=5MMs7dRXuPo
"La Tóxica": https://www.youtube.com/watch?v=puugRJxgdt4