5.14.2021
Audio: DUSTY LOCANE – "ROLLIN N CONTROLLIN PT. 2 (PICTURE ME)"
The On-Fire Brooklyn Rapper Follows Up His Hit "ROLLIN N CONTROLLIN" (57 Million+ Spotify Streams) With a Simmering Banger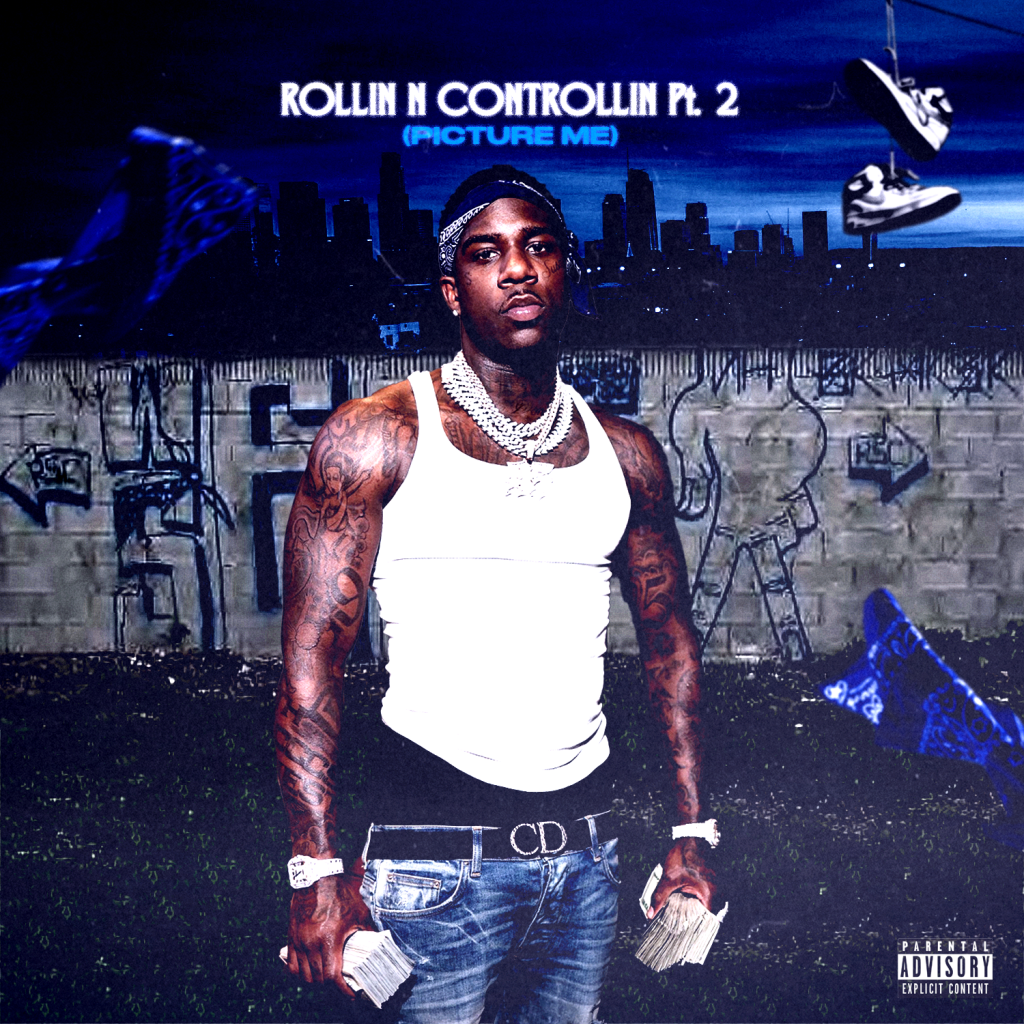 Critical Praise:
"In an ode to a Tupac classic, Locane utilizes a soulful female vocal sample throughout the two-minute track, delivering boastful, concise bars in his signature rasp." – Billboard
"A rumbling voice that could be picked up on a seismograph" – Pitchfork
"He's going to be a force to be reckoned with, and he knows it." – Lyrical Lemonade
"…hard-hitting rhymes that will surely be heard blaring over car stereos in Brooklyn." – HotNewHipHop
"If the skittish beat doesn't send chills down your spine, Dusty's menacing raps and that slinky hook just might." – UPROXX
The Song:
Tearing through the Brooklyn drill scene with his basso voice, DUSTY LOCANE is coming for the NYC rap throne. Coming through with the blockbuster sequel to his breakthrough hit, DUSTY shares "ROLLIN N CONTROLLIN Pt. 2 (Picture Me)," his new single. Produced by Hitman Audio, the new song shares the first part's mix of drill percussion and ethereal vocal samples, but the vibe is more relaxed, as DUSTY engages in a call-and-response with the soulful sample (referencing a 2Pac classic) and fills the track's ample negative space with his booming boasts. "ROLLIN N CONTROLLIN Pt. 2" is a showcase for the rapper's supernatural charisma, proving once again that the 21-year-old rapper can dominate a room without much instrumental backing. "ROLLIN N CONTROLLIN Pt. 2 (Picture Me)" will appear on Life Of A Five, DUSTY's upcoming debut project.
The new single is the worthy follow-up to "R0LLIN N CONTROLLIN FREESTYLE," a furious missive that racked up over 130 million combined audio and visual streams, along with nearly 200k video creations on TikTok. DUSTY's second single, the follow-up hit "Rolando (Caught In The Rain)," proved that the WOO-affiliated rapper's success was no fluke, racking up over 1 million YouTube views and 1 million Spotify streams in its first week and earning praise from Pitchfork. Both "ROLLIN & CONTROLLIN" and "Rolando" peaked in the Top 5 of Rolling Stone's Trending 25 chart, and his third single "INTRO 2 ME, PT. 1" peaked in that chart's top 10. On just his first four singles, 21-year-old rapper already racked up over 200 million combined audio and visual on-demand streams. More recently, the Canarsie native turned heads with "MOVE DOLEY," a collaboration with fellow Brooklynite OnPointLikeOP, and  "RUMBLE," which racked up over 13 million streams across platforms since its release in February.
With more music on the way and the streets of Brooklyn on his back, DUSTY LOCANE is a great bet to reach the upper echelons of rap stardom. Stay tuned for many more announcements about DUSTY LOCANE and the upcoming Life Of A Five, due to release in June via EMPIRE.
Buy/Stream "ROLLIN N CONTROLLIN Pt. 2 (Picture Me)": https://music.empi.re/rollinnpt2
Please contact Michelle or Kevin for more info.
Background:
"It was all in front of me; I just had to go get it," DUSTY LOCANE says at the beginning of his viral drill heater, "Rolando (Caught In The Rain)." That's an understatement: less than a year after he started rapping, the gruff-voiced, baby-faced Brooklyn spitter has experienced one of the most meteoric rises in recent rap history. He's only released three songs, and he's already a star: his breakout song "R60LLXN N CONTROLLIN" went viral instantly, and its follow-up "Rolando" garnered 1 million video plays and 1 million streams in its first week. The world is closely watching Dusty, and he's ready to deliver.
---
Links:
instagram | twitter | youtube | spotify
"ROLLIN N CONTROLLIN Pt. 2 (Picture Me)": https://music.empi.re/rollinnpt2
"Move Doley" ft. OnPointLikeOP: https://youtu.be/dpzKPNP9U3Y / https://music.empi.re/movedoley
"RUMBLE": https://music.empi.re/rumble / https://youtu.be/dpzKPNP9U3Y
"INTRO 2 ME, PT. 1": https://music.empi.re/intro2me
"Rolando (Caught In The Rain)": https://www.youtube.com/watch?v=2bFh8KhDuAs
"R0LLIN N CONTROLLIN": https://www.youtube.com/watch?v=ZaNL4YI3wt4