10.29.2021
Dro Kenji Shares New Single "Vanish," Announces 10-Date" "With Or Without You Tour," Tickets On Sale Now
The Internet Money & MiraTouch Golden Child Raps His Regret and Harmonizes with Heartbreak on Somber Slapper from Upcoming Album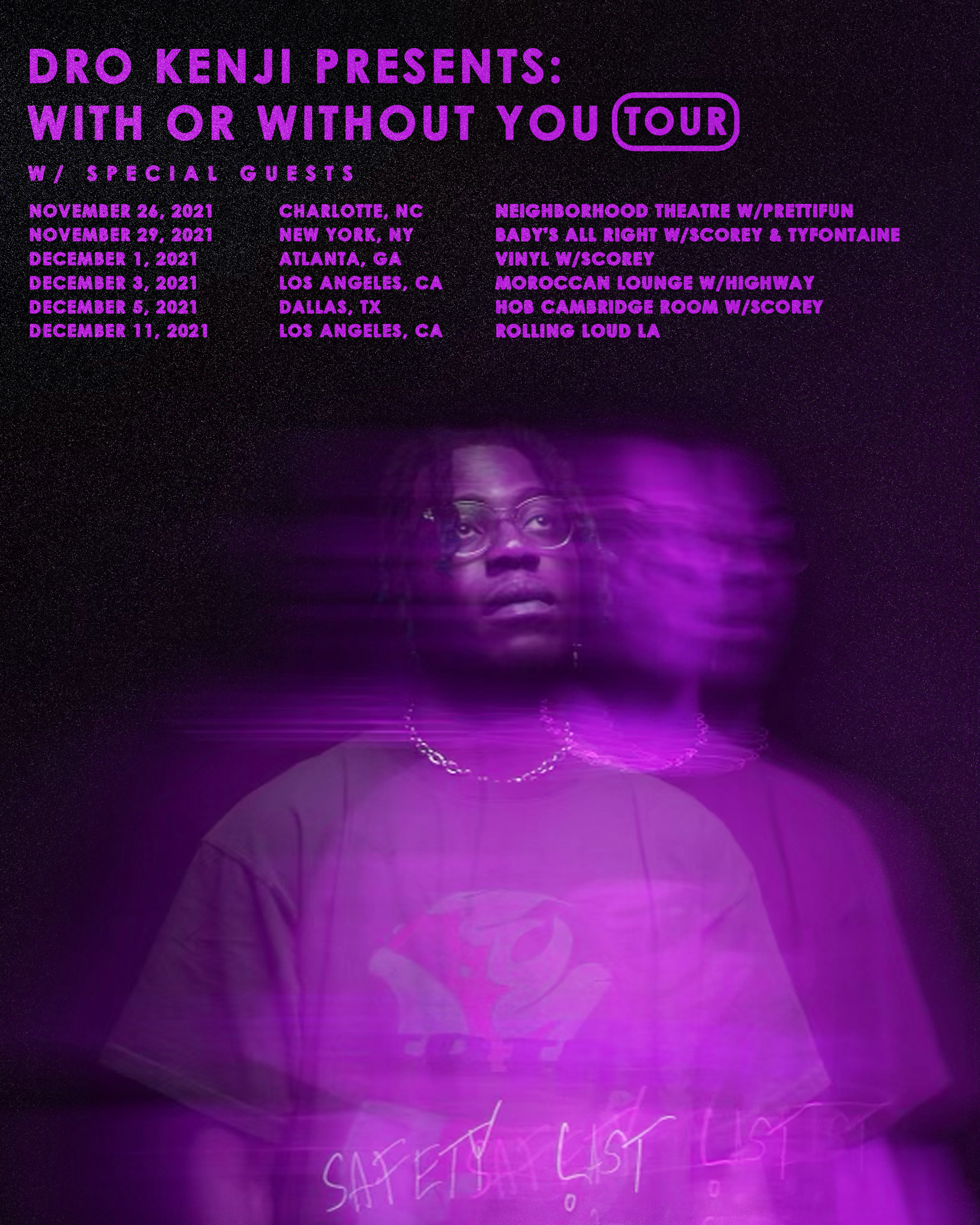 Critical Praise:
"South Carolina rock-infused rapper Dro Kenji has been on a tear since last August when he received a call from the Internet Money team. Releasing project after project, Kenji has been showcasing his impressive vocals and emotion-filled lyrics. With his newest project, "F*CK YOUR FEELINGS", we see Kenji's most confident and cohesive work." – Earmilk
"Once he selects a beat, the melodies and lyrics flood over him like an epiphany. The result is raw and heart-sinking music, meant to be a guiding light to fans." – Audiomack
The Song:
In a matter of months, Dro Kenji went from being a budding South Carolina rapper making songs on Audition to a rap star backed by the likes of Taz Taylor, Nick Mira, and the rest of the Internet Money collective. His seamless blend of emo and alt-pop sounds with soul-crushing, relatable lyricism have laid the foundation upon which Kenji continues to build his flourishing career. Today, he returns with unfiltered emotion and raw vocal prowess in full effect on new single, "Vanish," from WITH OR WITHOUT YOU, his upcoming album expected to drop in January 2022.
Featuring somber, dreamlike production from Danny Wolf and Earl On The Beat, Dro Kenji haggles with his hurt and searches for respite as he croons, "Deep inside, I lowkey wish our memories would vanish/My heart barely beat no more, it can't take no more damage," on the track's hook. The verses, however, paint a much more frantic picture, with Kenji flexing his rap prowess as he rabidly ruminates on the pain he can't escape, maniacally moving between topics of loss, lust, grief, and gunplay.
Along with the release of "Vanish," Kenji announces the "WITH OR WITHOUT YOU Tour," a 6-date mini-tour with special guests. The South Carolina native's tour starts in Charlotte on November 26th, before heading to NYC, Atlanta, L.A., and Dallas, and ending at Rolling Loud California in December. The tour will welcome special guests, including TyFontaine, Scorey, Prettifun, and Highway. Tickets for "WITH OR WITHOUT YOU Tour" are on sale now.
The release of "Vanish" marks the first new release from Kenji since the release of his fourth project, F*CK YOUR FEELINGS, this past summer, which saw the rapper flex and reflect over 16 tracks of expansive Internet Money production, and features highlights like "SUPERSTAR" and "TRANCE." With over 25 million streams on Spotify since its release in June, F*CK YOUR FEELINGS is available everywhere via Internet Money Records/MiraTouch/10k Projects.
Stay tuned for much more from Dro Kenji in the coming months.
Buy/Stream "Vanish": https://drokenji.lnk.to/vanish
Buy/Stream F*CK YOUR FEELINGS: https://DroKenji.lnk.to/fyf
11/26 Neighborhood Theatre / Charlotte, NC – Buy Tickets
11/29 Baby's All Right / New York, NY – Buy Tickets
12/1 Vinyl / Atlanta, GA – Buy Tickets
12/3 Moroccan Lounge / Los Angeles, CA – Buy Tickets
12/5 House of Blues – Cambridge Room / Dallas, TX Buy Tickets
12/11 Rolling Loud California / San Bernardino, CA SOLD OUT
Buy/Stream F*CK YOUR FEELINGS: https://DroKenji.lnk.to/fyf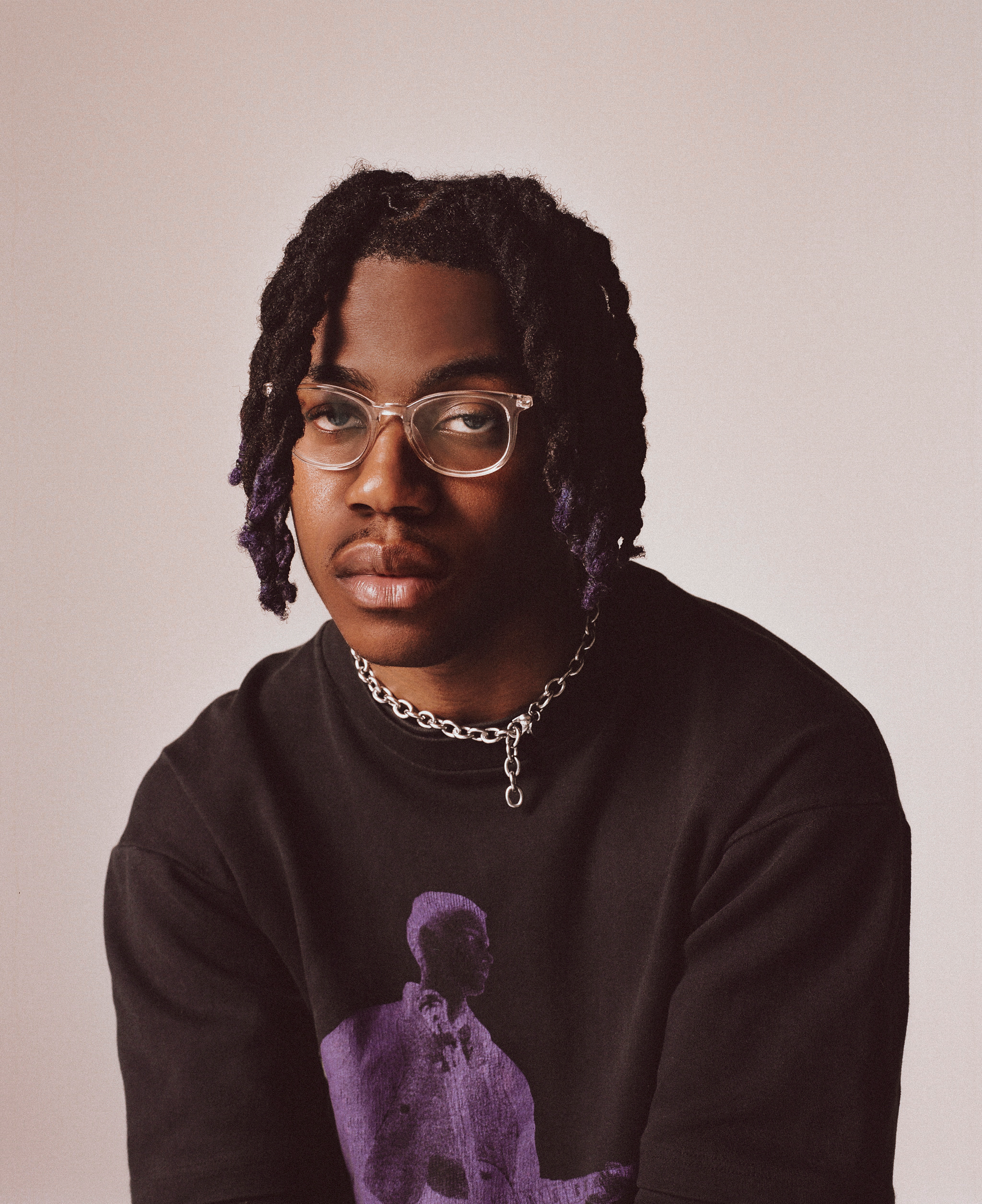 Please contact Michelle or Kevin for more info.
The Background:
Dro Kenji's rise is a testament to the power of the internet. Last year, the 19-year-old artist was a senior in high school in South Carolina, releasing a string of captivating singles and mixtapes on his SoundCloud. Now, he's preparing to release his debut album on Mira Touch/ Internet Money Records/ 10K Projects, collaborating closely with the label's team of platinum-certified producers, and hoping to earn some plaques of his own. A true child of the digital age, raised on video games and the lo-fi sounds of rap's online underground, he has a remarkable ability to capture both the apathy and aspiration of his generation in his songs and a spellbinding voice with which to tell these stories.
View his full bio at audibletreats.com/dro-kenji
Links:
official site | twitter | instagram | facebook | youtube | soundcloud
"Vanish": https://drokenji.lnk.to/vanish
"I'M RICH NOW B**CH": https://www.youtube.com/watch?v=oLBJEkiRci8
"KILL CUPID" ft. $NOT: https://youtu.be/mm2CcEC895U
F*CK YOUR FEELINGS: https://DroKenji.lnk.to/fyf