9.16.2022
Album: BONES & ghost/\/ghoul – DreamCard
The Underground Hero Connects With a Renowned TeamSESH Producer for Their Long-Awaited Full-Length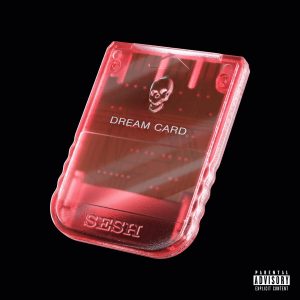 Critical Praise:
"The Michigan-born rapper was one of the earliest and most influential artists to rise through the SoundCloud ranks in the early 2010s thanks to a truly unique aesthetic, an aura of mystery and a sound that would go on to be mimicked by his genre for years to come." – HYPEBEAST
'Already one of the most influential artists in rap and the SoundCloud underground, Bones shows no signs of slowing down." – HYPEBEAST
"O'Connor's short tracks, creepy videos, and one-word tweets rack up millions of social media interactions from a cult following that helped him sell out shows in 25 cities on a recent tour. The hip-hop elite is taking notice." – The FADER
"Elmo Kennedy O'Connor was in pre-school when he became obsessed with the Southern artists of No Limit and Cash Money. Later in life, he would adopt the rap moniker Bones and amass a significant cult following. His gothic lyrical style, allergy to songs longer than two and a half minutes, and lo-fi visual aesthetic have convinced a quarter million people to subscribe to the SoundCloud page of his rap collective, TeamSESH." – HotNewHipHop
The Album:
Always working and never disappointing, BONES is beloved by fans and respected by his peers for his consistently excellent and uncountably prolific output. The TeamSESH chieftain delivers once again with DreamCard, his new album and his third full-length of 2022. DreamCard is produced in full by ghost/\/ghoul, one of the first members to join TeamSESH back in 2011. Unlike most producers on the label, ghost/\/ghoul isn't a frequent collaborator with BONES–most of the music from ghost/\/ghoul's extensive discography is purely instrumental, captivating enough to thrill without vocals or rapped verses. In over 10 years in the TeamSESH collective, the two have only collaborated three, on "WhiteZombie"(2012), "LastOneThereIsARottenEgg" (2019), and DreamCard opening track "Silverado," released as a single earlier this year.
DreamCard proves that the the two TeamSESH artists have impeccable chemistry–BONES mostly eschews singing in favor of hard-nosed raps, as he weaves between ghost/\/ghoul's glitchy synth melodies and subsonic percussion. Highlights from the album include the creepily atmospheric "BananaPeels," the spritely "Timbaland," which contains a lyrical reference to the titular artist's verse on "Are You That Somebody?," and the pugilistic, low-talking "LowLife." On the tape's final track, "PanoramicRoof," BONES delivers the heartfelt singing absent throughout the rest of the tape, ghost/\/ghoul's soaring synths adding pathos to BONES' plaintive melodies. Spanning 17 tracks, including a few immersive instrumental tracks from ghost/\/ghoul, DreamCard is available everywhere via TeamSESH/EMPIRE.
DreamCard continues a busy year for the Michigan-born BONES, marked by exciting collaborations and unexpected co-signs. In July, the underground hero released AmericanSweetheart, which subsumes a variety of styles into BONES's dark aesthetic, and packs in references to films like Planes, Trains & Automobiles, Pee Wee's Big Adventure, Rocky IV, and more. BONES connected with Drew The Architect for the heart-wrenching "PackRippedOpen." In April, the underground hero shared Withered, a full-length project. Created in collaboration with TeamSESH producer grayera, Withered finds BONES alternating between laid-back yet emotional anthems and commanding, verbally blunt bangers, including the emotionally charged lead single "TheOne." Over the summer, BONES got an unexpected shout out from Justin Bieber, who shared a video featuring his 2019 song "AirplaneMode," which now has over 285k video creations on TikTok. 2021 was a remarkably busy year for BONES, marked by five full-length albums including Scraps w/ Lyson, ForbiddenImage w/ cat soup, InLovingMemory (BONES recently shared the video for highlight track "RainCloudsFollowMe"), PushingUpDaisies w/ Deergod, and BURDEN, and capped off by "DeathWish," an '80s pop-influenced banger by BONES' alter ego Ricky A Go Go.
Stay tuned for much more from the mysterious mastermind in the near future.
Buy/Stream DreamCard: http://SESH.LINK/DREAMCARD
DreamCard tracklist:
Silverado
TheCavernsOfTime
GetAJob
Eclipse
Timbaland
WestChandlerBlvd
HollowPatterns
SpeedRun
4am (Interlude)
BananaPeels
NothinReally
LowLife
JusHangin
KiaShine
XpBoost
ElephantShoes
PanoramicRoof
Please contact Michelle or Kerry for more info.
The Background:
BONES has proven to be one of the most enduring, influential, and creative hip-hop artists to emerge in the early 2010s. The TeamSESH founder has recorded dozens of albums, racking up hundreds of millions of streams and feeding a fanbase that eagerly awaits his every move. Despite remaining fiercely independent and true to his underground roots, his music has permeated the mainstream–in 2015, A$AP Rocky sampled BONES' song "Dirt" for "Canal St." (124 million streams), and in recent years, BONES has performed in prime slots at festivals such as Rolling Loud as a member of Seshollowaterboyz (along with Xavier Wülf, Chris Travis, and Eddy Baker).
Links:
official site | instagram | twitter | soundcloud | youtube | spotify
DreamCard (w/ ghost/\/ghoul): http://SESH.LINK/DREAMCARD
AmericanSweetheart: https://music.empi.re/americansweetheart
"PackRippedOpen" (w/ Drew The Architect): https://music.empi.re/packrippedopen
Withered (w/ grayera): https://music.empi.re/withered
"Silverado" (w/ ghost/\/ghoul): https://sesh.team/bones/silverado/
"TheOne" (w/ grayera): https://music.empi.re/theone
Ricky A Go Go – "DeathTrain" ft. BONES: https://www.youtube.com/watch?v=KyLuK1_QyGo
Scraps (w/ Lyson): https://music.empi.re/scraps
ForbiddenImage (w/ cat soup): https://sesh.team/bones/forbiddenimage/ 
"WhiteBoyRick": https://youtu.be/I4jh4ojwSoM
"InLovingMemory": https://www.youtube.com/watch?v=q4YcNb2cAI4
InLovingMemory: https://music.empi.re/inlovingmemory
PushingUpDaisies (w/ Deergod): https://music.empi.re/pushingupdaisies
"PopRocks" (w/ Deergod): http://sesh.link/poprocks / https://www.youtube.com/watch?v=DsNZZmkcmPY
BURDEN: http://SESH.LINK/BURDEN