MP3: Blanco (feat. Husalah) – "Molly & Amber" (Prod. by Bosko)
Teaming With the Grammy-winning Producer, the Bay Area Rappers Connect to Create a Minimalistic, Drug-Induced Love Ballad
06.11.2015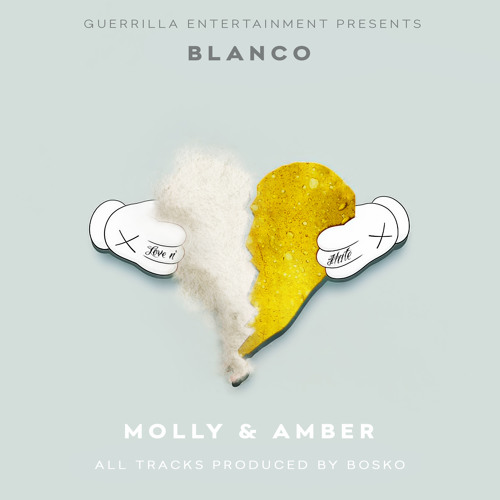 The Song:
Following feature stories in High Times and HipHopDX documenting a $50 million medical marijuana business that he and his brother started and fought against long-term jail sentences for, California rapper Blanco is preparing for the release of his Molly & Amber EP, which is street slang for MDMA and dabbing. Debuted by YouHeardThatNew, the EP's title track finds Blanco rapping and harmonizing about his hustling mentality atop a piano-guided production. The project was produced in-full by Grammy-winning producer Bosko, who previously produced songs for E-40, Kanye West, J. Cole, and Big Boi. Additionally the project includes features from frequent collaborators Husalah, Messy Marv, and The Jacka.
"Molly & Amber" is the latest addition to Blanco's already impressive list of collaborations, which include tracks with YG, Freeway, Gucci Mane, and more. Blanco heated up the summer last year with "Block Party," a joint effort with YG and producer duo Cookin' Soul, which was praised by Complex, HotNewHipHop, and Stereogum, among others. Blanco's extensive catalogue includes a series of music videos as well as projects with The Jacka, Nipsey Hussle, Araab Muzik, and Yukmouth and several solo projects following his 2011 debut, American Psycho. Produced entirely by Bosko, his upcoming Molly & Amber EP is set to drop this July through his self-made label, Guerilla Entertainment. In a recent interview with HipHopDX the Bay area native proclaimed, "I care more about the [music] I put out than I care about the sales. I care more about what I'm attempting to do. It's about the whole journey." Blanco's journey continues next month with the Molly & Amber EP.
Listen to "Molly & Amber" (ft. Husalah, prod. by Bosko): https://soundcloud.com/iamguerrilla/molly-amber/
Check out the YouHeardThatNew premiere: http://youheardthatnew.com/2015/06/new-music-blanco-ft-husalah-molly-amber/
Please contact Michelle or Rory if interested in talking with Blanco.
Blanco Background:
Blanco (formerly Benny Blanco) is a rapper born in Berkeley, California but bred throughout the Bay Area. Fascinated by gangsta rap at an early age, Blanco began rhyming at 17. In 2004, he and his brother founded hip-hop label Guerilla Entertainment, which to date has released upwards of over 20 mixtapes and albums. As a member of rap trio The Yay Boyz with fellow label mates Taj-He-Spitz and Lil Hyfe, Blanco released Got Purp (Volumes 1 and 2), The Wizeguys, and full-length album Nosebleed Muzic. He has gone on to release several solo projects, including Blanco's Way and American Pyscho, and more collaborative albums, including Jonestown with Messy Marv and Jacka, and his latest, Raw, with Nipsey Hussle. Blanco has also collaborated with Gucci Mane, Redman, Freeway, Freddie Gibbs and Styles P, and released projects with Araab Muzik and Yukmouth. 
---
Links:
official site | twitter | facebook | youtube
"Molly & Amber" (ft. Husalah): https://soundcloud.com/iamguerrilla/molly-amber/
"Block Party (ft. YG, prod. by Cookin' Soul): https://soundcloud.com/cookinsoul/yg-blanco-block-party-prod
Tortoise and The Hare EP with Kokane and Husalah: https://soundcloud.com/iamguerrilla/sets/tortoise-and-the-hare-blanco-husalah-kokane/ / https://itunes.apple.com/us/album/tortoise-and-the-hare/id885169677
One Hunnid EP with The Jacka: https://soundcloud.com/iamguerrilla/sets/one-hunnid-blanco-the-jacka
Raw EP with Nipsey Hussle: http://www.datpiff.com/Blanco-Raw-mixtape.614850.html
Bio, pictures and streams available here: http://www.audibletreats.com/blanco