4.13.2021
Video: Big Jade – "Bonnet" (Freestyle) (Prod. by BeatKing)
Ahead Of Her Alamo Records-Debut Album, The Buzzing, Beaumont, Texas MC Shares A Charged Up And Confident New Freestyle.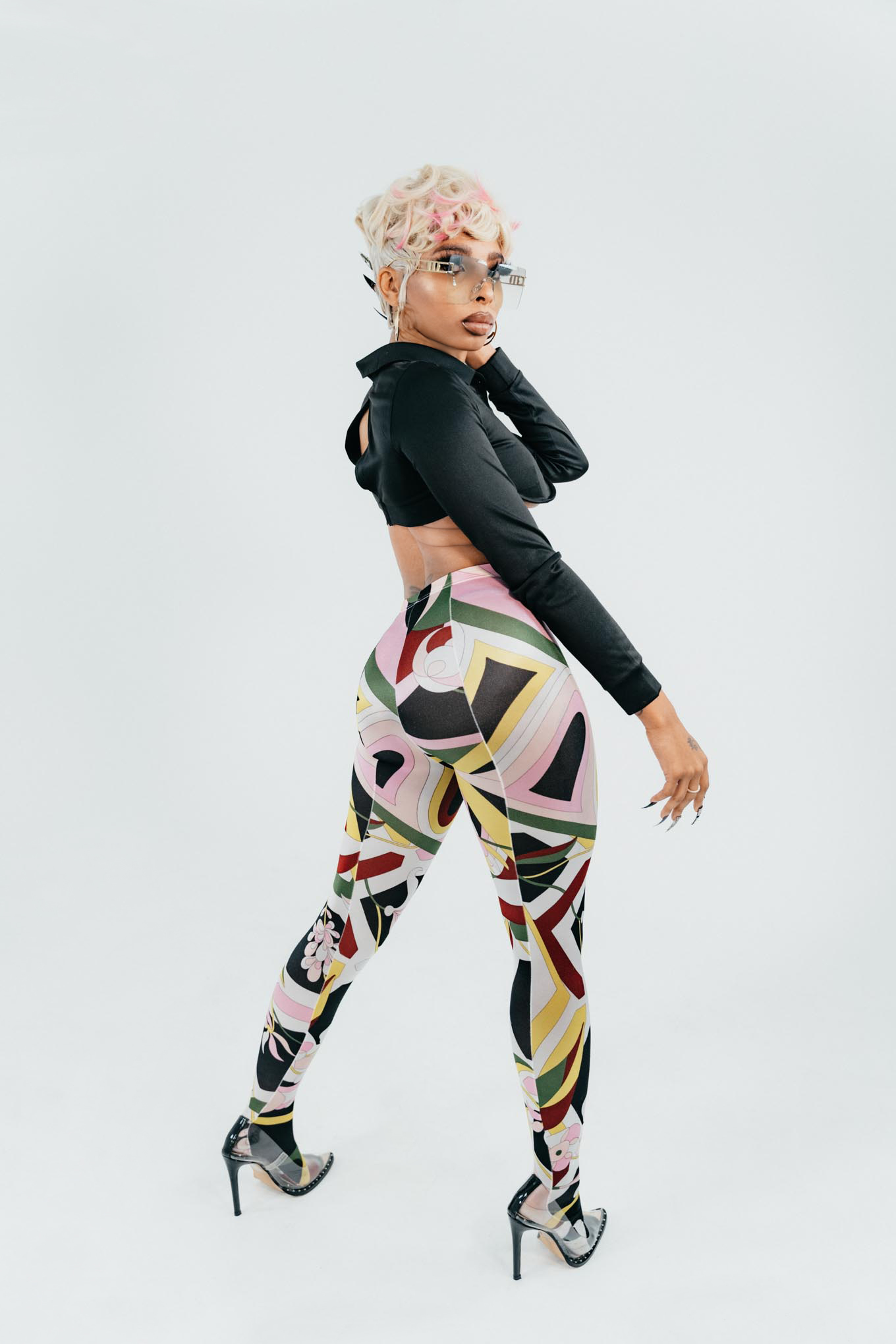 Critical Praise:
"Beaumont, Texas loudmouth Big Jade has the best music videos. They're a much needed break from the endless stream of fifteen dudes stuffed into an Airbnb, pointing guns at the shaky cameraman, and doing donuts in rented cars outside." – Pitchfork 
"This unrivaled skill, confidence, and charisma are the attributes that make Big Jade so interesting." – Lyrical Lemonade
The Video:
With a commanding mic presence and a take-no-prisoners attitude, Big Jade is one of the most vital voices in a bustling Texas rap scene. Today, she's back with a brand new freestyle, titled "Bonnet." While coming in at just under a minute and fifteen seconds, Jade is able to pack a heavy punch with her swift bars and lyrical flow. Sampling the Missy Elliott classic, "Hot Boyz," BeatKing comes through with a perfect canvas for Jade to talk her sh*t. In the self-directed video, we find Jade at home, cooking breakfast and getting her daughter ready for school. Its moments like these where Jade is at her realest and rawest, finding no reason to sugarcoat anything as she aims to snatch the Texas rap crown.
This is Jade's latest release ahead of Pressure, her upcoming debut project, slated to release in Spring 2021. Featuring production from the likes of BeatKing–Jade's rap game mentor, who discovered her through her freestyle videos on YouTube–DJ Chose, and Bankroll Got It, Pressure provides a fresh spin on the traditional sounds of Texas rap, packing enough oomph in the low-end to satisfy Houston club-goers. Jade rhymes from her unique perspective, as a bisexual single mother and part-time hairdresser determined to ascend to the top of the game with her pure, athletic rapping. Home to recent singles like "No Hook" and the DJ Chose-produced "Gucci Bag" and following in the wake of a series of verbally dexterous freestyle videos (including "Groupies"), Pressure releases next month via Alamo Records.
Born and raised in Beaumont, a small city in East Texas far removed from industry hubs like Houston and New Orleans, Big Jade built an online following with her unapologetic realness. In popular videos like "RPM" and "Phone Jumpin," praised by Pitchfork, Jade exists in her element, showing off her rapping ability while styling hair, her longtime day job. Her brief, but visceral trap bangers caught the attention of BeatKing, who took her under his wing and offered her guest verses and some of his fieriest beats. In late 2020, Jade joined up with her mentor BeatKing for the Texas trap slapper "Respectfully," also featuring an appearance from Queendome Come. Jade keeps her fans entertained with a regular supply of freestyles, like the recent "Before The Deal," that show off her bars and indefatigable demeanor. Now with the backing of Alamo Records, Big Jade is ready to make the leap from being the pride of her town to a nationally recognized star.
Watch "Bonnet" (Freestyle): https://youtu.be/cIvQylLXU2Q
Listen to "Bonnet" (Freestyle): https://soundcloud.com/big_jade/bonnet-freestyle/
Please contact Michelle or Kevin for more info.
The Background:
"I got the attention of the right people by being genuinely myself," explains rapper Big Jade.
From Beaumont, Texas, the 26-year-old spitter made a name for herself by releasing a series of videos online that showcased her rapping ability. However, her Beatking-produced "RPM" showed a woman juggling rap dreams while doing hair. She was unashamed, unapologetic, and uncut. "It was real. That's how I grind and get money," admits Jade. "I'm not out here getting rap money yet; I'm popular on Instagram. Rappers are scared to say they're doing something else just to make it. Where are you getting the money to invest in yourself and make it happen? Because that's where it all starts for all of us." Newly signed to Alamo Records, Big Jade took those steps to get noticed, and now she hopes to put herself and her city on the map.
---
Links:

Instagram | twitter | youtube | soundcloud
Bonnet" (Freestyle): https://youtu.be/cIvQylLXU2Q
"No Hook" (Prod. by BeatKing): http://bigjade.lnk.to/NoHook
"Groupies" (Freestyle): https://www.youtube.com/watch?v=5ORs5HF1oCU
Gucci Bag": https://youtu.be/kEQLm4g9kFc / https://bigjade.lnk.to/GucciBag
"Before The Deal (Freestyle)": https://youtu.be/QpQiqw4seIU
"Respectfully" ft. BeatKing & Queendome Come: https://www.youtube.com/watch?v=SpbvR_5hdmU
"Phone Jumpin": https://www.youtube.com/watch?v=Ta1T5FZzhZo
"RPM": https://www.youtube.com/watch?v=TDGQfIZE1W0