11.19.2020
Video: Big Jade – "Respectfully" ft. BeatKing & Queendome Come
The Alamo Records-Signed Texas Native Recruits the "Then Leave" Duo to Tell Her Haters to "Respectfully" Step Off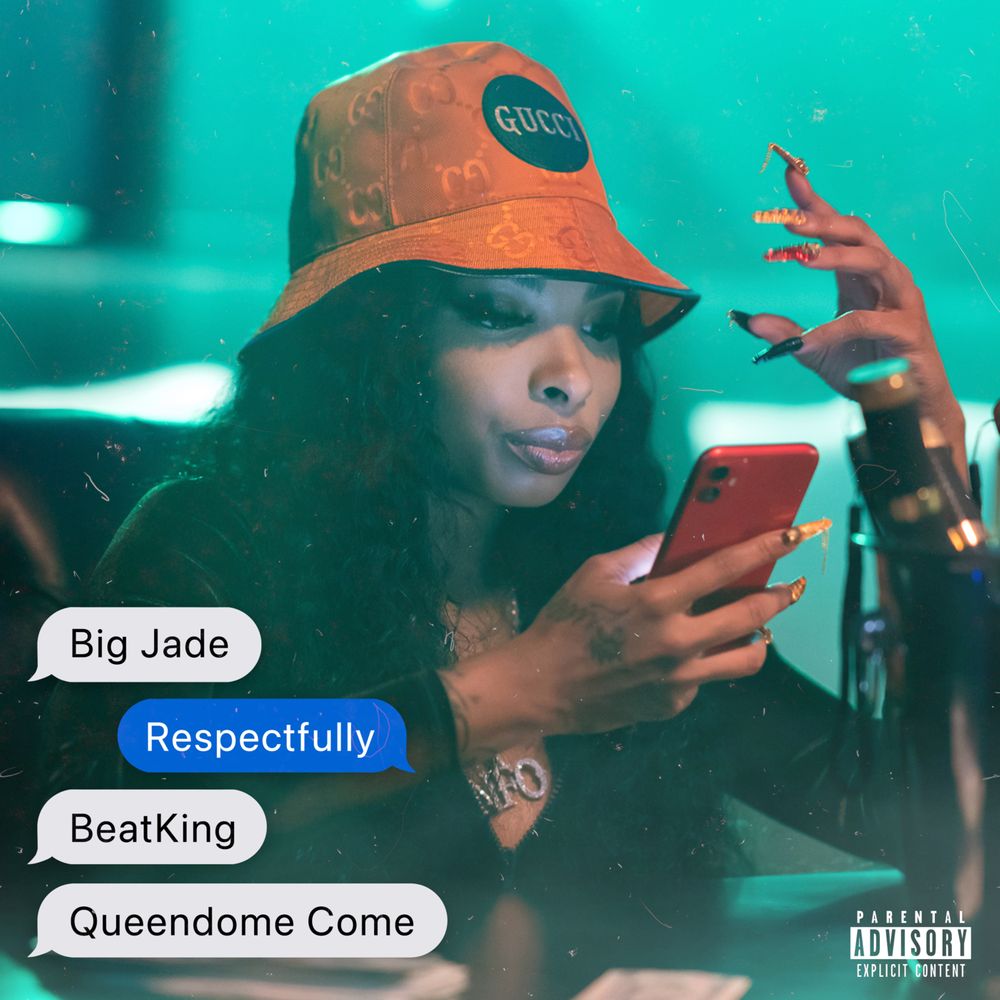 Critical Praise:
"Beaumont, Texas loudmouth Big Jade has the best music videos. They're a much needed break from the endless stream of fifteen dudes stuffed into an Airbnb, pointing guns at the shaky cameraman, and doing donuts in rented cars outside." – Pitchfork 
"This unrivaled skill, confidence, and charisma are the attributes that make Big Jade so interesting." – Lyrical Lemonade
The Video:
Texas rapper Big Jade demands attention with her dexterous rhyming ability and uncompromising attitude. Coming through with her latest bass-heavy banger, Jade shares "Respectfully." The new song is a collaboration with fellow Texans BeatKing and Queendome Come, a duo who connected for the breakout hit "Then Leave" earlier this year. Armed with a BeatKing production that simmers and thumps, each emcee makes their mark on the track: Jade impresses with her fast-paced bars that toe-tag the booming 808s, BeatKing anchors the track with a thunderous verse, and Queendome delivers a deliciously bratty hook ("f*ck all you h*es…respectfully"). In the video, the Texas trio sits around a table in a dimly lit club, surrounded by some of the finest dancers in the Houston area.
Bursting out of Beaumont, Texas, a small city with a population of 100k that sits 1 hour east of Houston and 30 mins west of the Louisiana border, Big Jade built an online following with her unapologetic realness. In popular videos like "RPM" and "Phone Jumpin," Jade exists in her element, showing off her rapping ability while styling hair, her longtime day job. Her brief, but visceral Texas trap bangers caught the attention of Houston heavy-hitter BeatKing, who took her under his wing and offered her guest verses and some of his fieriest beats. Now signed to Alamo Records, Big Jade is ready to make the leap from being the pride of North Beaumont to a nationally recognized star.
Buy/Stream "Respectfully" ft. BeatKing & Queendome Come: https://smarturl.it/RespectfullyBigJade
Watch "Respectfully" ft. BeatKing & Queendome Come: https://www.youtube.com/watch?v=SpbvR_5hdmU
Please contact Michelle or Andrea for more info.
The Background:
"I got the attention of the right people by being genuinely myself," explains rapper Big Jade.
From Beaumont, Texas, the 26-year-old spitter made a name for herself by releasing a series of videos online that showcased her rapping ability. However, her Beatking-produced "RPM" showed a woman juggling rap dreams while doing hair. She was unashamed, unapologetic, and uncut. "It was real. That's how I grind and get money," admits Jade. "I'm not out here getting rap money yet; I'm popular on Instagram. Rappers are scared to say they're doing something else just to make it. Where are you getting the money to invest in yourself and make it happen? Because that's where it all starts for all of us." Newly signed to Alamo Records, Big Jade took those steps to get noticed, and now she hopes to put herself and her city on the map.
---
Links:
Instagram | twitter | youtube | soundcloud
"Respectfully" ft. BeatKing & Queendome Come: https://www.youtube.com/watch?v=SpbvR_5hdmU
"Phone Jumpin": https://www.youtube.com/watch?v=Ta1T5FZzhZo