1.22.2020
ATL Riser Big Havi Announces 2/7 Debut EP Personal Problems, Connects with Lil Baby for "9 Times Out Of 10"
The Melodic Newcomer Updates His Viral Single with a New Verse as He Prepares to Go On Tour with Lil Tjay
Critical Praise:
"The '9 Times Out Of 10' rapper is poised to be Atlanta's next star." – ELEVATOR
The Announcement:
Working through his struggle with a unique strain of melodic rap, Big Havi has the ear of the streets–and hip-hop's biggest names are taking notice. Today, the East Atlanta rapper born Javier Hardeman announces the upcoming release of Personal Problems, his debut EP. Effortlessly alternating triplet-rhyming with taffy-like melodies, Havi combines his tuneful style with relatable and emotional lyrics on the EP, opening up about his rocky upbringing, painful betrayals he's suffered, and his desire to provide for his family. Capitalizing on the momentum of his buzzing single "9 Times Out Of 10," Personal Problems EP arrives on February 7th via Commission Records.
To accompany the announcement of the EP, Havi shares an updated version of "9 Times Out Of 10," adding a new verse and inviting hometown superstar Lil Baby to add a verse of his own. Buoyed by an earworm of a hook, layered over the delicate strums of an acoustic guitar, Havi's "9 Times Out Of 10" is at once a mournful tribute to lost friends and a determined promise to keep grinding until he reaches the top: "Remember that time when I felt worthless?/F*ck that sh*t, I done found my purpose." On the opening verse, Lil Baby finds a melodic approach that complements Havi's main theme, tapping into the song's emotional wavelength with an awestruck look-back at his rapid rise.
With over 5 million streams across platforms, including over 2.4 million views on its YouTube video since December 17th, the original version of "9 Times Out Of 10" was quickly transitioning from a local smash into a national concern, becoming one of the top five most added songs on urban radio stations across the country (37 stations). The song currently sits at #49 on the nationwide urban radio airplay chart. Last week, BET featured Big Havi on "#FreshFaceFriday," airing the "9 Times Out Of 10" video on multiple occasions over the weekend.
The new version of "9 Times Out Of 10" arrives as he prepares to go on tour with Lil Tjay. Kicking off on January 30th in Seattle, the 25-date "True 2 Myself Tour" stops at The Novo in L.A. on February 7th, and in Atlanta at the Buckhead Theatre on March 5th. Tickets are available for sale at Lil Tjay's official site.
Buy/Stream "9 Times Out Of 10" ft. Lil Baby: https://ffm.to/9timesoutof10
Buy tickets for Big Havi concerts, supporting Lil Tjay: https://www.liltjaymusic.com/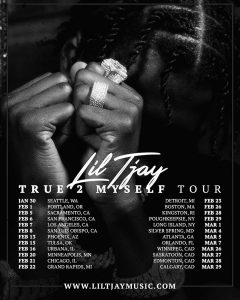 Please contact Michelle or Erin for more info.
The Background:
The young rapper born Javier Hardeman combines tuneful rhymes and an effortless flow about personal hardships and future aspirations. His relatable lyrics are what set him apart as a rising new star in an always crowded Atlanta rap scene. After a major label bidding war, Big Havi decided to take the indie route, signing with independent powerhouse Commission Records (MadeinTYO, Lil Dicky, Derez De'shon, Casey Veggies, IDK). Most recently Havi has garnered co-signs from Atlanta icons Lil Baby and T.I., and is putting the finishing touches on his debut EP, Personal Problems, releasing February 7th.
Links:
instagram | youtube | twitter | spotify
"9 Times Out Of 10" ft. Lil Baby: https://ffm.to/9timesoutof10